You Are Here:
Writing Dialogue
Writing Dialogue to Narrate History
Jan - March 2010 Writing Contest
Write On #28 helps students narrate history through dialogue.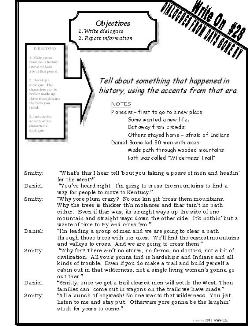 The Winners Announced Below!


Check Out The Essays Below
Students learned the basic skill of reporting historical facts and events by writing dialogue.
Notice how the authors incorporated the following elements while writing dialogues:
Historical facts
Character's personality
Questions
Action or plot
Humor, suspense or emotion
Contest Details
"Dialogues from Days Gone By"
This homeschool writing contest starts April 1, 2010 and concludes June 15, 2010. All submissions must be received by June 15, 2010.
Note: There is a place on each page below for visitors to this site to leave comments. We welcome all of our participants and all other visitors to support our authors' creative writing by letting them know what you like about their work.
Prizes
There will be two age groups
Ages 8 to 12
Ages 13 to 17
The winner of each age group will receive a United States Savings Bond, $50 denomination.
The contest will judge the ability to describe historical facts by developing a dialogue between two or more characters.
You will need Write On #28 from Write On: The Kid Friendly, Mother Pleasing Gentle Way to Learn to Write. You may use it from the text or download it here.
Each entry should be between 100 and 400 words.
Judges' Note
The contestants articulated an incredible amount of talent with their essays. Entries were judged on the ability to use dialogue to present historical facts. The writers did this with considerable amount of style, and also weaved personality and plot into their dialogues. Many finished the discourse with dramatic statements.
Check Out These Essays
WINNING ENTRIES
Age 8-12: Sarina: "Titanic Survivor"
Age 13-17: Anna: "England vs. The Colonies"
Dialogues From Days Gone By
Here are the historical dialogues submitted by our participants.