You Are Here:
Call of the Wild
Call of the Wild Unit Study
Based on the book by Jack London
Our Call of the Wild Unit Study will enhance your 6th - 8th grade students' grasp of Jack London's classic tale. Vocabulary words, discussion topics, reading comprehension questions, geography map, focus on literary elements, writing activities and other recommended activities will add sizzle and spark to your unit.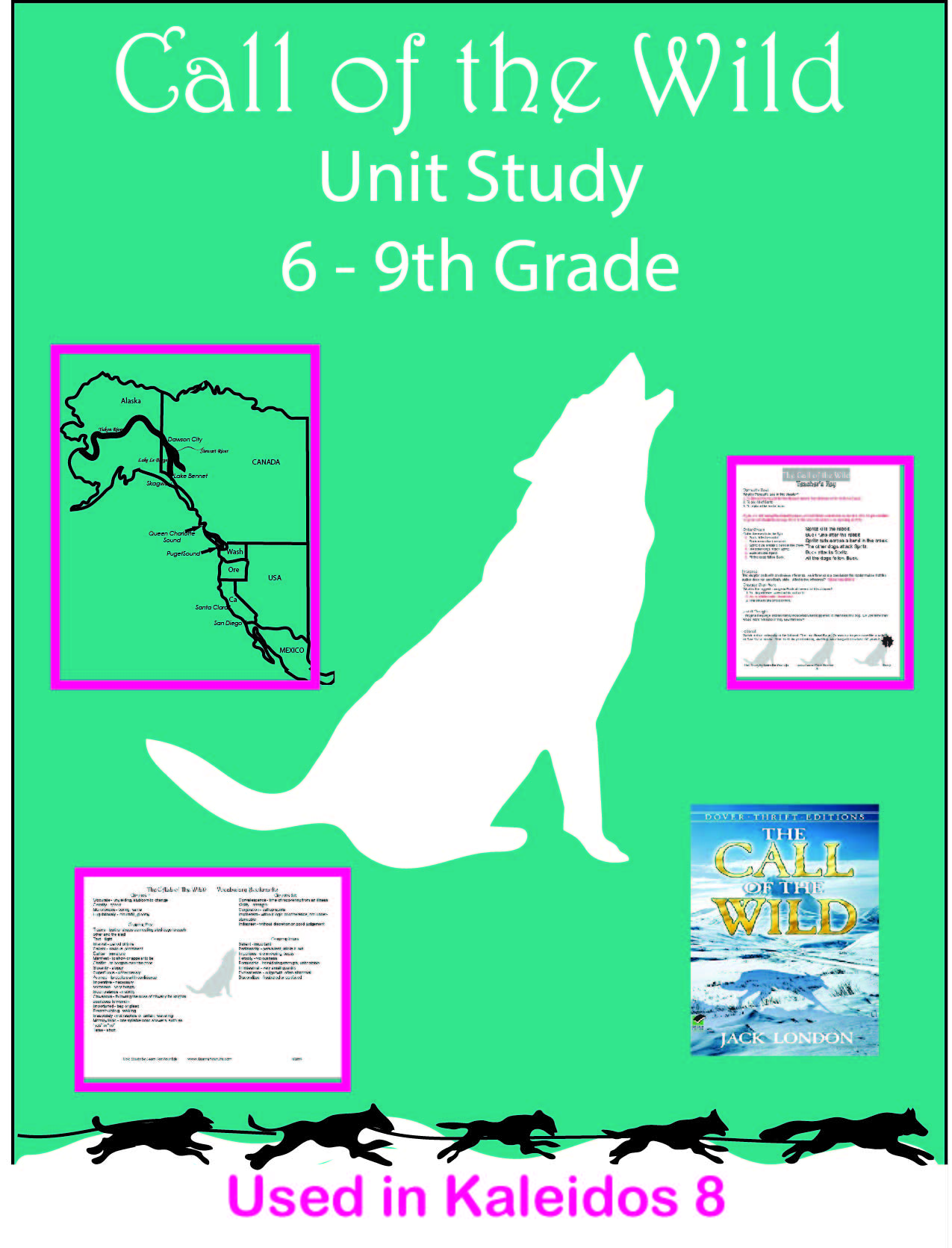 Call of the Wild Unit Study Guide

Student Guide AND Teacher's Answer Key Included
$2.99 Download - 40 pages


About Our Unit Study Guide
Our study guide consists of 40 pages:
17 pages of student activities
corresponding answers on the teacher's key (17 pages)
Call of the Wild Geography map
Character List page
Vocabulary Words
Chapter by Chapter Activities
In addition to the vocabulary bookmarks and geography map described below, the student has seventeen pages of chapter by chapter activities. These activities include:
Reading Comprehension Questions
These multiple choice questions do more than validate that the student read the chapter. The questions focus students' attention on the events and details that are most important for grasping the themes and messages of the story.
Discussion Topics
These topics can be explored together, used as a points to ponder discussion, or serve as writing prompts.
Matching and Ordering
These quick activities underscore details about characters and events in the chapters.
Literary Elements
Students' understanding of literature is enhanced by questions that tie the plot to literary elements. The literary elements underscored in this unit study include:
Setting
Chacter Development
Character Traits
Type of Plots
Points of View
Anthropomorphism
Author's World View
Foreshadowing
Inferences
Alliteration
Juxtaposition
Vocabulary Words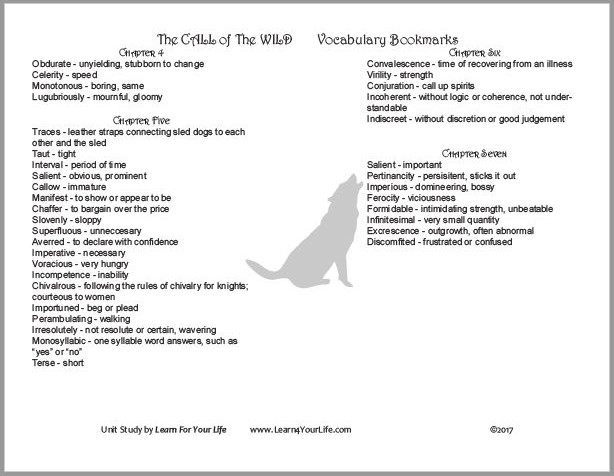 Our popular Call of the Wild Vocabulary Bookmarks list words by chapter and in the order they appear in the text. Definitions are listed by the words in order to assist the students' comprehension of the text. (Does anyone really believe students stop reading to go look the words up in a dictionary?)

Our vocabulary lists make great book markers as well. Improving the students' reading comprehension and saving the book from folded corners; two benefits in one!


Other Areas of Study
Literature provides a great opportunity to delve into other areas of study introduced by the story. Opportunities are presented in the Call of the Wild Unit Study to explore:
Klondike Gold Rush
Evolution and Social Darwinism
Aurora Borealis
Iditrod Trail
Scientific Classification of dogs and wolves

Call of the Wild Map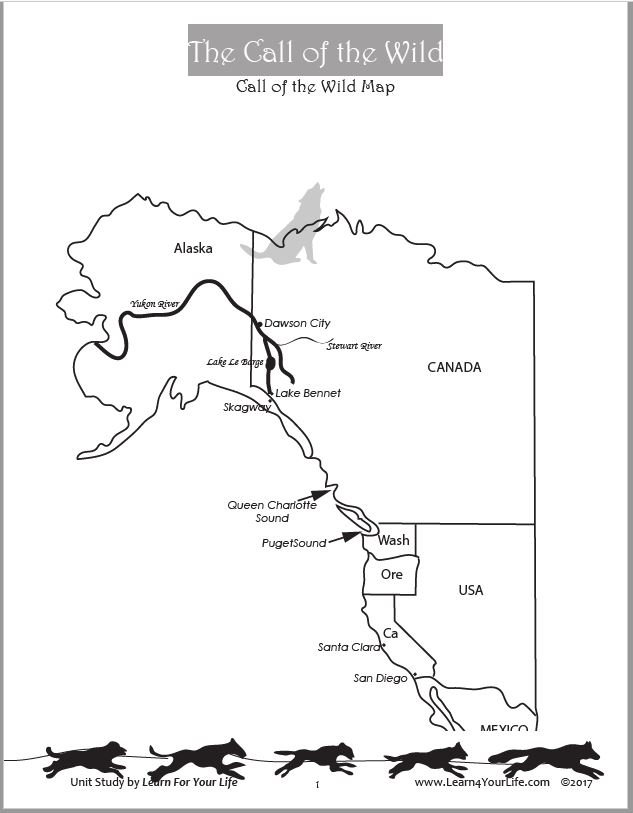 The
Call of the Wild
Map traces Buck's journey from his home in California, up the west coast, to the Yukon, and into the wilds of Canada. Following the geography boosts the readers' comprehension and appreciation for a story.
Call of the Wild Unit Study Guide

Student Guide AND Teacher's Answer Key Included
$2.99 Download - 40 pages