Free Printable Bible Study Lessons
Our free printable Bible study lessons provide a range of resources for kids, teens, and even adults.
This Page at a Glance
Bible Reading Plans

These free printable Bible reading plans were developed after using many other plans, and people who use them agree they are different. So take just a moment to read how.
First, there are two children's plans which go through different portions of Scripture, each providing 30 daily readings with the same theme for the month. For instance, one month they may be reading in Acts, and the month they are reading about the life of David.
The primary reading plan is approximately five verses a day, and the intermediate plan is approximately fifteen verses a day. Of course we needed a little flexibility so we didn't cut off in the middle of a text. But you can choose the plan that fits your child's reading level.
The plans for adults and teens are also unique. When people try to read through the Bible in one year, they often start in Genesis and try to read cover to cover. They do not get to the New Testament until September - and that is if they stuck with it through all the geneologies in the middle of the year.
These plans have three different plans: One New Testament, one Old Testament History, and one Old Testament Writings (the poetic and prophetic books are in the last category.)
If someone chooses to read through the Bible in one year, they will be reading one chapter from each of the three sections. Of course, there is no rule that says we have to read all three every day. Some people may choose to take one year, others three years, and some two years to read through the Scriptures.
But there is also something else unique about the New Testament plan. Other plans start with Matthew, then move to Mark, then Luke and John. With this New Testament plan the reading of the four gospels are interspersed with the epistles and other books of the New Testament. So you will be reading one of the Gospels every season of the year.
So check out our user friendly
Bible reading plans.
Of Faith and Knowledge Bible and Christian Studies for Teens/Adults
Of Faith and Knowledge is a four year curriculum in Bible, theology, and Christian studies. It was written for homeschooled high school students but can be used by any teen or adult who desires to learn more about the Christian faith.

The course exposes students to numerous areas through by reading some of the best books in such areas as:

Apologetics
Doctrine
Evangelism
Church History
New Testament Survey
Old Testament Survey
Salvation and Christian Living
Relationships
World Religions
Biblical Scholarship
Personal Devotion
Faith and Logic

Of Faith and Knowledge can be used by teens and even adults to broaden and deepen their understanding of the Scriptures and the Christian faith. These free printable Bible study lesson books can be downloaded at this site. The accompanying books are widely available and can be acquired at almost all Christian book stores. Shorter Lessons for Kids and Teens Micah 6:8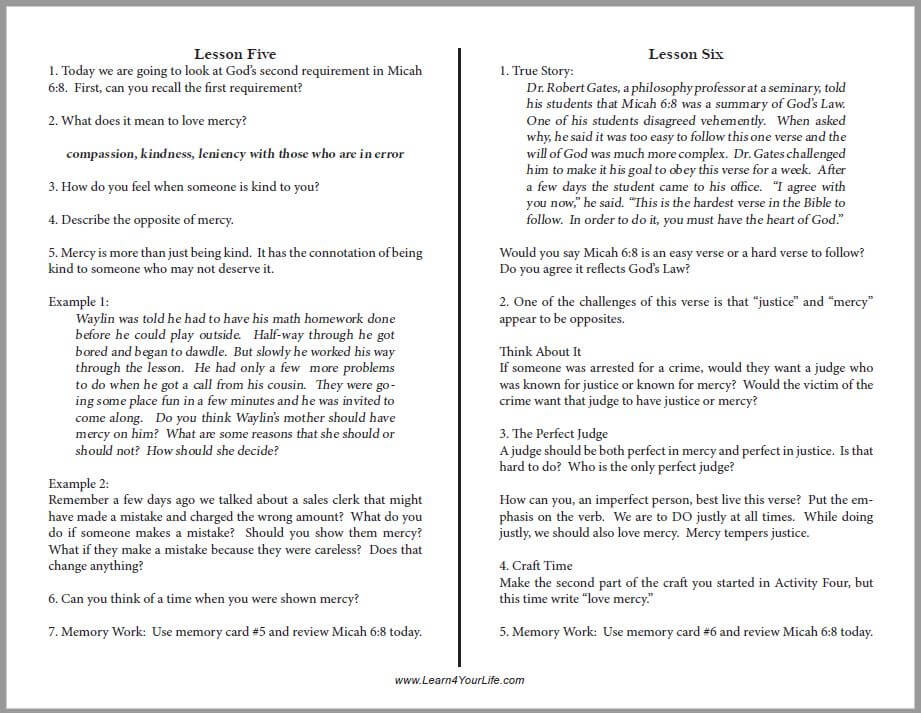 Click to go to Micah 6:8 page
Micah 6:8 Lessons for kids and teens is a free download. Click the link for the lessons, discussion questions, memory cards, and activities for this verse that has been called "the summary of God's Law."
New Testaments Books Maze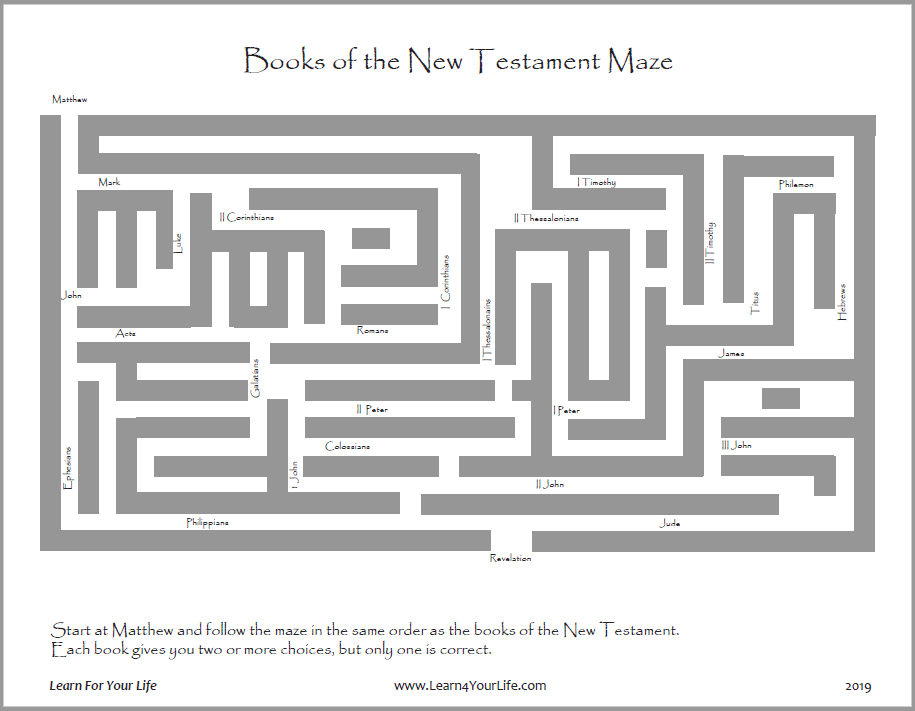 Click to go to New Testament Books Page
Wander through our the Greek courtyard finding the books of the New Testament in the correct order. Be careful, there's at least two choices at every turn.