Weather Unit Study
MatchCard Science Unit Study will turn rainy days into sunny memories. This hands-on homeschool science unit study provides objectives, demonstrations, and projects for the study of weather and the Earth's atmosphere.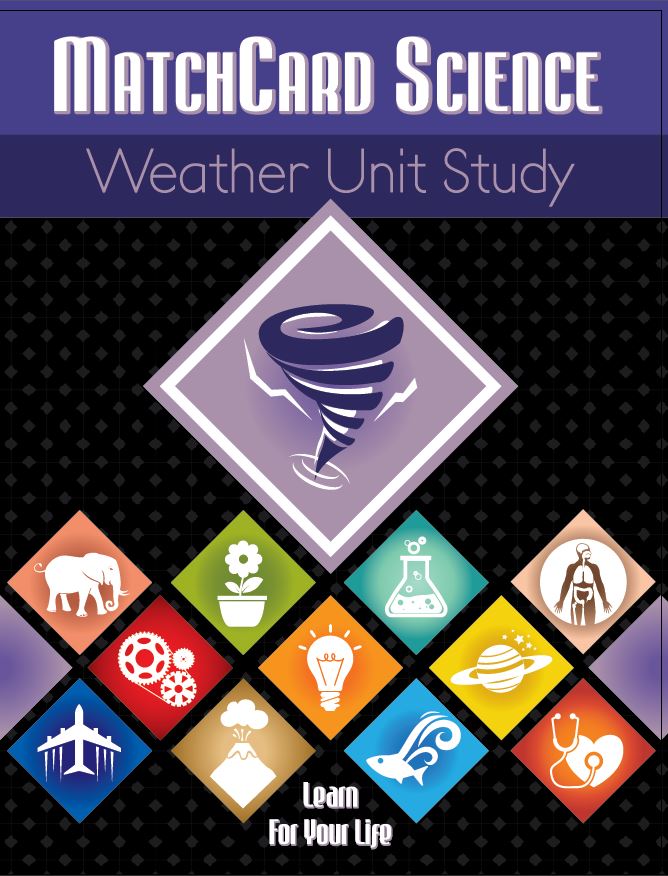 FREE student MatchCards at the bottom of this page.



&nbsp &nbsp &nbsp &nbsp &nbsp &nbsp &nbsp &nbsp &nbsp &nbsp &nbsp &nbsp &nbsp &nbsp &nbsp &nbsp &nbsp &nbsp &nbsp &nbsp

Weather Objectives
1. Describe why the seasons change with the revolution of the Earth around the sun.
2. Identify the four types of precipitation.
3. Describe the water cycle.
4. Identify the wind strength with the Beaufort Scale.
5. Determine conditions with the use of thermometers, barometers, wind-direction vanes, and hygrometers.
6. Describe the cause and impact of tornadoes.
7. Describe the cause and the impact of hurricanes.
8. Identify cloud types.
9. Describe the layers of the atmosphere.
Weather MatchCards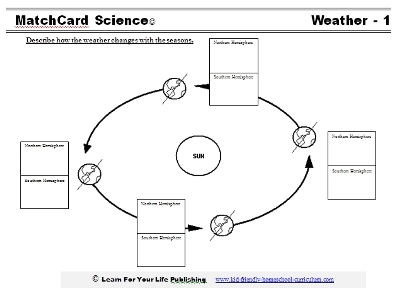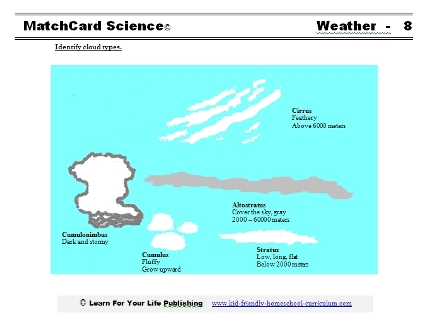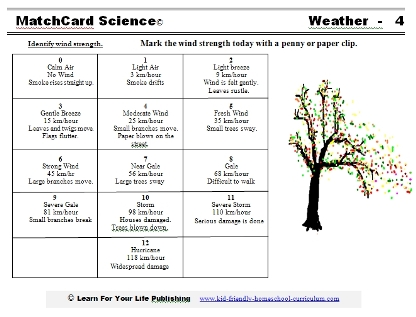 The MatchCards are the backbone of MatchCard Science. Each of the nine objectives listed above has a MatchCard to help students master that objective.
What's on the MatchCards?
Diagram, map, table or graph illustrating main concepts
On a separate page the information pieces are provided. They will be cut apart and placed int he correct place on the MatchCard for the daily and weekly reviews.
Your instructor guide has the correct answers.
Review, review, review. It's a game the students enjoy.
So How Does it All Work?
You will teach one objective every week using the corresponding MatchCard. Two to three times a week your students will review five other MatchCards they learned previously.
. The Instructor's Guide explains how to organize and use your MatchCard notebook.
Weather Unit Study Log
A unit study log brings all your activities together and is the crowning touch of your unit. It will include your bibliography, description of science projects you do, list of daily readings and activities, and Grading Sheet. Check out the free instructor's guide for more information.
Get the Weather MatchCard Unit Study
The MatchCard Unit Study is available in three forms:
Free Unit Study (student materials only)
Purchase the download (Instructor's Guide, Student MatchCards, Answer Key, Learning Activities)
Purchase the soft cover book (same as above, but mailed to your home
Downloadable Unit Study: $8.99

Includes all Student & Teacher Materials



---
Buy the Book: $8.99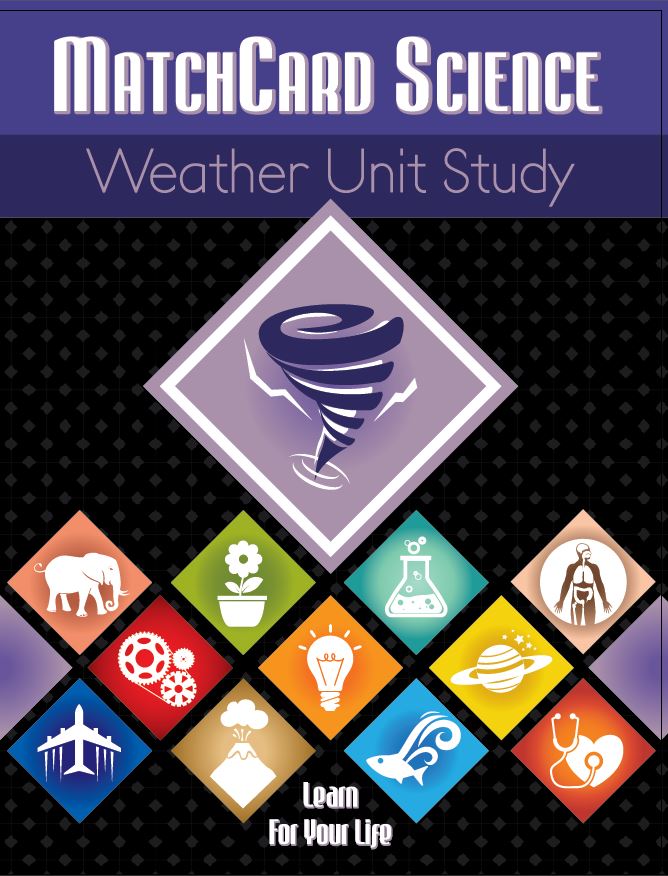 Soft Cover Book Mailed to Your Home


---
Student MatchCards: Free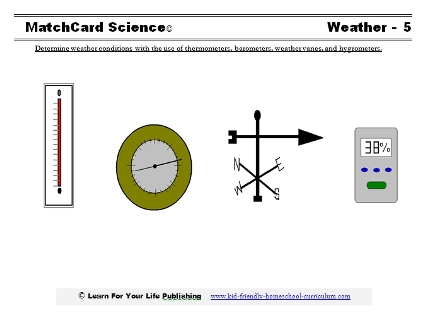 Fill out the form below for free student materials.
All student materials are included in each of the paid formats. For your convenience here is a list of all free MatchCard Science curriculum downloads.
Share your ideas on your weather unit study. We would love to hear from you.