The Better Letter Primer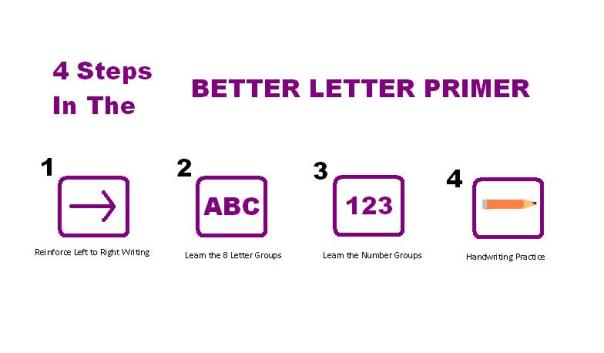 The Better Letter Primer is a unique handwriting program which promotes proper letter formation. Program features include:
The four steps in this program are outlined below.
The 26 letters are arranged in 8 groups.
Numbers are arranged in 3 groups.
Handwriting coaching is explained.
This program can be used as a supplement to any other writing or penmanship program.
The Better Letter Primer Overview
Get more information on the
Better Letter Primer
. You will find directions for each step as well as links to the download pages.
Worksheets for the Four Steps to Correct Penmanship
The Better Letter Primer provides the free handwriting worksheets for each of the four steps
Downloads to the Worksheets at the Link Above
Step One - Writing Direction
Blank Lined Paper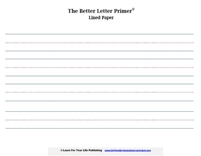 Left to Right Writing
(L2RW) is taught in the first step. You can use any writing paper or the blank handwriting practice worksheets on the direction page for Step One.
Step Two - 8 Letter Groups
Letter Formation Worksheets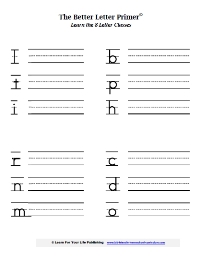 The second step in the Better Letter Primer is practicing the
8 Letter Groups
with the handwriting worksheets provided.
The 26 letters are arranged in 8 groups according to the type of letter formation. For instance, the first three letters learned are "l", "t", "i". Each of these letters starts at the top and the pencil moves straight down.
Step Three - Number Formation
Number Formation Worksheets
The third step is correct
number formation
. The different digits are divided into three groups. They are arranged according to the direction the pencil begins. Handwriting worksheets are included.
Step Four - Review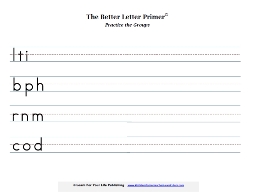 Review the lessons that have been taught using the
Review Handwriting Practice Pages
from The Better Letter Primer to review all letter and number groups.
All Downloads
You can get
all the Better Letter Primer handwriting worksheets
on this page. Three different sizes of print are offered for different ages.
Preschool Handwriting
Letters and Handwriting for 3 to 5 Year Olds
Early childhood learning involves hands-on activities. They need more than practice with pencil and paper.
Handwriting for Preschoolers
provides multi-sensory techniques to teach and reinforce letters.
Kindergarten students often learn letter formation and the phonic sounds together. This page gives information on
kindergarten handwriting
with the Better Letter Primer.
Pencil Grips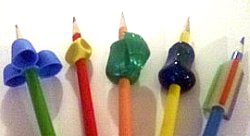 Correctly holding a pencil is important for correct letter formation and neat handwriting. Pencil grips can assist students to hold their pencils correctly. Our review
compares pencil grips
. Twelve different types of pencil grips are compared. The correct tripod grasp is also explained.