You Are Here:
Golden Goblet
The Golden Goblet Unit Study
Search for the literary treasures in
The Golden Goblet
by Eloise McGraw and watch your students' enthusiasm and comprehension grow.
Golden Goblet Unit Study Guide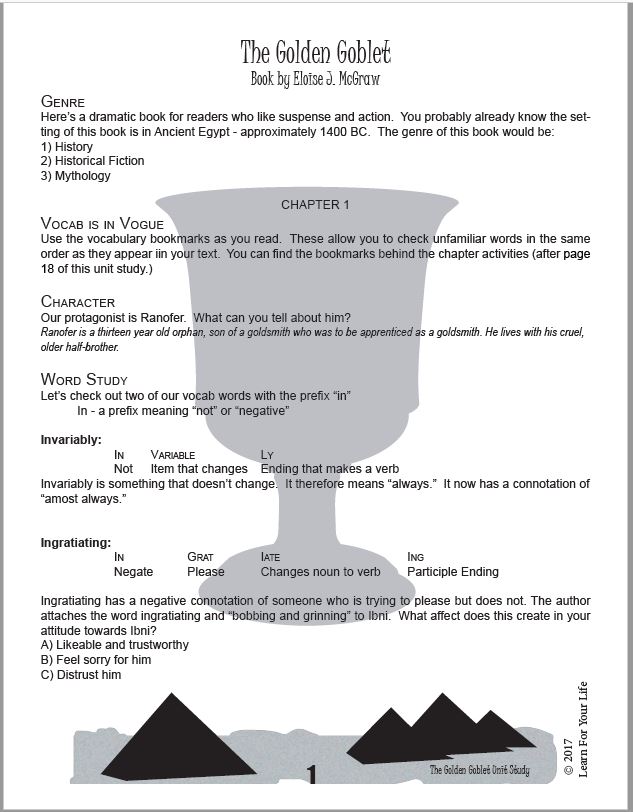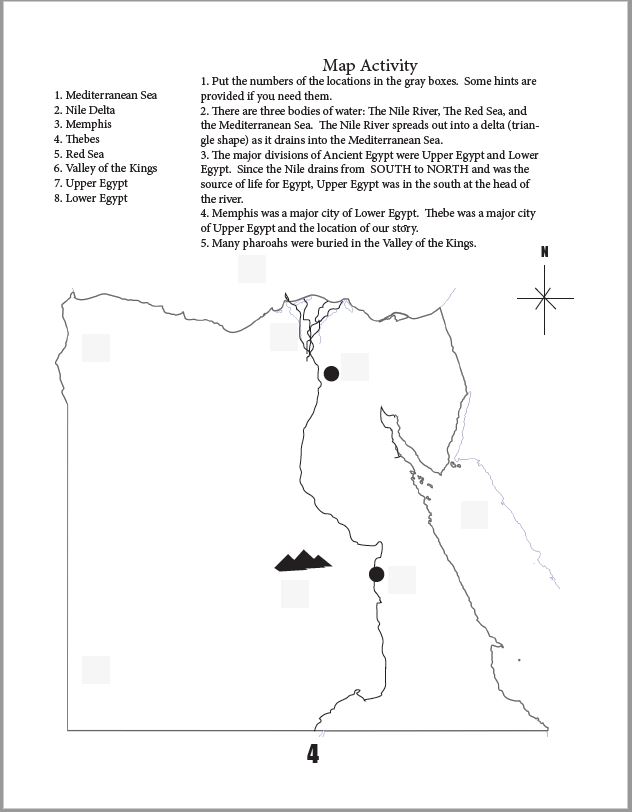 Golden Goblet Student Guide AND Teacher's Answer Key Included
$2.99 Download - 36 pages


The Golden Goblet: Historical Fiction from Ancient Egypt
A great addition to any study of Ancient Egypt, this fiction books tells the story of Ranofer whose promising future as a goldsmith ended with his father's death. Trapped by a heartless older brother, Ranofer's hopes are crushed one by one. Even worse, he becomes suspicious that his brother has involved him in the theft of gold.
Two unlikely companions join Ranofer in a plot that is much greater than stealing gold from a goldsmith.
Middle school students will breathlessly follow Ranofer in his dangerous trek to the Valley of the Kings.
Our unit study helps students search the hidden treasures of literary elements, find fun facts about pyramids and gold, asks discussion questions and reading comprehension questions, and provides a vocabulary guide.
What is in The Full Unit Study Guide?
Chapter by Chapter Activities
Each of the 16 chapters in
The Golden Goblet
has accompanying daily activities in our unit study guide.
Reading Comprehension with a Twist
Our reading comprehension questions are intentionally general and will let you know if the student has read the chapter. But they are much more than a little reading quiz.
Students typically focus on "what" happens in a story. Our reading comprehension questions focus the students' attention on important clues they often miss:
Why something occurred
What changes occur in a character's behavior or thinking
Symbolism or motifs they might miss.
Our reading questions also summarize the key events in a chapter.
Literary Elements
We have fun with the literary elements by letting the student discover them in the context of an exciting book.
The five parts of an action plot, symbolism, foreshadowing and other literary elements are evaluated as they occur.
Vocabulary Words


Our Golden Goblet Vocabulary Bookmarks make it easy for your students to learn unfamiliar words. Words and definitions are listed chapter-by-chapter in the order they appear in the text.



Word Study Tips
Some interesting words that occur in the vocabulary list are broken down by prefix, root, and suffix.
In this unit study, the students get multiple examples of how "in" and "im" and "ir" are prefixes that mean "not."
Fun Facts
Fun facts sections give students extra information on:
Gold
Pyramids
Apprenticeships in ancient times
Think About It: Questions for Discussion & Contemplation
Many of these questions analyze Ranofer's situation and his choices. Students try to picture themselves in the same situation and decide the best course of action.
Map Activity
What is a unit without a map? The map of Ancient Egypt differentiates Upper and Lower Egypt, and the two main cities of each.
The map supports the plot in the novel by showing how the Nile River divided the city of Thebes and how the Valley of the Kings was not far from Thebes.
The Grammarian's Apprentice
In several chapters students will analyze how the author uses different types of grammar principles by writing strong sentences.
The grammar principles coincide with the Kaleidos Grammar Lesson taught on the same day as the chapter is assigned for students using
Kaleidos Langauge Art 8th Grade curriculum
.
Super Writers Challenge
Students are challenged to imitate some of the author's unique writing style in order to develop and improve their own.
Throughout the chapters, Ranofer engages in day dreams which the author portrays through a method called rambling. It sounds easy but it takes some discipline and control. Students are invited to try their own hand at rambling.
Near the climax, Ranofer issues a statement that defines himself and guides his decision. Writers are challenged to write their own defining statements (about themselves or a literary or historical character.)
Buy the Golden Goblet Unit Study Guide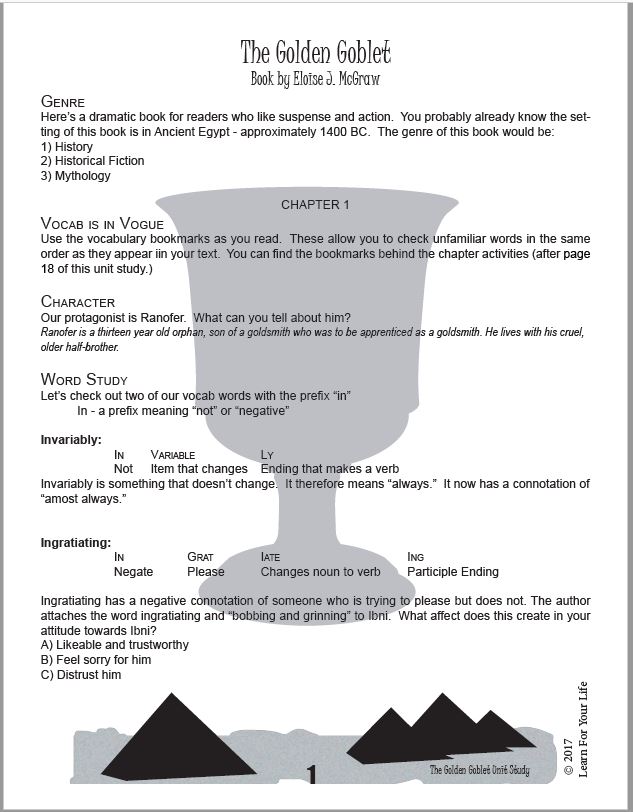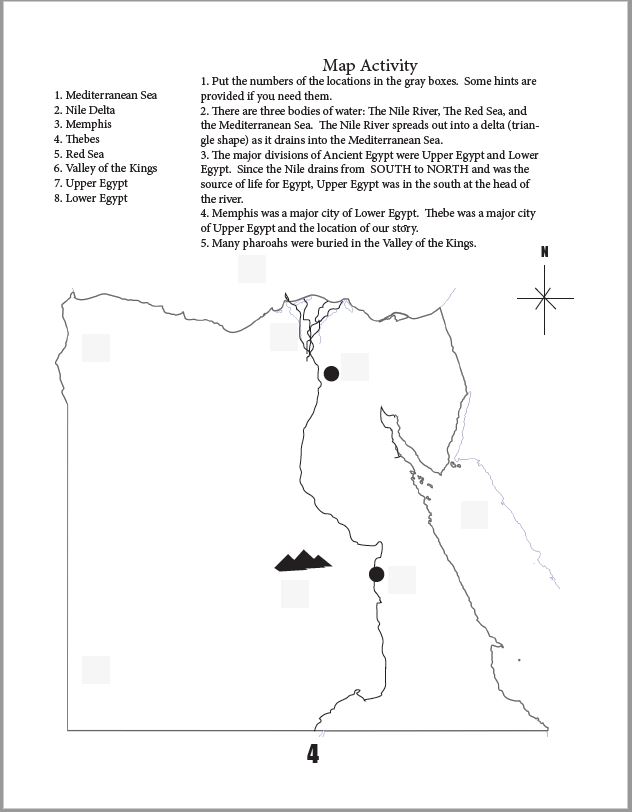 Golden Goblet Student Guide AND Teacher's Answer Key Included
$2.99 Download - 36 pages