The Golden Goblet Vocabulary Lists
Our Vocabulary Word Lists for
The Golden Goblet
provide chapter-by-chapter words and definitions.
Check Out the Golden Goblet Vocabulary Bookmarks
See the vocabulary words and definitions for the first five chapters below.
Students and teachers alike love our vocabulary bookmarks. They provide a list of vocabulary words for each chapter in the order that the words occur. They also provide the definition.
Yes, some people think it is very studious for a student to go look up a word. We also know must don't; they just skip over it. Our bookmarks do the heavy lifting for the student. They can check the meaning of the word in context of the passage - and be looking for the next unfamiliar word that comes up.
The book marks are printed on 8.5 X 11 standard sheets of paper and can be folded into the familiar bookmark shape.
Golden Goblet Unit Study Guide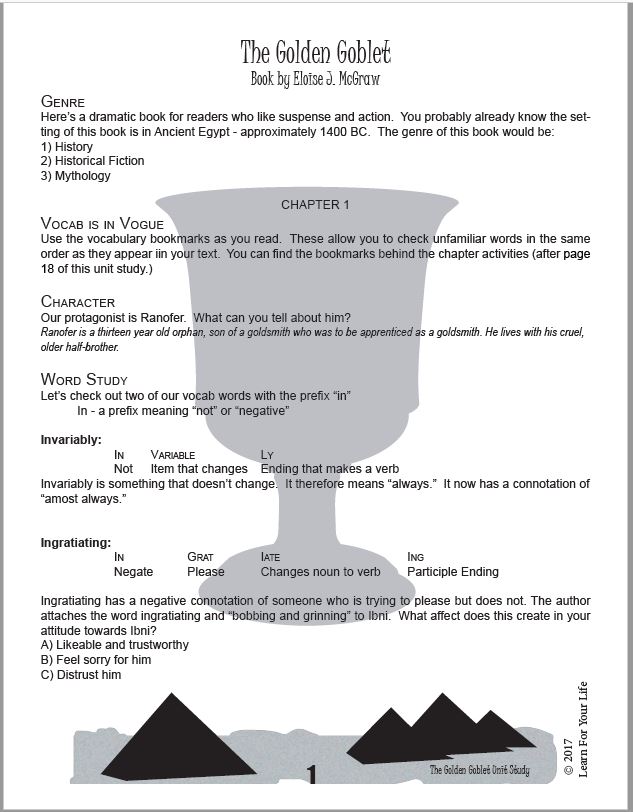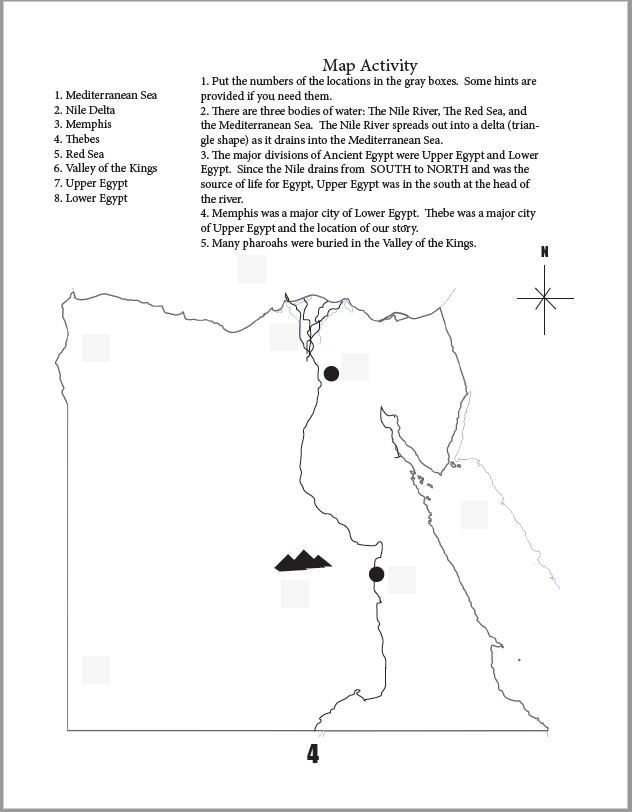 Golden Goblet Student Guide AND Teacher's Answer Key Included
$2.99 Download - 36 pages


What Else Is In the Unit Study?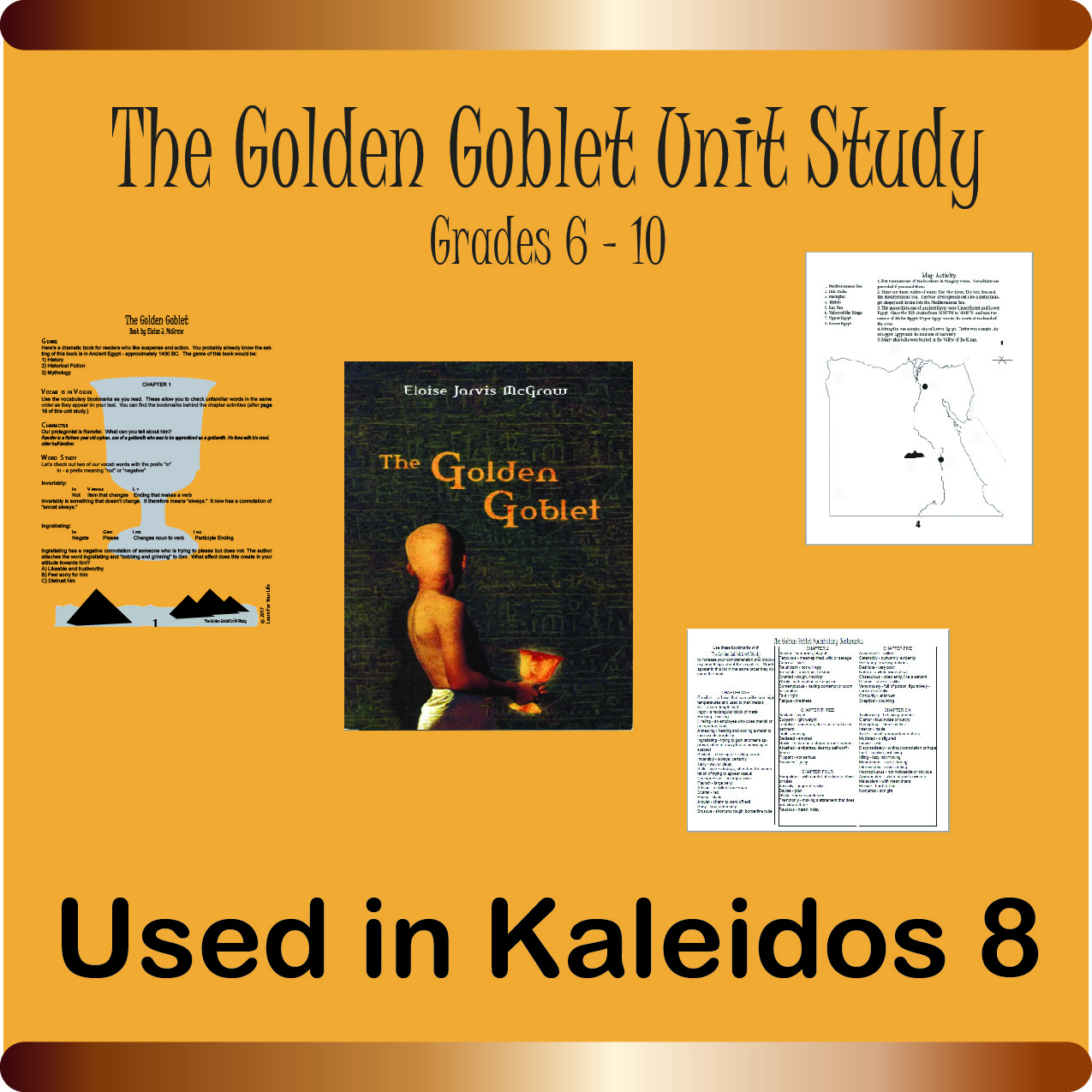 Click the Pic to find more about our full unit study.
Our popular vocabulary bookmarks are only one of the features of the ready-to-use unit study. Chapter by chapter activities include these additional features:
Reading comprehension questions
Literary Elements
Word Study Tips
Fun Facts about Ancient Egypt
Discussion & Contemplation Questions
Map Activity
Grammar Helps
Writer's Challenges
Buy the Golden Goblet Unit Study Guide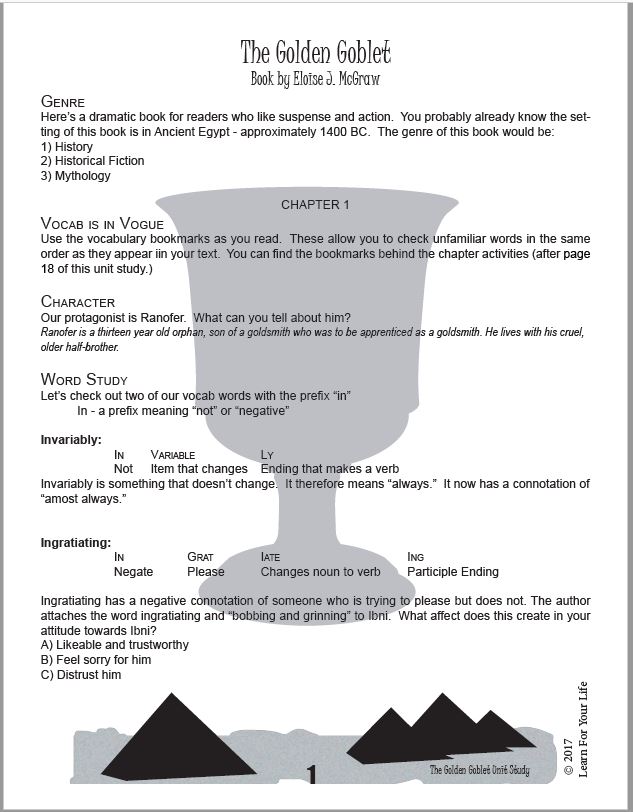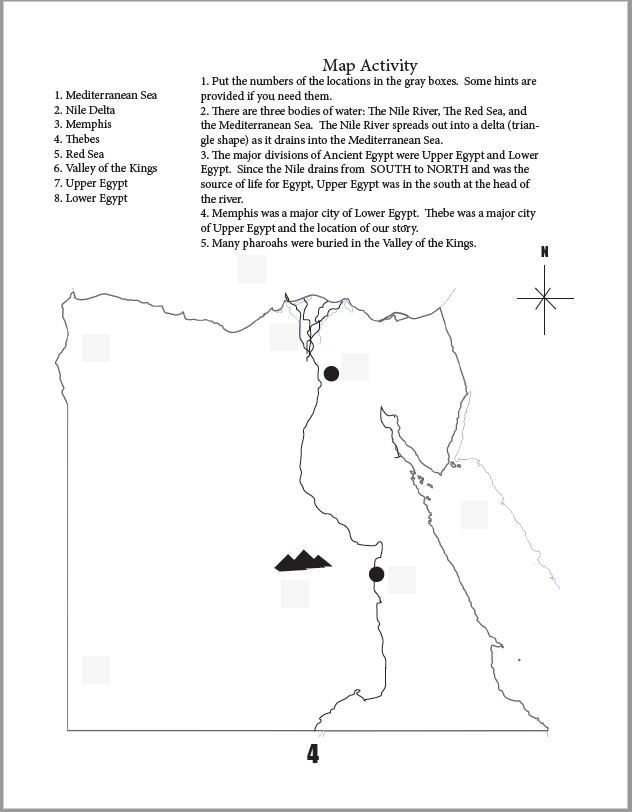 Golden Goblet Student Guide AND Teacher's Answer Key Included
$2.99 Download - 36 pages


Vocabulary Lists for Chapters One through Five
Chapter One
Crucible - a bowl that can withstand high temperatures and used to melt metals
Kilt - a knee-length skirt
Ingot - a rectangular block of metal
Rousing - exciting
Hireling - an employee who does menial or unimportant labor
Annealing - heating and cooling a metal to increase its durability
Ingratiating - trying to gain another's approval, often in a way that is annoying or suspect
Sibilant - a hissing or sizzling sound
Invariably - always, certainly
Tarry - wait or delay
Sidle - walk sideways, often has the connotation of trying to appear casual
Umimpressive - not impressive
Paunch - large belly
Artisan - a skilled tradesman
Scarlet - red
Ebony - black
Amulet - charm to ward off evil
Surly - sour, unfriendly
Brusque - short and rough, borderline rude
Chapter Two
Jocular - humorous, playful
Ferocious - mean-spirited, wild or savage
Conceal - hide
Relunctant - not willingly
Irresolute - uncertain, hesitant
Gnarled - rough, knobbly
Warily - with caution or suspicion
Contemptuous - having contempt or scorn for another
Taut - tight
Fatigue - tiredness
Chapter Three
Jubilant - joyful
Buoyant - light weight
Tentative - uncertain, done as a trial or experiment
Droll - amusing
Depleted - emptied
Gawk - to stare in a stupid or rude manner
Abashed - embarass, destroy self-confidence
Flippant - not serious
Succulent - juicy
Chapter Four
Scrupulous - with careful attention to ethics or rules
Irascibly - angered easily
Devise - plan
Glibly - spoken carelessly
Premptorily - making a statement that does not allow debate
Raucous - harsh, noisy
Chapter Five
Accumulate - collect
Ostensibly - outwardly, evidently
Gesturing - making motions
Destitute - very poor
Natron - a white mineral salt
Obsequious - obediently, like a servant
Disdain - severe dislike
Venomously - full of poison, figuratively - spoken hatefully
Obscurity - unknown
Skeptical - doubting
Buy the Golden Goblet Unit Study Guide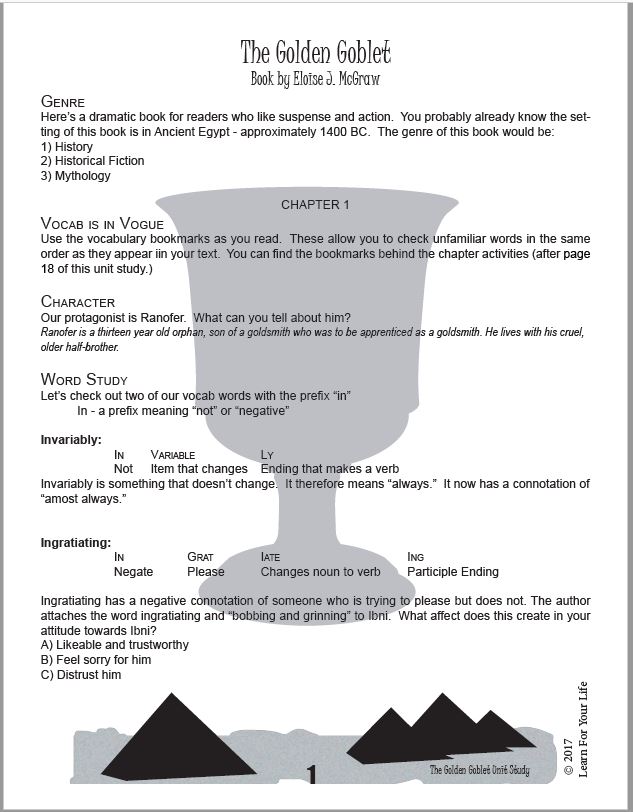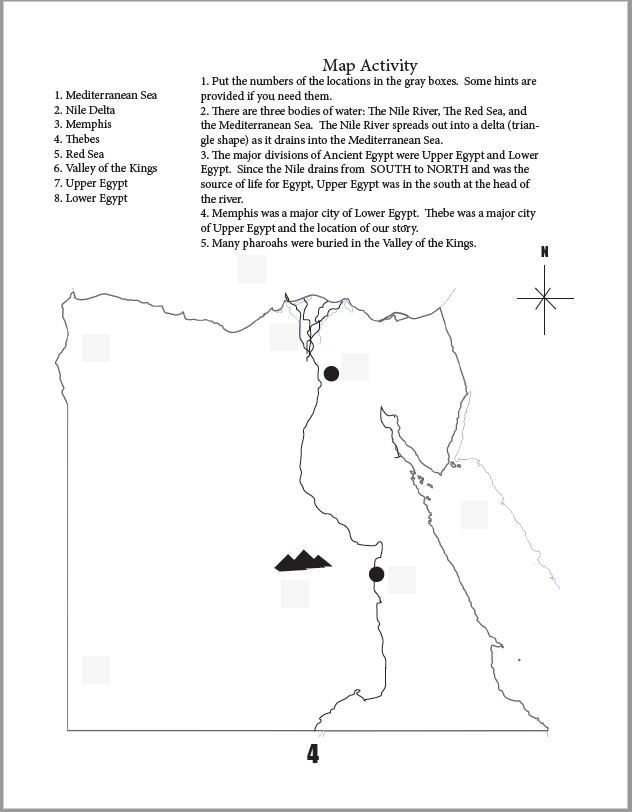 Golden Goblet Student Guide AND Teacher's Answer Key Included
$2.99 Download - 36 pages