You Are Here:
Shadow of the Pines
In The Shadow of the Pines
A heart-wrenching story about a Texas share-cropping family struggling during the Great Depression.
In the Shadow of the Pines
makes the era come alive for 4th - 8th graders as they grasp how the Depression impacted kids, families, and an entire generation.
A mother's plea &nbsp &nbsp &nbsp &nbsp &nbsp &nbsp A son's promise
by Karen Newell
What do you do when hardships make it impossible to keep your promise?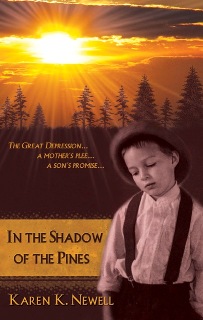 The Great Depression was difficult for everyone, but for Alfred and his brothers and sisters it seemed even worse. When his parents' store closed, the family had to move to the farm as sharecroppers. Plagued by poverty and hunger, they were torn by land disputes and a drawn-out court battle.
His mother's dying wish was that her children stay together and go to school. But without food in the house their father insists Alfred and his brothers leave school to work.
As circumstances get worse, the family are evicted and homeless. Now they must survive in a tent in the woods.
Is it even possible for Alfred to keep his promise?
---
Historical Fiction based on a true account

Children's Literature - Grade 4 through 8



Historical Fiction: In the Shadow of the Pines
Based on a true story,
In the Shadow of the Pines
highlights the impact of the Great Depression on an entire generation, as well as portraying the unique history of eastern Texas from its settlement to the 1930's.
The setting is the
Bobbitt Cemetery of San Augustine
, a Texas state historical site. There, Alfred struggled with the meaning of life and death and the promise he made.
Explore the history of a nation, as one family confronts the seemingly insurmountable struggles from post-Civil War era through the Depression in
In The Shadow of the Pines - Historical Fiction Inforation.
Buy In the Shadow Of the Pines
---
Also Available
Also available on Amazon and Kindle.