We Would Love
To Hear From You!
Our website is constantly being updated. We would appreciate any feedback, questions, or comments during this phase of development.
Please use the form below to contact us. The visual graphic you are asked to copy is to prevent spam.
Please visit our site again. You can also sign up to receive our Homeschool Blog and Homeschool Free-be-zine.
Off-Line Contact Information
Address:
308 Prowell Drive Camp Hill, PA 17011

Phone Number: Eastern Timezone USA
717.418.9159
About Our Site
Hands-On Learning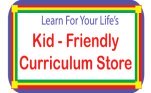 See All Products
By Karen Newell Copyright© 2009 - 2018 Learn For Your Life All Rights Reserved