You Are Here:
Reading Club
Childrens Book Club
Welcome to our Children's Book Club Reading Program
The best readers read the best books; and our childrens book club rewards kids for reading quality children's literature.
How It Works
We have listed our pick of the very best books by grade level. Students who read seven of the books on the list can earn the Classical Childrens Book Readers Award.
The process is simply:
The students choose the seven books they wish to read from the grade level lists.
After reading the seven books, they go to the corresponding page for their grade level.
The students fill in the form with their name (as they want it to appear on their certificate), the seven books they read, and their email address.
The certificate will be emailed to the child.
We WILL NOT keep your email for any other use by ourselves or others.
If you desire to stay in contact with us, we invite you to subscribe to our quarterly report. But we do NOT use the childrens book club to build or maintain an email list.
The Children's Book Club Reading Lists
Have fun reading great books at each grade level with our classical childrens book club reading lists.

All of the Book Club Reading Lists
For your convenience, we have listed all of the
book club reading lists
on one page.
We have the book club lists for 3rd to 8th grade listed below.
3rd Grade Classical Book Club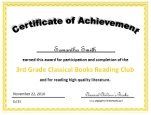 Read what happens when an Indian visits the new setttlement on Plymouth Plantation, follow three children as they solve a mystery with a treasure map, and creep up and down a hill watching for bears. Join the adventures of other third graders as they read great stories from US history as well as fun and fiction.
Visit our
3rd Grade Book Club
and get started reading good books.
4th Grade Classical Book Club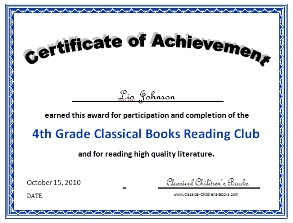 Join the adventures of children capturing a wild pony, saving a train from disaster, protecting their family from animals with rabies. Let history come alive with these books on the 4th Grade Childrens Book Club list.
Check out the
4th Grade Book Club
to get on the path to great reading.
5th Grade Classical Book Club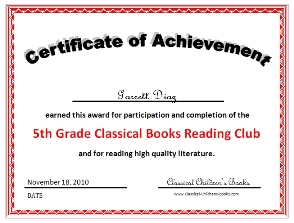 Join our heroes and heroines as they journey to far places, flee from danger, settle in untamed wildnernesses, battle legendary villains, and fight so that good will triump over evil.
Don't miss any of the books on the
5th Grade Book Club
for exciting literary adventures.
6th Grade Classical Book Club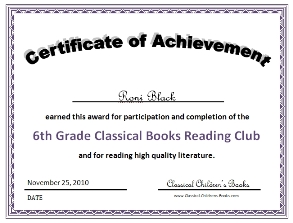 Travel back in time to Ancient Egypt and Rome, sail with pirates, and hide with outlaws. These classic books for 6th graders are filled with excitement and history.
Adventure and danger fill the pages of the
6th Grade Book Club
as kids meet heroic characters from history.
7th Grade Classical Book Club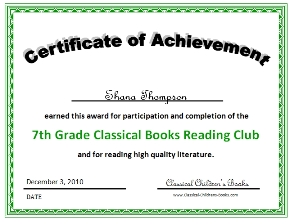 A fantastic variety of literature including historical fiction, non-fiction, animal stories, fantasy, and detective stories. Journey from the middle ages to World War II with historical and fictitious characters you will never forget.
Expand your horizons with the
7th Grade Book Club
selections which will give you a taste of the greatest literature.
8th Grade Classical Book Club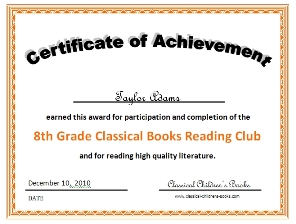 Favorite books by Dickens, Twain, London, Tolkien, Stevenson and more. These are great stories that will enrich your understanding of history, philosophy, and life.
Great literary adventures and exciting reading await you with the
8th Grade Book Club.
Enjoy the world's best selling books.
Also see our other selections of classic literature on this site.