8th Grade Reading Club Certificate
Read ten of the best classic books on the 8th Grade Book Club list and earn a classical readers award certificate. There is no charge to join and you will be rewarded by reading some of the best books ever written.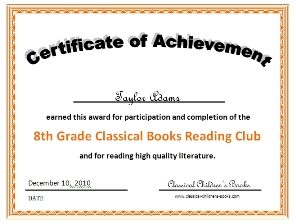 The Best of The Best
Favorite books by Dickens, Twain, London, Tolkien, Stevenson and more. These are great stories that will enrich your understanding of history, philosophy, and life.
How It Works
Read ten of the books on the Eighth Grade Reading Club list below and earn the Classical 8th Grade Book Club Award.
The process is simply:
Chose your favorite of the books on the list.
Fill out the form below AFTER you have read at least ten of the books.
Make sure you write your name as you want it to appear on the certificate.
The 8th Grade Book Club certificate will be emailed to you.
Don't Worry: We WILL NOT keep your email for any other use by ourselves or others.
Books in the 8th Grade Book Club List
Read the description of the books in the
8th Grade Reading List
.
You may stop at ten; but you might also read all of them!
Why do we emphasize
classical
literature? It teaches about the big questions of life: particularly the search for good in the midst of evil.
Do you like variety? You can find historical fiction, fantasy, non-fiction on these lists.
Besides this page, we have hundreds of other great books listed on our site. Once you find the category of books you like the best, you can find many more like them.
Our Eight Grade Reading List
Here are the top books on Kalaidos 8th Grade Reading List:
Kidnapped by Robert L. Stevenson
Personal Recollections of Joan of Arc By Mark Twain
Carry On, Mr. Bowditch by Jean Latham
Streams to the River, River to the Sea by Scott O'Dell
Fellowship of the Ring by J.R. Tolkien
Golden Goblet by Eloise J. McGraw
Rifles for Watie by Harold Keith
Freedom's Cause by G.A. Henty
Cry, the Beloved Country by Alan Paton
Call of the Wild by Jack London
Oliver Twist by Charles Dickens
Julius Caesar by William Shakespeare
Other Genre - Mythology: Tales of the Greek Heroes by Roger Green
Submit the form below
Once you have read any ten books on the 8th Grade Book Club Reading List, submit the form below to receive your certificate.
Submit your first and last name as you wish it to appear on your certificate.
The certificate will be emailed to you within 48 hours. We will NOT save your email address and promise not to use it for any other purpose.
By completing this form, you are stating that you have read the books in full.