You Are Here:
Animal Stories
Animal Stories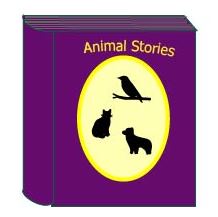 These children's literature books have the animal tales loved by kids for more than fifty years. Humans may have changed in that time, but our furry friends have not. Deepen your child's love of reading with these classic animal stories.
Peter Rabbit
By Beatrix Potter
Talking Animals
The story and pictures of Peter Rabbit and Flopsy, Mopsy, and Cottontail have charmed kids and adults for over 100 years.
---
Peter Cottontail
By Thorton Burgess
Talking Animals - Nature Study
Yes, it is confusing, but this is not the same rabbit as Peter Rabbit above. Never mind that Peter Cottontail did have the name Peter Rabbit and changed it. Or that the Peter Rabbit created by Beatrix Potter had a sister named Cottontail. However, those who like animal stories in general, and rabbit stories in particular, will be happy to read one of Burgess' most well-read books.
---
Rabbit Hill
By Robert Lawson
Another book about rabbits and all the other little animals that share the neighborhood. The animals are excited that some new folks are moving into the Big House. Will they be good folks or bad like the last humans that lived there? Will they plant a garden? The new folks have a surprise for their small neighbors. A delightful book for young readers.
This book is part of the Kalaidos 3rd Grade Reading books.


---
My Father's Dragon
By Ruth Gannett
Talking Animals - Humor
Reading Level: 3-4th grade (Great read out loud book to children as young as four years.)
A silly story about a boy who goes to an island to rescue a baby dragon, and tricks the fiercest of wildest animals with mundane objects in his back pack. This unusual story provides a unique opportunity for teaching children first and third person narratives and point of view. It is narrated by an unidentified child (first person), but the main character is the narrator's father when he was a boy (point of view). Moreover, it is obviously fiction, but is written as if the author was writing a true biography.
Find the link to more dragon stories at the bottom of this page.
---
Aesop's Fables
By Aesop
Talking Animals
Short entertaining animal stories with a moral lesson. While Aesop's Fables are often mistaken as stories for very young children because of the talking animals, the ethical lessons are actually geared for slightly older children who can understand cause and effect.
See the link at the bottom of this page for more animal fables.

Aesop's Fables (Illustrated) on Kindle


---
Wind in the Willows
By Kenneth Grahame
Talking Animals
Rat, Mole, Mr. Toad, and Mr. Badger share adventures and misadventures in this tale of friendship.
---
Charlotte's Web
By E.B. White
Talking Animals
A story about Charlotte, a kind spider, and the barnyard of animals around her. A first chapter book for many students.
---
The Trumpet of the Swan
By E.B. White
Talking Animals
A swan does not have his voice, but instead learns to play a trumpet. A story about overcoming disabilities.
---
---
Mr. Popper's Penguins
By Richard and Florence Atwater
This story has entertained generations of children, just as the performing penguins entertained the crowds. The penguins and their human handlers subtley address the age old question of success. What is better: fame and fortune or a humble, happy, home shared with people and pets you love?
---
Cranes In My Corral
By Dayton O. Hyde
True Story - Humor
5th Grade and Above
When a rancher tries to raise a flock of cranes, the whole ranch goes upside down. No self-respecting ranch hand wants to stay on such a crazy ranch, his wife's garden his torn apart, the fledgling cranes pester everyone - even the dog.
---
Animals You Will Never Forget
By Readers Digest
Collection of 72 True Stories
I was given this book as a gift from my grandmother years ago. It was a treasured volume of animal stories that I read and re-read for years. A valuable addition to the library of any animal lover!
---
The Story of Dr. Doolittle
Hugh Lofting
A man with many talking animals - fiction
Dr. Doolittle is a doctor but animals prefer his company more than humans. He is able to speak their languages. This is the first in a series of books with the doctor and his menagerie of talking animals.
---
The Jungle Book
Rudyard Kipling
Fiction - Talking animals - child raised by wolves
Like most classical animal stories, the original is much different than movie versions. The first three chapters tell the story of Mowgli, a boy who was raised by wolves in the jungle. The next four stories are a collection of animal stories from India.
---
Tarzan
Edgar Rice Burroughs
For those who liked Jungle Book, here is another story of a human raised in the jungle to become its master. Tarzan becomes King of the Apes, until a woman named Jane appears in the jungle.
---
Bambi: A Life In The Woods
Felix Salten
A beautifully written book describing life in the forests. This is not a preschool book, but one for older and thoughtful children. Considers questions on life and death. Great for nature study.
---
Mountain Born
Elizabeth Yates
A touching story of a boy and pet sheep, Biddy. Peter's father has a sheep farm, and he becomes attached to the lamb that was not expected to live. The wise old shepherd, Benj, shows Peter how to tend to the needs of the sheep as he learns lessons of the cycle of life.
---
Born Free: A Lioness of Two Worlds
Joy Adamson
A true story of a lion cub who was raised by the author so that she could live free as a mature lioness in the grasslands of Kenya. A touching story that was made into a movie.
---
Horse Stories
A dog may be man's best friend, but horses seem to be literature's favorite four-legged hero. Those who love animal stories will also enjoy these heart warming
classic horse stories
.
Dog Stories
Here is a great list of the world's best dog stories - both true and fiction. This will keep dog lovers reading for weeks with
classic dog stories for children
.
Nature Stories
The love of animals can grow deeper when they are encountered in the natural habitat.
Nature Stories
will inspire your kids with a love or nature.
Dragon Stories Dragon Stories will take your imaginative readers on mystical adventures to encounter these mysterious monsters of old. Put a great book in the hands of your dragon-loving friends.



More Animal Stories? Try Fables Fables are short stories that have an ethical lesson. Fables often have animals as their main character. If you like stories with talking animals, read our list of short fables for kids.