You Are Here:
Nature Stories
Nature Stories
Nature stories touch the heart and excite the imagination.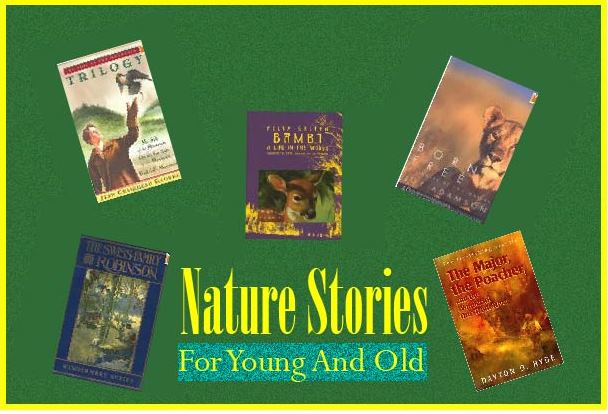 Hatchet
By Gary Paulsen
Age 12 and above
This Newbery winner is not yet a classic, though it's wide appeal to young leaders make it certain to become on. Brian survives a plane crash to find he must also survive the Canadian wilderness with no other tool than a hatchet he has with him. He does survive, only to continue the series with
---
The Major, The Poacher, and the Wonderful One Trout River
By Dayton O. Hyde
Age: 12 and above
Major Quillaine is a world renowned fly fisherman who works fervishly to fulfill his dream of catching the largest trout on record. Plumming Pittock is a boy who relies on fishing to feed his impoverished family. What will happen when the two neighbors compete for the giant trout? A touching story with important lessons.
---
The Underneath
By Kathi Appelt
Age: 10 - 14
An unwanted hound dog and his adopted cat family are surrounded by a thousand year old nature mystery in the backwater Bayou of East Texas. A tale of friendship and love vs hate and revenge. 2008 Newbery Award. A nice read aloud tale for younger elementary children.
---
My Side of the Mountain
By Jean Craighead George
Age: 12 and above
A boy who grows tired of the living in New York City runs away to live in the Catskill Mountains in an isolated area once owned by his great-grandfather. There he learns to live off the land. A modern day "Robinson Crusoe" except that he is only a short distance from a heavily populated area - that is looking for him.
---
Bambi: A Life In the Woods
By Felix Salten
Age: 10 and above (not for the little tykes)
Forget Thumper and Friend Owl, this is not the Disney version. Salten's original 1929 edition is hard to find; but even the modern edited versions are far more philosophical than the animated cartoon we associate with the name. This is the story of the woods as a habitat at the stag as the leader (in contrast to the usual saying of the lion king of the forest.) The enemy is Man; whom Bambi learns is not all-powerful and all-knowing.
---
Swiss Family Robinson
By Johann Wyss
A family is shipwrecked on a tropical island with only a few animals and some basic necessities. This is not the Disney adventure story with pirates, but a much more philosophical and fictional account of life away from civilization and surrounded by nature.
---
Rascal
By Sterling North
A beautiful story of a boy and the raccoon cub he raised in Wisconsin in the World War I era. A wonderful snap shop of the woods of Wisconsin from a naturalist who fondly recounts how the world's outside pressures were felt in his small hometown.
---
Miracles on Maple Hill
By Virginia Sorenson
4th-7th Grade
Rural Pennsylvania, Post WW II
Marly loves to hear her mother's stories of the summers she spent at her grandmother's farm. But now her father has returned from the war, a broken and angry man and happy stories are seldom told anymore. Marly is thrilled when her mother suggests they visit the old farm again. Is it too much to expect that the great outdoors will help her father? Surrounded by nature and new friends, Marly watches one little miracle after another.
Miracles On Maple Hill Youtube Audio.
---
More Nature Stofies
Native American
Read the beautiful tales of
Native Americans
and their relationship with the natural world around them.
Animal Stories
Animals are one of the most exciting parts of nature, and our list of
animal stories and books
will keep your young reader engaged with tale of our four-legged friends.
Fables
Fables
combine stories from nature and the wisdom of the ages. Short, engaging tales to help kids reflect on life and the world around them.