You Are Here:
Trumpeter of Krakow
Trumpeter of Krakow Unit Study
Our
Trumpeter of Krakow Unit Study
will dramatically increase your 5th to 8th graders comprehension and enthusiasm for Eric Kelly's Newbery classic.

What Is In Our Trumpeter of Krakow Unit Study?
Chapter Vocabulary Lists
Chapter by Chapter Activities
Reading Comprehension Questions
Digging Deeper and Discussion Questions
Map of Poland and Surrounding Countries and Towns
Map of Old Krakow with places designated in the book
Literary Analysis Questions
Writing Boosters
Learn About It Boxes with background historical information
Suggested supplemental Activities
Buy Our Trumpeter of Krakow Unit Study Guide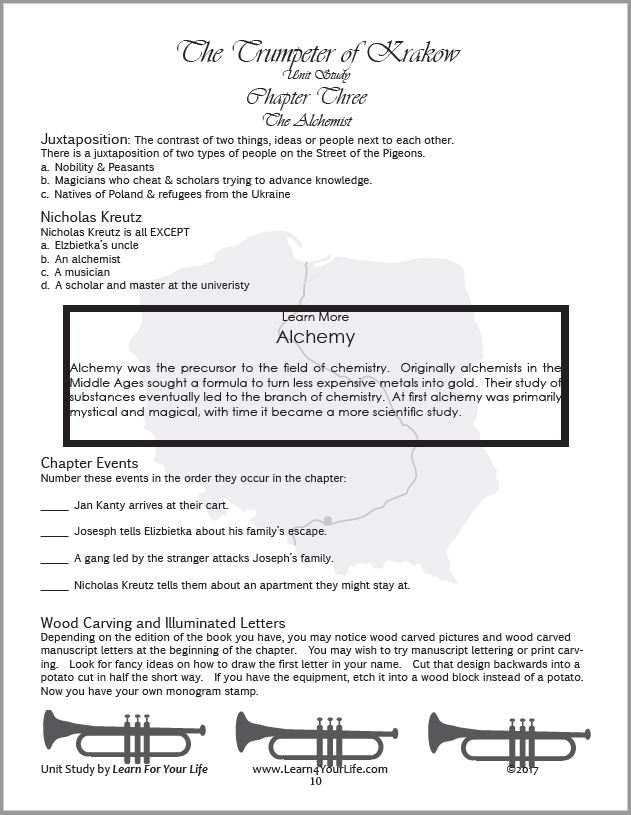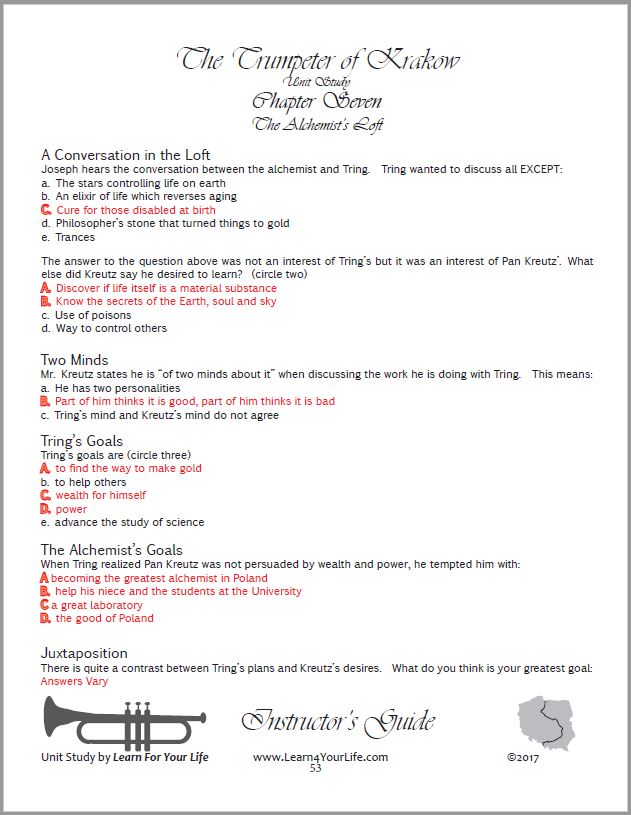 Student Guide AND Teacher's Answer Key Included
$2.99 Download - 76 pages


Our unit study download includes:
35 pages of student activities
35 page answer key for instructor
maps
vocabulary book marks
History, Legends, Myths
This unit study delves deeper into the role of historical fiction and the use of history, legends and myths in this tale, as well as literature in general. Because the main story is based on a historical legend of a lone trumpeter from the thirteenth century, it gives students opportunity to compare history and legend. The myth of the Philosophers Stone is evaluated as well as a new myth created by the author: the Great Tarnov Crystal. Myths, history, and legends of different kings of Krakow are also discussed.
Vocabulary Bookmarks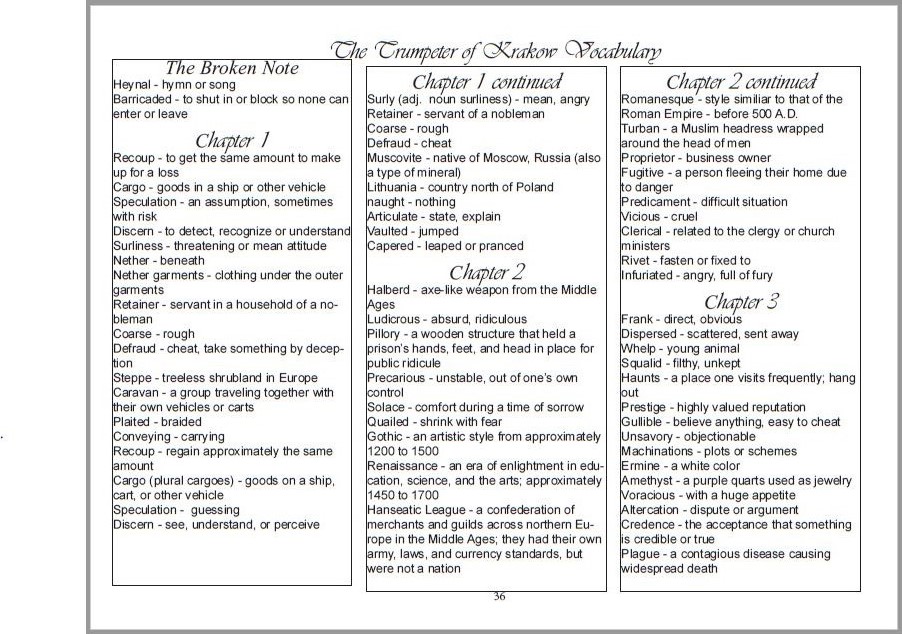 Students and teachers alike love our vocabulary bookmarks. The words are listed by chapter and in the order they occur in the text. Divide the paper into third and you have the perfect bookmark, ready to help each student find the meaning of unfamiliar words.
Chapter by Chapter Activities
The Trumpeter of Krakow Unit Study provides 1 to 4 pages for each chapter with questions, information, and activities to foster a more thorough understanding of the text. Whether a student reads one chapter a day or is assigned several chapters, the chapter activities give an appropriate review, discussion, and background information for middle schoolers. This book includes activities for the 16 chapters plus the prologue.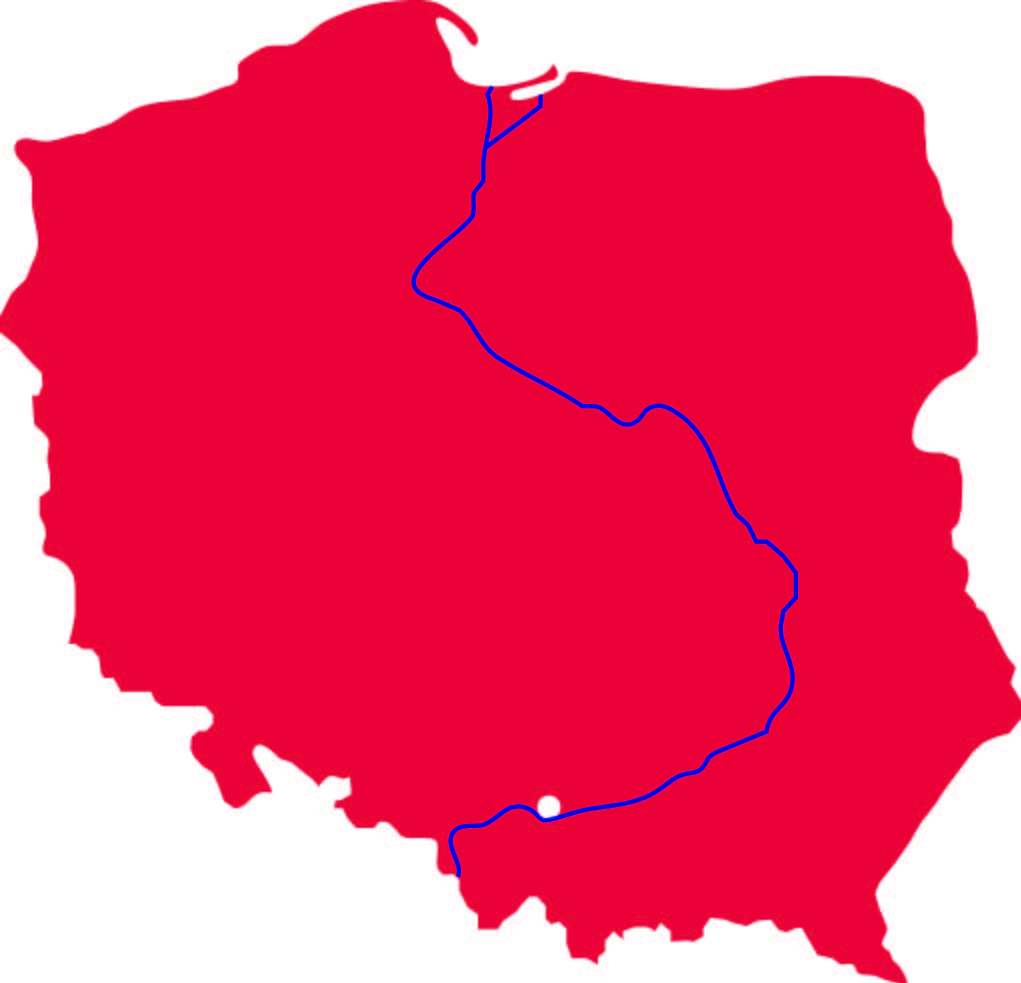 Comprehension Questions
Our multiple choice reading comprehension questions do more than simply check if the students read and understood the text (though they do, do that.) The content questions include the major events of the story. By reviewing the chapter activities, students grasp the main event of each chapter and how the chapters work to form the whole story.
Geography of Trumpeter of Krakow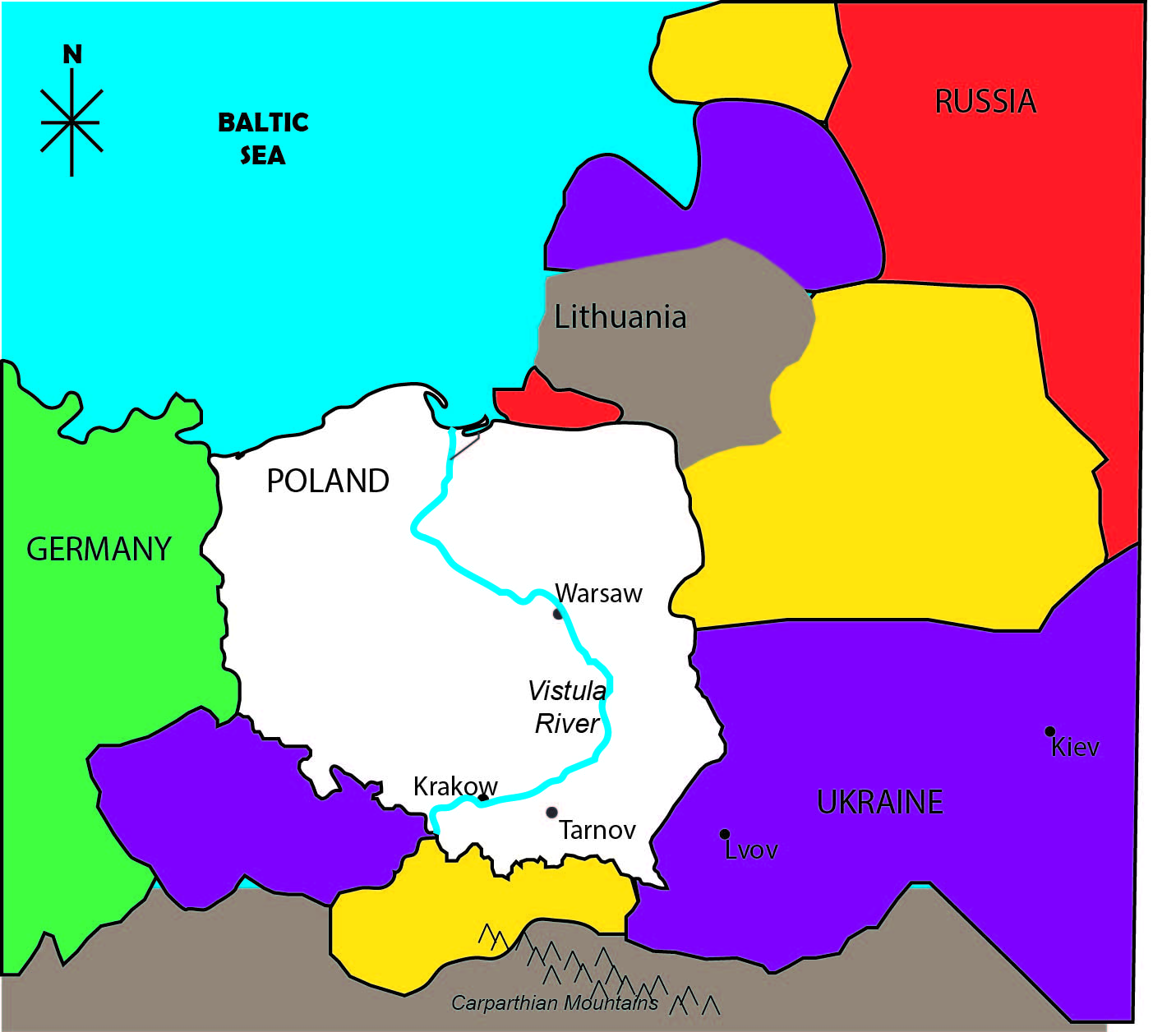 Black and White Map of Image Above Included in the unit study
Our map shows the location of Krakow and the Vistula River in Poland. It also shows the location of Ukraine, part of Russia, the Baltic Sea, and several cities that are part of the story.
15th Century Krakow Map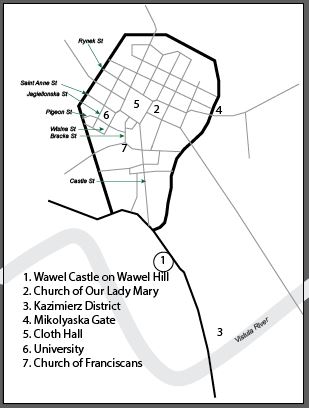 Our map of 15th century Krakow shows the location of the events in the chapters. Students can follow along as Joseph and Elzbietka go the tower or escape the flames that threaten the city. In addition, many of the points in the story are still present today. These locations are listed and readers are encouraged to look for internet pictures of famous places.
Literary Analysis
A great story is developed and carried along by the elements of literature. Readers become aware of and interact with these specific elements in this unit study:
Setting
Characters
Exposition
Role of chapters in a story
Mood
Theme
Purpose of Author
Symbol
Juxtaposition
Allusion
Irony & Sarcasm
Simile
Digging Deeper into History
Throughout the Trumpter of Krakow Unit Study, several boxes are listed which provide readers a little more information about specific historical phenomena. These include:
Historical Characters

Jan Kanty (John Cantius)
Bishop Stanislas
King Krakus
King Kazimir the Great
King Kazimer Jagiello
Ivan of Moscow

Tartars
Mongols
Cossacks
Alchemy & the Philosopher's Stone
Scholasticism & The Seven Arts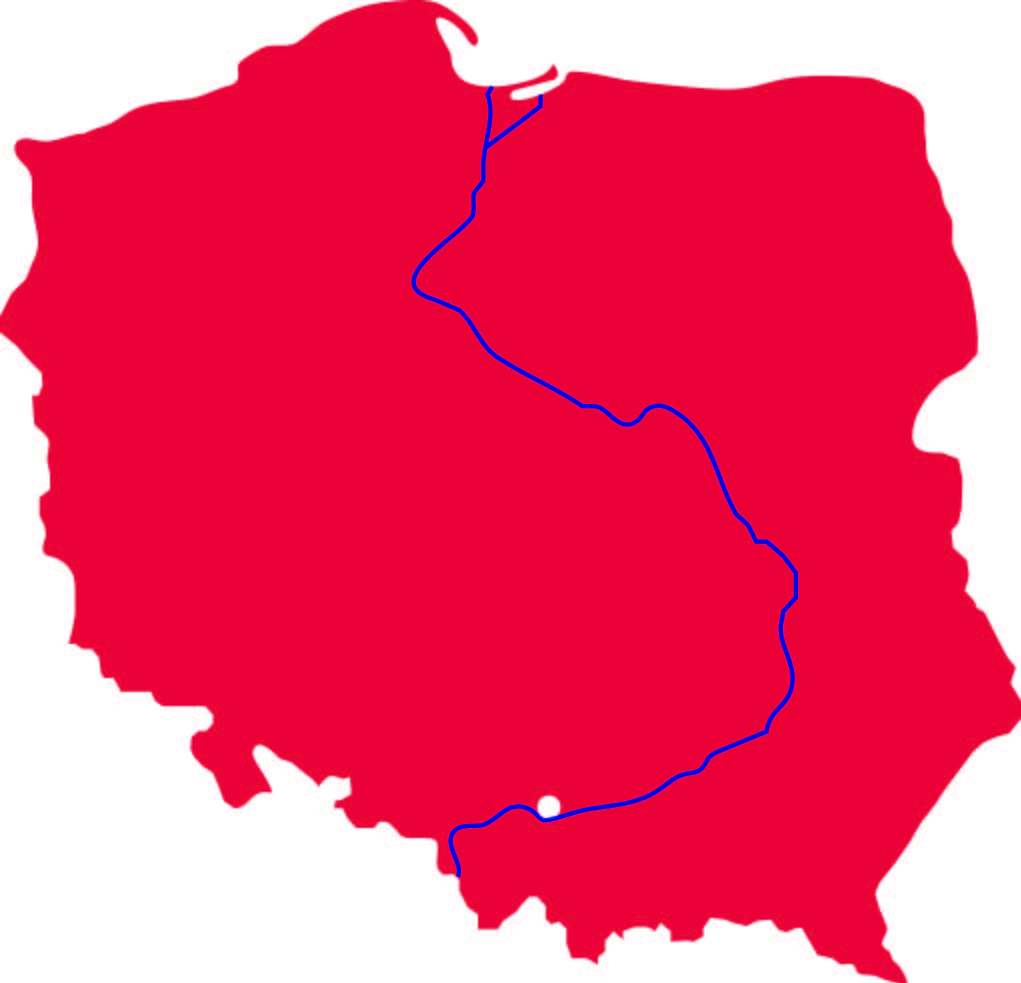 Writing Skills
Great writers inspire great writing. We use several models of descriptive writing and challenge students to develop their own descriptions of another location. Some of the skills and techniques taught include:
Descriptive writing - descriptive listing
Writing and puctuating a descriptive series
Use of thesaurus and synonyms
Use of adjectives and color adjectives
Double dyads for poetic emphasis
Prologue, Foreword, Epilogue, Afterword
A unique feature of this book is that the introduction and the prologue are titled. A chart shows the differences between prologue, introduction, preface, foreword, afterword, and epilogue.
Suggested Hands-on Activities
Hands on projects provide a multi-faceted approach to learning. Some of our activities include illuminating letters, making wood carved pictures, listen to the heynal played, develop a Polish-type calendar system, view locations in the book, and more.
Get the Complete Trumpeter of Krakow Unit Study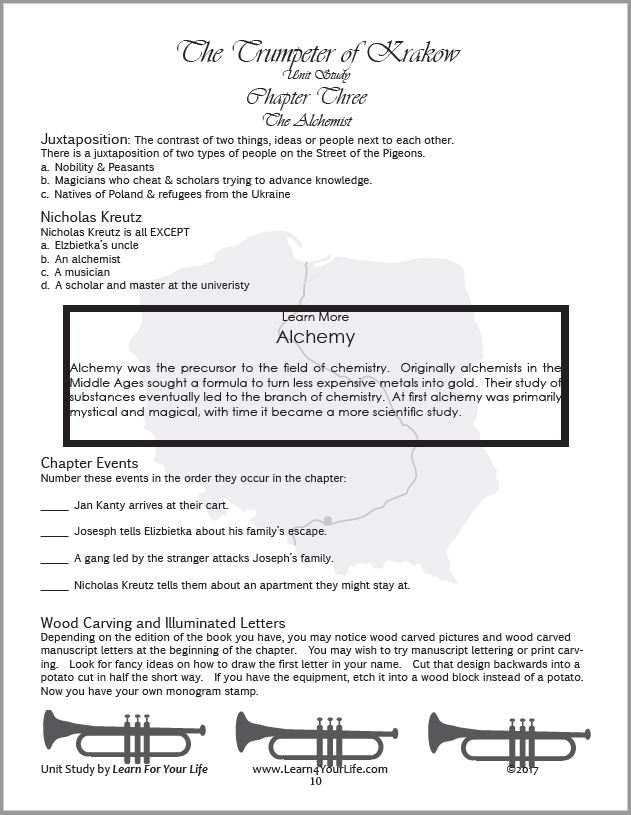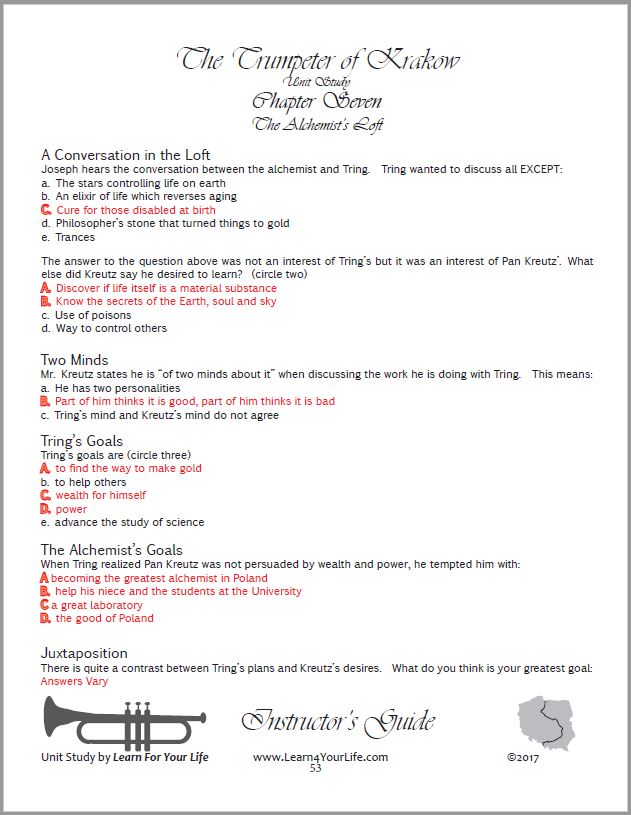 Student Guide AND Teacher's Answer Key Included
$2.99 Download - 76 pages