You Are Here:
Easy Reading Books
Easy Reader Books
This list of easy reader books will delight your emerging reader while giving him or her essential practice in their new skill. These books are great for first and second graders, and advanced kindergarteners, to read on their own or with guided reading.
---
Classic Reading Books for Early Readers
We're Going on a Bear Hunt
By Michael Rosen
Rhythm, rhyme and repetition follow this classic story of a family going on a bear hunt. The frequent use of common words will give your child confidence reading this story of suspense and humor.
---
Big Fat Hen
By Keith Baker
Children's Poem with Picture Book
Elementary children are familiar with the poem "One, two buckle my shoe." This picture book will allow them to practice their phonics skills while reciting and reading a familiar rhyme.
---
There's a Hole in My Pocket
By Akimi Gibson
From the Traditional Childrens' Song
The circular logic of this traditional children's song is acted out by a father and son elephant. Only a few words on each page make this is a great choice for one of the first easy reader books.
---
Morris the Moose
By Bernard Wiseman
Early readers can enjoy the antics of Morris the Moose just as their parents and grandparents did. Corny humor, large print, and simple words make reading easy.
---
Curious George Flies a Kite
By Margret Rey
Some modern critics have wanted to eliminate the curious monkey from the list of children's books, but he remains popular. This is one of the easier reading books about Curious George and the man with the yellow hat. It's length (over 70 pages) and number of words per page make it appropriate for a second grader.
---
If You Give a Mouse a Cookie
By Laura Joffe Numeroff
Okay, it isn't quite a classic yet, only twenty-five years in publication. But this series will make the fifty year mark. In the first book, the boy makes the mistake of giving a mouse a cookie and then having him make all kinds of additional demands like milk, straw, etc. He apparently didn't learn his lesson, so in other books he went on to give a Moose a Muffin, a Pig a Pancake etc. Children enjoy the humor, colorful pictures, and simple sentences on each page.
---
Green Eggs and Ham
By Dr. Seuss
Most of Dr. Seuss stories are appropriate as easy reader books. The three easiest include:
Green Eggs and Ham
The Cat in the Hat
Sam I Am (easier to read, harder to find)
---
The Snowy Day
By Ezra Jack Keats
A snowy winter morning and a little boy named Peter star in this simple reading book. Children can relate to the quiet adventures of tracking through the snow, making snow angels, and getting cold and wet.
---
Oliver
By Syd Hoff
A circus elephant is looking for a new home - but who would want him? Oliver finds out where he really belongs. All of Syd Hoff's stories are easy reader books for kids.
---
Yes, Jesus Loves Me
Illustrated by Sue Williams
A modern picture book that combines the words to "Jesus Loves Me" and "He's Got the Whole World In His Hands." Repetition of phrases and simple sentences on each beautifully illustrated page help children gain confidence reading the familiar lyrics. Emphasizes God's love to each child and to international communities around the world.
---
The Itsy Bitsy Spider
Retold by Iza Trapani
New pictures and a new twist to a very old and familiar classic song. Colorful and appealing illustrations of a friendly spider with a vew lines on every page make this one of the easy reader books that will be read over and over.
---
Almost Classic Easy Reader Books
These are books that have been around for more than two decades and whose popularity marks them as strong candidates for classic literature.
The Very Quiet Cricket
By Eric Carle
Eric Carle's books have the distinct honor of being loved by preschool listeners, early readers, and lovers of colorful art. In this beautiful tale, a young cricket cannot find his voice. A happy and surprise ending await the cricket - and reader.
---
A Color Of His Own
By Leo Lionni
A chameleon longs to have his own special color like other animals instead of changing. Instead of a color, he finds a friend. Simple color illustrations with one sentence per page. Great review of color words.
---
Quick as a Cricket
By Audrey Wood
Beautiful illustrations, simple print, and an affirming message make this 30 year old book a strong candidate for the halls of classic childrens readers. One line per page, the text is great for introducing and reinforcing phonics.
---
New But Headed for Fame
---
Bear Feels Sick
By Karma Wilson
Karma Wilson's new "Bear" books get my vote for irresistable easy reader books AND books destined for the halls of classic literature. Children enjoy the rhythm and repetition of the poem and relate to poor Bear as his friends try to make him better.
---
Picture Books For Preschoolers
Here is a list of
classic picture books
. The illustrations make these perfect for your preschool readers. They can also be used with your as easy reading books for your new readers.
First Chapter Books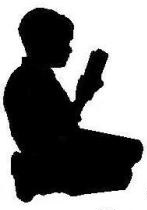 What comes after the early readers? Check out these
first chapter books
which will entertain as well as advance their reading ability.
Games with Easy Readers
Here is a simple game-like activity that I have used successfully when students are just beginning to read the easy reader books.
This can be done for one or two pages, or for an entire book. It depends on the reading level of the child and the size and difficulty of the book.
Read to Me
Read the book to the child. They love to hear good stories. This can be the first reading of a brand new book or the zillionth time you read an old favorite.
In addition to hearing a good story, the child is also having good reading modeled.
I Can Read
Now, have the student read the book to you. If it is too long for him or her, read only a few pages.
The length should be long enough to challenge the child without overwhelming them. This is a fun activity - so don't make it too long and difficult.
Reinforce
Afterwards, take the opportunity to point out one or two reading principles that the student already knows that were used in the story. It can be phonics principles or the fact that names are capitalized.
Keep it simple! This is reinforcement and confidence building.
Activity Time
Now have an activity time with this story.
Act It Out
A favorite activity is simply to read the story to the child again, but now the child uses charades to act the story out.
Art Activity
The sky is the limit for art activities. Of course, you can always draw a picture. But there is a greater array of activities, depending on the story.
If it is a story about snow, make snow flakes.
If there is mud in the story, make mud pies.
Use colors, shapes, and textures that may be in the story.
Use finger painting for emotions or weather.
Cut out shapes to represent homes or cars.
Snack Time
Many stories have snack time built right into the theme. You won't get any complaints here - unless the story is about octopus soup or something like that.
Jump, Hide, Ride
This is somewhat like acting the story out. But go outside and focus on one activity the main character did.
Read It Again
Now, finish your mini-unit of the easy reading book by having the child read the book (or portion) one more time out loud to you.