You Are Here:
Tales from the Depression
Depression Era Stories
Families struggled, farms failed, businesses collapsed, while children dreamed of a brighter future. This list of classic depression era stories for children captures the effort to survive and the indomitable human spirit.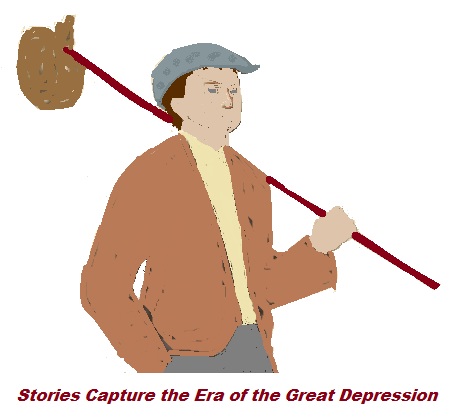 ---
In the Shadow of the Pines
By Karen Newell
True Story
1930's
Texas
Children in a sharecropping family in Texas are torn between working to get food for one more day or attending school for a better future. Illness, family feuds and a land dispute hang over their horizon.
---
Out of the Dust
By Karen Hesse
Historical Fiction
1934 - 1935
Oklahoma
Written as a series of diary entries, Out of the Dust tells the story of a family in Oklahoma which encounters personal tragedy as well as the Dust Bowl.
---
Lassie Come Home
By Eric Knight
Fiction
1930's
England
When his father loses his job, Joe's treasured collie is sold. This is the story of the dog's journey back to the owner he loves. It also tells the story of how the Depression affected the family relationships of Lassie's owner.
---
Roll of Thundre, Hear My Cry
By Mildred Taylor
Published 1976 - Historical Fiction
It is 1933 and Cassie Logan's family live in rural Mississippi. They are one of the few black families who own land, but trouble is brewing over it. Even with Mama working and Papa having to leave home to work on the railroad they may not be able to keep their home. Cassie and her brothers face danger as they learn how racism affects their family. Other stories about the Logan family have also been written by the author.
---
Nothing to Fear
By Jackie French Koller
Irish Immigrants - New York City
Historical Fiction
5th-9th Grade
Eleven year old Danny becomes the head of the house when his father leaves New York City looking for work. As the months go by and they haven't heard from him, they suspect the worse. Danny learns about stealing, begging, going hungry and having every one mad at him. But the one thing that he won't lose is the name his father gave him.
---
Blue Willow
By Doris Gates
Janey's family lost their farm in the Dust Bowl and now move place to place as migrant workers. The blue willow plate of her mother's is the only object left of their former life and Janey's most treasured possession. Now when all hope is lost, the plate may help them - but the cost is high.
See our Blue Willow Unit Study to get the most out of this Depression Era book.
---
Bud, Not Buddy
By Christopher Paul Curtis
A ten year old orphan, Bud, escapes from his foster home with his few treasures in a beat up suitcase. Remembering his loving mother who died four years earlier, he decides he will find the man he believes to be his father. Instead, he finds himself with a jazz band and a grouchy old musician who denies he could be his father. The truth surprises them all.
---
Children of the Dust Bowl
By Jerry Stanley
A true story about the plight of the "Okies" - the destitute farmers who left Oklahoma after the dust bowl to search for a better life in California. The first part of this book documents the hard times, poverty, and rejection they encountered in California. The second half of the book shows how one man led a team of teachers to successfully change the fate of the Okies when helped them start the school at Weedpatch Camp. More of a documentary than an entertaining story, this book portrays the life of the Okies and their school in photographs and descriptions.
---
A Year Down Yonder
By Richard Peck
2001 Newbery Winner
1937, It's 1937 and the Depression has given way to a major recession. Mary Alice's parents are out of work so she needs to go stay with her grandmother down South. But what a grandmother! It's hard enough leaving her family in Chicago to go to a small rural town where everyone is suffering from hard times. But to have a gun-toting, Grandma everyone is afraid of! Changes are ahead for both Mary Alice and Grandma. Enjoyable book for 5th - 8th graders with both serious and humorous scenes.
---
Moon Over Manifest
By Clare Vanderpool
2011 Newbery Winner
1936, Kansas
Abilene is sent to a small town in Kansas while her father works on the railroad. Armed with nothing but her mental list of "universals" about the people of all towns, she begins to assimiliate into another place she does not plan on staying long. But this place is unlike any other, and soon she is on the trail of an old mystery. Simultaneously she is seeking the answer to another mystery: how she and her father fit in. Very well written and engaging.
---
No Promises in the Wind
By Irene Hunt
With no future in their hometown, Josh leaves with his little brother and his best friend to try to make their way in the poverty-stricken country by their wits and musical talent. Tragedy and poverty destroy their plans and he finds himself far away with a third-rate circus. As Josh's anger and bitterness grows, he learns more about himself and the father he rejected. But his bitterness may cause him to lose what he loves the most.
---
Winterbound
By Margery Williams Bianco
Temporarily separated from their parents, four city kids are stuck on a Connecticut farm during a long, severe winter. As the cold months drag on, they find they use their wits and resourcefullness to survive.
---
Shiloh Autumn
By Bodie & Brock Thoene
Historical Fiction - Based on a true story
1931
Arkansas
Not written for children, this is a story that would be enjoyed by teens and young adults. A farming community watches as all their hopes dry up, and one by one they are forced to sell. Will faith and courage triumph, or will greed and betrayal destroy all hope? Based on real incidents in their family, this is a newer book written by a family that specializes in historical fiction.
---