You Are Here:
6th Grade Reading Certificate
6th Grade Reading Club Certificate
Join the 6th Grade Book Club and earn a certificate for reading some of the best classic books for sixth graders. Of course, there is no charge to join and you will enjoy some of the best books ever written.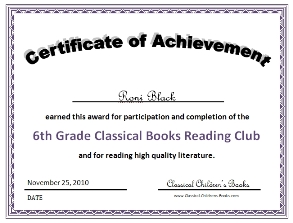 Great Literature - Great Fun
Journey across the mountains, join a secret resistence movement and save your neighbors, raise the alarm when an invading army attacks; classic books with excitement and life-changing messages.
How It Works
We have listed our pick of the very best books by grade level. Students who read ten of the books on the list can earn the Classical Childrens Book 3rd Grade Book Club Award.
The process is simply:
The students choose the tenbooks they wish to read from the grade level lists.
After reading the ten books, they go to the corresponding page for their grade level.
The students fill in the form with their name (as they want it to appear on their certificate), the books they read, and their email address.
The 6th Grade Book Club certificate will be emailed to the child.
We WILL NOT keep your email for any other use by ourselves or others.
Books in the 6th Grade Book Club List
Read the description of the books in the
6th Grade Reading List
to choose the ones you would like to read.
You don't have to stop at ten. You can read them all.
What's the value of these books? These books tell about history, about culture, and about the most important parts of life.
There is also a variety. If you find you really like a particular book, you can use it to find other great books like it.
Our Sixth Grade Reading List
Here is a list of titles on the 6th grade book club list. See the link above for author, description, and pictures.
Amos Fortune, Free Man By Elizabeth Yates
Number the Stars by Lois Lowry
The Adventures of Tom Sawyer by Mark Twain
Daughter of the Mountain by Louise Rankin
The Door In the Wall by Margeurite de Angeli
The Bronze Bow by Elizabeth George Speare
Shiloh by Phyllis Naylor
Heidi by Johanna Spyri
Calico Bush By Rachel Field
Moccasin Trail by Eloise McGraw
The Lion, the Witch, and the Wardrobe by C.S. Lewis
The Incredible Journey By Sheila Burnford
Ten Tales from Shakespeare by Charles and Mary Lamb
Submit the form below
If you have read ten books on the 6th Grade Book Club Reading List, submit the form below to receive your certificate.
Submit your first and last name as you wish it to appear on your certificate.
The certificate will be emailed to you within 48 hours. We will NOT save your email address and promise not to use it for any other purpose.
By completing this form, you are stating that you have read the books in full.