You Are Here:
4th Grade Reading Certificate
4th Grade Reading Club Certificate
Join the 4th Grade Book Club and earn a certificate for reading ten of the best classic books for fourth graders. Of course, there is no charge to join and you will enjoy some of the best books ever written.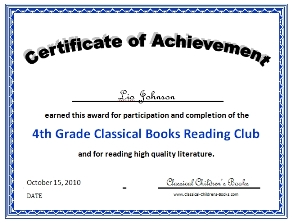 Get Ready for Good Reading
Join the adventures of children capturing a wild pony, saving a train from disaster, protecting their family from animals with rabies. Let history come alive with these books on the 4th Grade book club list.
How It Works
We have listed our pick of the very best books by grade level. Students who read any ten of the thirteen books on the list can earn the Kalaidos Classical Childrens Book 4th Grade Book Club Award.
The process is simply:
The students choose the ten books they wish to read from the grade level lists.
After reading the books, they go to the corresponding page for their grade level.
Fill in the form with their name (as they want it to appear on their certificate), mark the ten books they read, and their email address.
The 4th Grade Book Club certificate will be emailed to the child.
We WILL NOT keep your email for any other use by ourselves or others.
Books in the 4thGrade Book Club List
Read the description of all thirteen books in the
4th Grade Reading List
to choose the ones you would like to read.
You don't have to stop at ten. You can read them all!
What's the value of these books? These books tell about history, about culture, and about the most important parts of life.
There is also a variety. If you find you really like a particular book, you can use it to find other great books like it.
Our Fourth Grade Reading List
1. Sarah Plain and Tall
2. Sounder
3. Strawberry Girl
4. Benjamin West and His Cat Grimalkin
5. Guns for General Washington
6. The Wonderful Wizard of Oz
7. The Corn Grows Ripe
8. Jungle Book
9. Misty of Chincoteague
10. Old Yeller
11. Wind in the Willows
12. The Midnight Fox
13. American Tall Tales
Submit the form below
If you have read ten books on the 4th Grade Book Club list, submit the form below to receive your certificate.
Submit your first and last name as you wish it to appear on your certificate.
The certificate will be emailed to you within 48 hours. We will NOT save your email address and promise not to use it for any other purpose.
By completing this form, you are stating that you have read the books in full.