Seventh Grade Spelling Lists
The words on the seventh grade spelling lists promote stronger spelling skills by focusing the student's attention on each individual syllable.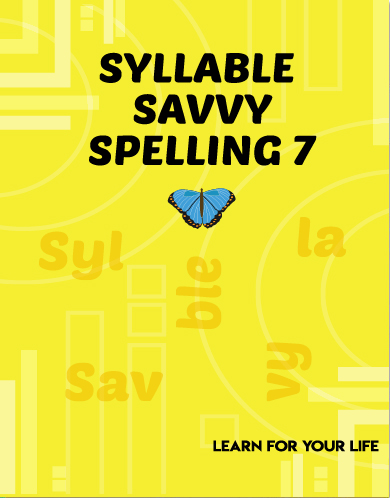 Syllable Savvy Spelling uses the
three column method of spelling.
First Lesson is Free
The first lesson is provided in the 3-column method as a free download.

Download the first lesson.
In addition, the word Lists for Lessons 2, 3, 4, 10, 20 and 25 are provided below.
7th Grade Spelling Lists
These additional spelling lists demonstrate the types of words and word patterns used in Syllable Savvy Spelling Level 7.
Lesson 2
translucent
opaque
perpendicular
parallel
rancid
absolute
relative
counterfeit
evolution
revolution
dissolve
solution
commentator
conversation
discussion

Lesson 3
refraction
reflection
dire
miniscule
seizure
eligible
canopy
accelerate
accelerator
deceleration
verify
verification
accent
cells
because

Lesson 4
energy
nuclear
molecule
molecular
decimal
hostile
survive
survival
cathedral
predictable
atomic
ravenous
sinister
ridiculous
muscle

Lesson 10
college
educational
dynamite
dynamic
variety
various
achieve
commercial
advertise
infection
insure
insurance
assurance
hydrogen
problematic

Lesson 20
several
pleasing
chariot
zealous
descend
descent
descendants
prodigal
strategic
frequent
frequency
deceive
opportunity
plenty
plentiful

Lesson 25
generous
generosity
trivial
trivialize
digit
derive
facsimile
accomplish
tongue
imbecile
telescope
microscope
concentrate
recently
happening

Helping Hints
Teaching Tips for Syllable Savvy Spelling Lists
15 words are provided each week. Space is included for five additional words specific for each student. These words may be:

Words misspelled on previous weeks
Words misspelled in student's writing
Vocabulary words from other units of study

Inclusion of word families such as "various" and "variety" increase vocabulary and spelling ability.


Index of Spelling Rules is included in the back of the book. Notes on the lesson pages refer to applicable rules.
Word Themes
Each level of Syllable Savvy has a different theme. The theme in Level 7 is "Scientific Terms." Students become adept at spelling complex words used in chemistry, biology, physics, and other braches of science by learning the common roots.

Get more ideas on
teaching spelling
with Syllable Savvy Spelling.
Order Syllable Savvy Spelling Now
You have two options for purchasing Syllable Savvy Spelling:
Order the paperback book. The 136 page soft cover will be mailed to you.
Order the E-Book. Save the cost and time of shipping and download the ebook below.
Order the Paperback
Softcover books are mailed to your home. It includes the instructors guide, student workbook pages, spelling guide, and appendix with spelling rules. No other books are needed.
Download the E-Book
Download it now and save time and shipping costs. Have your printer ready with 133 sheets of paper.
Syllable Savvy Spelling Pages
Check out our other pages on the The Score Soaring Way to Spell

About Our Site
Hands-On Learning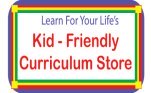 See All Products