Fifth Grade Spelling Lists
These fifth grade spelling lists are taken from Syllable Savvy Spelling and focus the student's attention on the correct spelling of each syllable.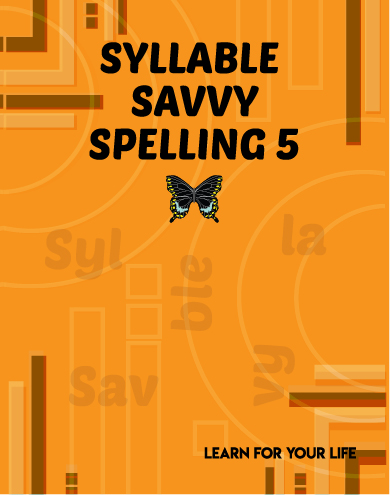 Download Free

Get the first lesson and the Instructor's Guide for no charge.
Syllable Savvy Spelling 5 - Lesson 1
Using Three Column Spelling
The words in the fifth grade spelling lists below are the middle column in the three column method. On the lessons, the first column lists the words syllable by syllable phonetically. The third column lists the correct spelling and the number of letters per syllable. This method fosters independence in practicing the spelling. It also provides immediate feedback regarding errors made, as well as reinforces the student for each syllable spelled correctly. Learn more about
teaching spelling
with the three column method of spelling.
Sample Lessons from the 5th Grade Spelling Lists
In addition to the first lesson which can be downloaded from the link above, here are additional lessons from the fifth grade spelling lists in Syllable Savvy.
Lesson 2
Leviticus
Numbers
really
reality
whose
whom
which
witch
deliver
scan
tonight
sorry
sorrow
only
region

Lesson 3
Deuteronomy
Joshua
antonym
synonym
homonym
manage
calm
sincere
insincere
honest
integrity
meticulous
simplify
social
sociable

Lesson 4
Judges
Ruth
wizard
lizard
backward
dollar
collar
differ
difference
different
conference
remarkable
compassion
gracious
suggest

Lesson 10
Solomon
Isaiah
assume
powers
separate
equal
station
laws
nature
entitle
educate
education
decide
thirsty
surface

Lesson 20
Luke
John
Pacific
Atlantic
Indian
polar
balloon
cents
sense
heaven
disturb
attract
attractive
attraction
payment

Lesson 25
Timothy
Titus
than
woman
women
punctual
punctuation
miracle
audience
tournament
calendar
collander
rhyme
rhythm
favorite

Teaching Tips
Helpful Hints for Using Syllable Savvy Spelling
The index contains twenty of the most common spelling rules to help students analyze word patterns. They may keep a list of the words they find in the back of the book to help them remember.


Each lesson has 15 words, with space for five more words individualized to the student. These five words might include:

Words misspelled in previous lessons
Words misspelled in the students creative writing
Words from science or other unit studies



Words are often grouped by root words such as punctual and punctuation or sincere and insincere. This boosts the 5th graders vocablary as well as spelling ability.


Word Themes
The beginning of the fifth grade spelling list starts with two or three books from the Bible. Each level has a different theme.
There may be mini-themes in specific lessons as well. For instance, lesson 20 above lists major oceans. Lesson 10 has words from the Declaration of Independence.

Read more about how the three column method can
improve spelling ability
.
Order Syllable Savvy Spelling Now
We have two options for purchasing Syllable Savvy Spelling.
One: Buy the paperback book. The 136 page workbook will be mailed to you.
Order the E-Book. Save the cost and time of shipping and download the ebook.
Order the Workbook
Softcover workbooks are mailed to your home. It includes the instructors guide, student workbook pages, spelling guide, and appendix with spelling rules. No other books are needed.



Syllable Savvy 3 Workbook
$11.99






Syllable Savvy 4 Workbook
$11.99






Syllable Savvy 5 Workbook
$11.99






Syllable Savvy 6 Workbook
$11.99






Syllable Savvy 7 Workbook
$11.99






Syllable Savvy 8 Workbook
$11.99


Download the E-Book
Download it now and save time and shipping costs. Have your printer ready with 133 sheets of paper.



Syllable Savvy 3 DOWNLOAD
$11.99






Syllable Savvy 4 DOWNLOAD
$11.99






Syllable Savvy 5 DOWNLOAD
$11.99






Syllable Savvy 6 DOWNLOAD
$11.99






Syllable Savvy 7 DOWNLOAD
$11.99






Syllable Savvy 8 Workbook
$11.99


Syllable Savvy Spelling Pages
Check out other pages on the The Score Soaring Way to Spelling

About Our Site
Hands-On Learning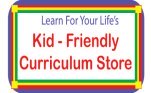 See All Products