You Are Here:
Intro & Conclusion
Writing Introductions and Conclusions
Jan - March 2010 Writing Contest
Participants used Write On #37 to develop introductions and conclusions.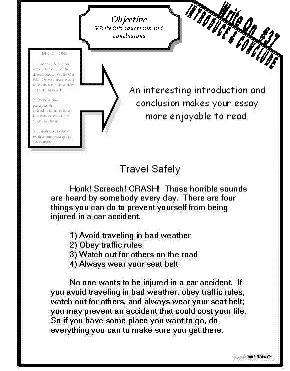 The Winners Announced!
Look for the winning entries for contestants writing Introductions and Conclusions (ages 7 - 11; 12 - 16.)
Note from the Judges
Two judges independently evaluated all entries and came up with the same winners. They did state that it was difficult because there were many great entries. The winners were selected because their introductions and conclusions did two things:
The paragraphs closely reflected the points in their outline
Writing stimulated the readers' interest.
Tools our writers used:
All of our writers, not just the winners, used some tool or word phrase to rouse interest. Here are some things they used:
Quotes
Dramatic Statements
Humor
Play on Words
Questions
Personal reflections
Dialogue
Onomatopoeia (The sounds of words)
Statements about life and death
Essential Information
Opinions
Describing a scenario
Read the submissions below to see HOW the writers incorporated these tools into their paragraphs.
Contest Details
The contest started January 10, 2010 and concluded March 15, 2010.
The contest judged the ability to write an interesting introduction and conclusion about a subject of the writer's choice.
It is based on Write On #37 from Write On: The Kid Friendly, Mother Pleasing Gentle Way to Learn to Write.
CONTEST CLOSED
Submissions are below.
WINNING ENTRIES
Age 7 - 11: Isaiah: "All Cracked Up"
Age 12 - 16: Belinda: "Composing A Distinguished Essay"
Here are the Introductions and Conclusions written by our participants:
Closed March 15, 2010