Jaden, 10
by Jaden
(Dade City, FL)
Cluck! Cluck! Cluck! How would you like to have a pet that is sweet and kind and gives you eggs? Chickens are all the above. You can keep a chicken by doing three easy things.

1]make a pen or buy a pen
2]buy a feeder and water bucket
3]pick the breed of chickens you like

If you do these three things, you will have happy hens and lots of eggs. If you get a chicken pen, supply food and water, and buy a breed of your choice, then you will have loving pets and lots of healthy eggs. Having chickens is lots of fun! So, have fun and good luck.
About Our Site
Hands-On Learning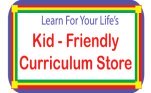 See All Products
By Karen Newell Copyright© 2009 - 2018 Learn For Your Life All Rights Reserved