Call It Courage Vocabulary
Vocabulary Words and Definitions for
Call It Courage
by Armstrong Perry.
Our popular literature vocabulary word lists can be folded in third for book markers. Students will find unfamiliar words and their definitions in the order they appear in the text.
Chapter One
Section A
Fierce - violent, wild
Indifference - no interest or concern
Chant - rhythmic song, less melody than most songs
Section B
Reef - ridge of stone-like coral near an island
Intervals - spaces
Impending - will happen soon
Seized – grabbed
Frail - weak
Frigate - ship
Thwarts – crosswise beam or seat
- turn upside down
Islet - small island
Pinnacle - top most point
Sustaining – keeps alive
Section C
Eternal – never ending, forever
Quivered - trembled
Assault – attack
Jibes – cruel jokes
Heckling and pestering – bothering
Albatross - large bird
Fledgling - bird who has just started to fly
Serenely – peacefully
Envious – jealous
Section D
Scanned – search with eyes
Dreaded – feared
Bonitos – type of fish
Shrill – high pitch
Scornful – full of dislike
Taut – tight
Lagoon - area of shallow water
Propelled - pushed forward
Falter – hesitate from uncertainty
Mounted – got higher, increased
Chapter 2
Section A
Dismal - gloomy
Idly – lazily
Swells – rising and falling of waves
Atoll - island surrounded by coral reef
Slatted – sail flapping uselessly
Ascending – going up
Spirals – circular motion
Ominous – dangerous
Oppressive - distressing, unfair
Submerged – went under
Parched – dry
Vanished – disappeared
Solitary – single, alone
Section B
Hoarse – deep, croaking
Merged – blended with, ran into
Slumber – sleep
Agony -horrible pain or discomfort
Section C
Luminous – shining
Profoundly – with importance
Revealed – showed
Concealed – hid
Akin – similar, related to
Tantalizing – delicious desire
Drifted – floated
Chapter 3
Gusto – energy
Cascade – waterfall
Inhabited – lived in by others
Apprehension – fear
Heaved – pushed upward
Winced - shrink back
Caustic – burning
Plateau - flat area
Survey – watch
Luxuriant – rich
Circumference – around the circle
Habitation – home
Isolation – being alone
Alien – foreign, unfamiliar
Unceasing – not ending
Encircled – went around
Breach – break
Resolution – strong decision
Naught nothing
Retracted – went back
Grim – serious, determined
Extricated – untangled
Irresolute – unsure, unable to make a resoltuion or decision
Premonition – warning jfrom inside
Charred – burned
Congealed – become like jelly
Sustenance – food, nutrition
Trifle – little
Deftly – with skill
Chapter 4 and 5
Chapters 4 and 5 of Call It Courage, as well as the first three chapters, are included in the Call It Courage Vocabulary book marks as part of our Unit Study.
Get the Call It Courage Unit Study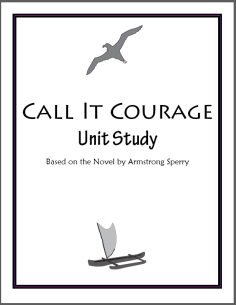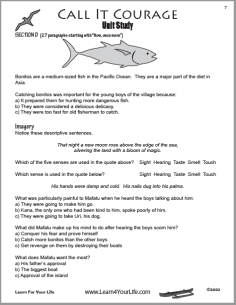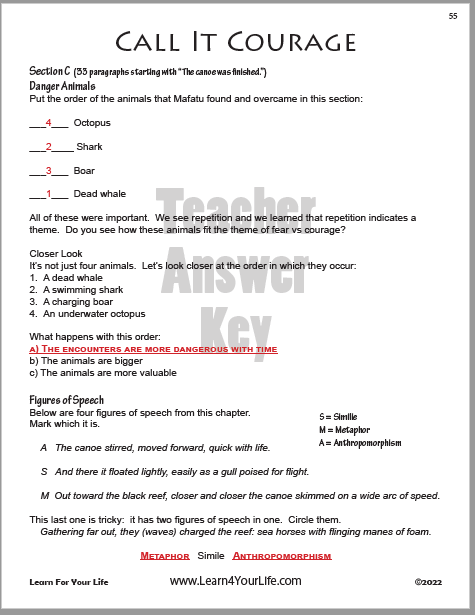 Student Guide AND Teacher's Answer Key Included
$2.99 Download - 60 pages


Call It Courage
Our pages for Armstrong Sperry's classic.
Our Unit Study
Vocabulary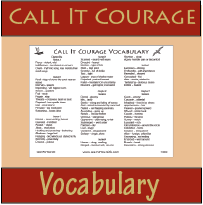 Maps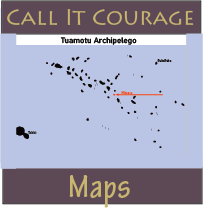 Mafatu's Island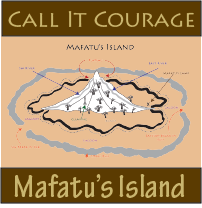 Summary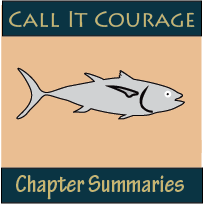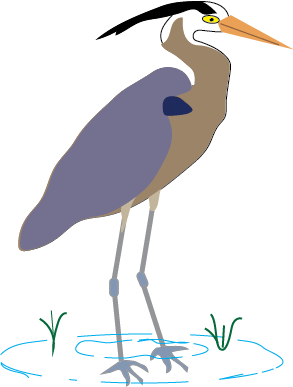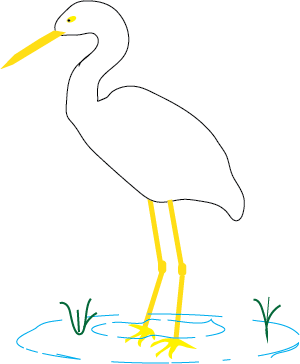 About Our Site
Hands-On Learning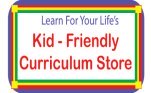 See All Products