Zentangle Christmas
Zentangle Christmas ornaments that beginners can make.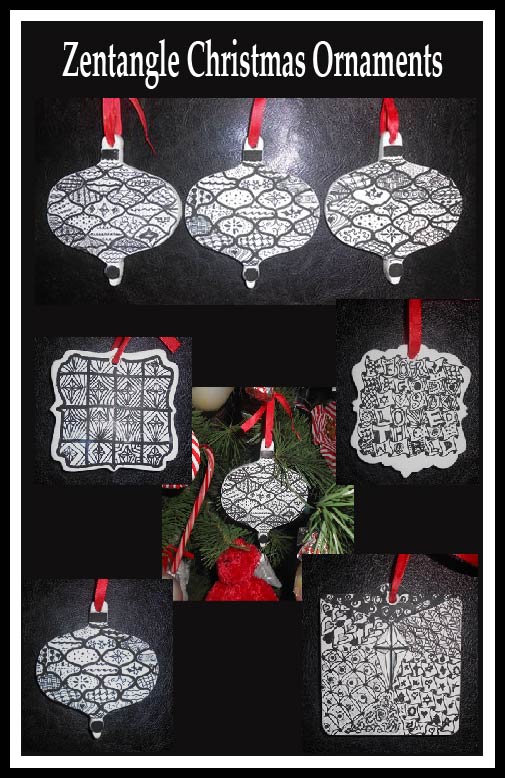 This year our Christmas ornaments were made using Zentange
TM
designs. These ornaments were made from plaster ornaments purchased from the local craft store. They ornaments costs about $1 each and made unique Christmas tree ornaments that anyone can with a little time and a black marker can make.
Warning: While most artists prefer to use the Micron Pens by Sakura (see below), these pens were quickly ruined by the plaster of these ornaments. After ruining two sets of markers (ouch! these things aren't cheap) I discovered that the best tools for making these ornaments are:
Sharpie fine point black permanent marker
Sharpie ultra fine point black permanent marker
Pencil (optional)
NOTE: I've found two different widths of Sharpie fine points. I used the finer of the fine points as well as the ultra-fine point.
With only two widths of marker (fine and ultra fine) this does not leave the same level of intricate detail that you get with a set of Micron Pens. But it was better than ruining one set of pens for each ornament.
I also used some pencil shading on these decorations. In my opinion, the shading on the plaster is not as appealing as the effect of shading on Zentangle designs on paper.
Our Zentangle Christmas Ornaments
These ornaments are in a classic tree ornament shape. I used the fine marker to draw of ornament shapes. Then I used the ultra-fine marker to draw the designs within each ornament.
In each ornament, I made one of the little ornaments which had a mini-ornament design grid. Therefore it was an ornament within an ornament within an ornament. I know, this kind of stuff can keep you up all night thinking of possibilities.
Star of Bethlehem Pattern
The Star of Bethlehem was in many of our ornaments.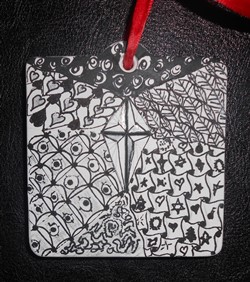 With this ornament, the Star of Bethleham is in the center, with other designs around it.
Star of Bethlehem Stained Glass Design
I experimented with making grids of the Star of Bethlehem. With this first, I didn't get all the grids the same size.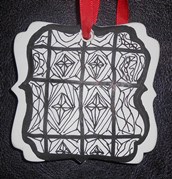 Practice makes perfect, or at least a little better. In this next Star of Bethlehem Zentangle design, I used a different design in each small grid. I may have had better results if I tried the same linear design outside of each star.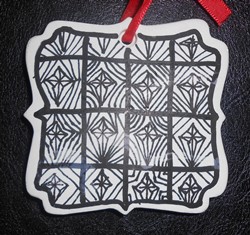 I tried coloring some of the designs with markers but found that Prisma colored pencils worked the best. However, I prefered the black and white look with this art form rather than the multi-colored. That's what makes it unique and interesting.
Miniature Grid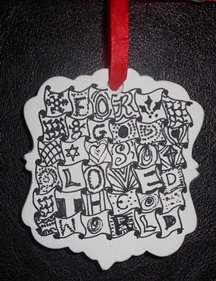 This ornament has a grid of small boxes. Inside each box is a small design or letter. The designs included stars, wreaths, trees, dots, and other simple strokes.
If you look carefully, you can read one word on each line. The words spell out the Bible verse, "For God So Loved The World."
I also made a similar ornament with the words in red and all other strokes in black. I liked the all black design better, though one has to look harder to see the message.
This grid is one of the simple designs that Suzanne McNeill teaches in her Zentangle Basics Workbook. I had fun using several of the designs from her book.
On The Tree
The black and white ornaments provide a contrast on a red-and-white-themed tree.
What Is Zentangle?
Zentangle is an art form created by Maria Thomas. Strokes from different widths of black ink pens create patterns that range from extremely simple to majestically complex. You may like to visit her gallery of art work at www.zentangle.com to view some amazing designs.
Actually, the method of creating patterns is much older than Maria's trademarked method, but her method is catching on in popularity. Websites, blogs, books, and even certification programs are available for those interested in pursuing it further.
Other forms of this type of art have been called Doodle Drawings, Meditative Art, Pen Tangling and other names.
Look up Zentangle on the Internet or Pinterest and you will have more designs to try than the time to try them.
More Christmas Pages For Your Holiday

About Our Site
Hands-On Learning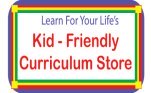 See All Products