In Freedom's Cause Vocabulary
Get the lists of vocabulary words included with the In Freedom's Cause Unit Study.



Vocabulary Bookmarks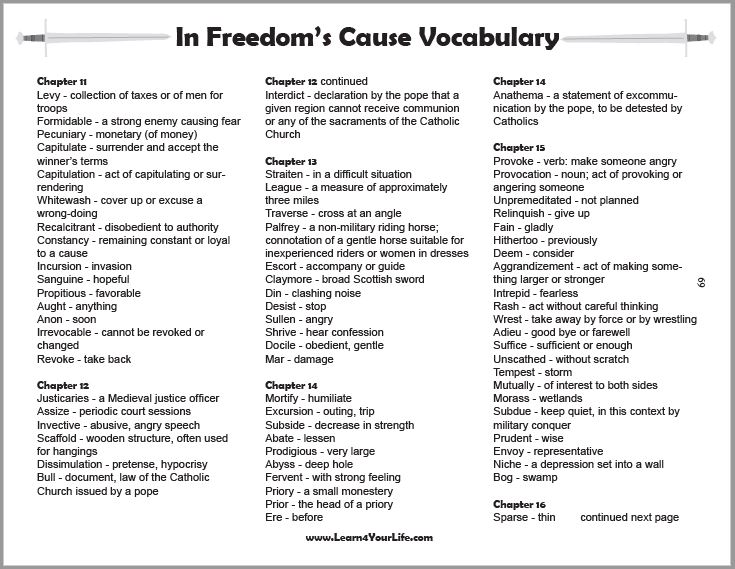 The full unit study has a vocabulary insert with all the vocabulary words for all 27 chapters. Words are listed by chapter in the order they appear in the text.
Chapter One Vocabulary Words
Fortalice - small fortress
Hearthstone - stone base of a fireplace
Let - rent paid to the owner to live at a property
Enmity - ill will, feelings towards an enemy
Vassal - a Medieval tenant who owes loyalty to the lord
Patrimony - estate inherited from one's father
Retainer - household servant
Aggrandize - (verb) to make larger
Aggrandizement - (noun) act of making oneself wealthier
Superiority - quality of being the best or in authority
Resigned - given up
Avenge - get revenge
Repress - restrain, hold down
Pike - long spear
Suzerainty - lordship, right to rule
Stipulated - agreed to, condition of
Barter - trade
Rivet - attach together
Assiduous - (adj) diligence, faithfulness
Assiduity - (noun) state of being assiduous
Chapter Two Vocabulary Words
Mimic - pretend, copy
Glen - "u" or "v" shaped valley
Henchman - employee or follower who is willing to break the law or do unethical acts for their boss
Picts - primitive tribes from nothern Scotland about the 4th century A.D.
Repugnant - unacceptable, disgusting
Earnest - real, seriousness
Chapman - merchant
Peddlar - traveling salesman
Monarch - king
Monarchy - the rule of a king
Nominal - in name only, small amount
Imperious - domineering
Notwithstanding - in spite of, even though
Concessions - agreement made to benefit the other party
Contumacious - rebellious
Usurp - (verb) to seize another's power or property, usually by foce
Usurpation - (noun) the act of usurping
Embargo - forbidding ships to sail to or from a port
Chattel - movable property (includes furniture, livestock, and sometimes slaves)
Perpetual - continuous, never ending
Groat - Medieval coin worth four cents
Fracas - brawl, fight
Adhere - (verb) to stick
Adherents (noun) those who follow (or stick with) a leader
Nigh - nearly, almost
Clydesdale Forest - wooded area near Lanark
Formidable - perceived as so strong others are afraid to attack
Truce - agreement for peace
Gallant - noble
Prowess - ability, usually based on bravery
Fain - be willing, desire
Obscure - remote, unseen
Invincible - unbeatable
Churl - backward peasant
(Chapter Three vocabulary words are below)
Buy In Freedom's Cause Unit Study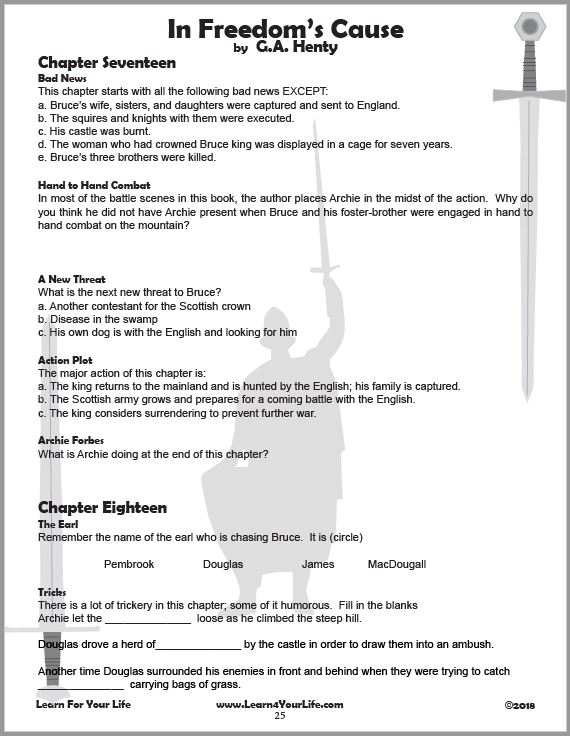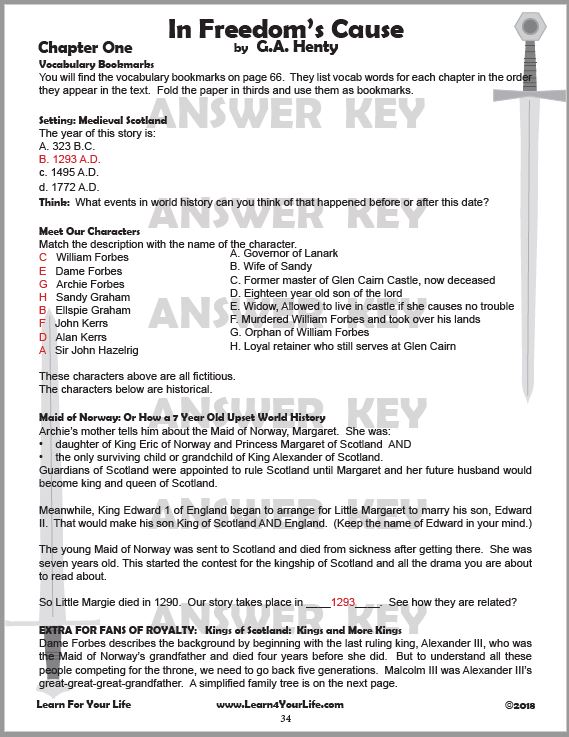 Student Guide AND Teacher's Answer Key Included
$2.00 Download - 82 pages


Chapter 3 Vocabulary Words
Rudiment - small, beginning part
Relinquish - let go of
Heir - person who will inherit one's estate after death
Worsted - defeated
Stalwart - strong
Equitation - horseback riding
Acquire - get, obtain
Domination - rule, control
Isolated - alone, single
Prominent - standing out, easy to see
Garrison (noun)

1) body of troops
2) fortress where troops stay

Garrison (verb) - putting one's troops in a fort to control local area
Subjugate - under control of another
Obtain - get, receive
Divulge - reveal, tell
Fervent - with strong feeling
Unceasing - without stopping
Intentions - plan
Despatch - (archaic spelling) send
Dispatch - letter
Irresolute - uncertain
Assailants - fighters, combatants
Intercept - cut off and seize
Stout - heavy, forceful
Barred - blocked
Hitherto - (archaic expression) from now on, after this
Ardour - fervor, strong feeling
Crag (or craig) - steep, rocky hill
Heather - a type of flowering shrub common on the moors of England and Scotland, about 1-3 feet high; sometimes used for bedding
Provisions - food and supplies for a group
Endeavor - attempt, try
Vocabulary Word Sequencing
You may have noticed certain sequences in the vocabulary lists above. For instance, in the Chapter One list these two words are compared:
Aggrandize - (verb) to make larger
Aggrandizement - (noun) act of making oneself wealthier
By comparing the verb and noun forms next to each other, students become more familiar with the effect of suffixes on words. They also increase their comprehension of the root words in context.
An example from chapter two:
Monarch - king
Monarchy - the rule of a king
Here we have two noun forms from the same root. While only one of the words (monarchy) was in the reading, relating it to the more familiar word enhances comprehension.
Chapter 4 Vocabulary
Vocabulary words from the fourth chapter of
In Freedom's Clause
include:
Enterprise - undertaking, usually with risk
Sally - to rush out, often the army of a besieged city would "sally forth" to attack the beseiging army
Sally port - place to sally from
Sentry - guard
Ascertain - determine, find out
Odious - disagreeable
Burghers - citizens of a burg (borough) or town
Die - singular of dice (cubes in a game)
Cast - thrown
Rally - (verb) to gather together
Rally - (noun) a gathering
Convey - carry
Rendezvous - prearranged meeting
Encumber - carry a burden
Drew rein - stopped their horses by pulling back on the reins
Abruptly - quickly
Aught - anything
Escort - those who accompany another
Discreet - showing restraint, not calling attention to one self
Arduous - difficult, requiring physical labor
Implicit - understood without directly stating
Propensity - tendency, usual way of acting
Plunder - (noun) goods taken by soldiers after winning a battle, often taken from dead soldiers of the other side
More Than Vocabulary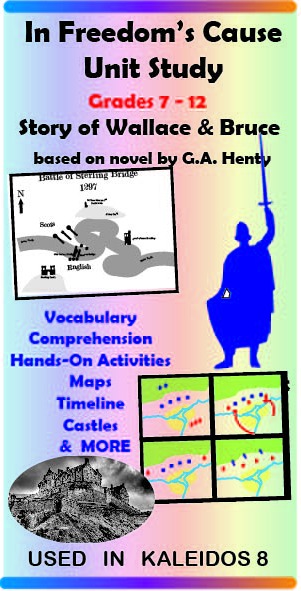 See more information on our
In Freedom's Cause Unit Study.
The full unit study includes vocabulary for all 27 chapters, maps, comprehension questions, hands-on activities, multi-media resources, and more.
Chapter 5 Vocabulary Words
Impetuous - (adj) rash, bold
Impetuosity - (noun) boldness
Morass - soggy ground
Truce - agreement to stop fighting, at least temporarily
Shrewd - clever, cunning
Vigilance - state of being alert and watchful
Summon - call to come
Propound - put an idea out for consideration
Allude - refer to something indirectly
Detained - prevented or delayed from coming
Resolution - decision
Concealment - hiding place
Din - indistinct noise of a crowd
Durance - imprisonment
Mutiny - (noun) overthrowing established authority
Mutinous - (adj) plan to overthrow
Mien - appearance
Get vocabulary words for all 27 chapters with the full unit study. The download is only $2.99
Buy In Freedom's Cause Unit Study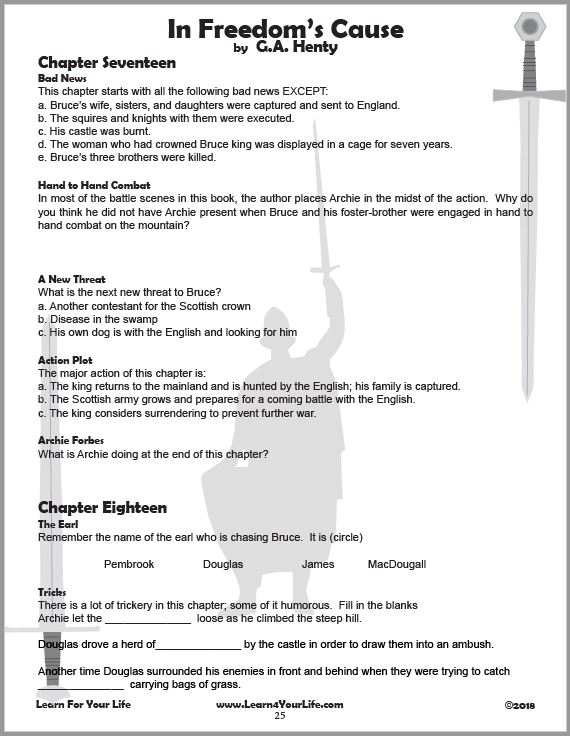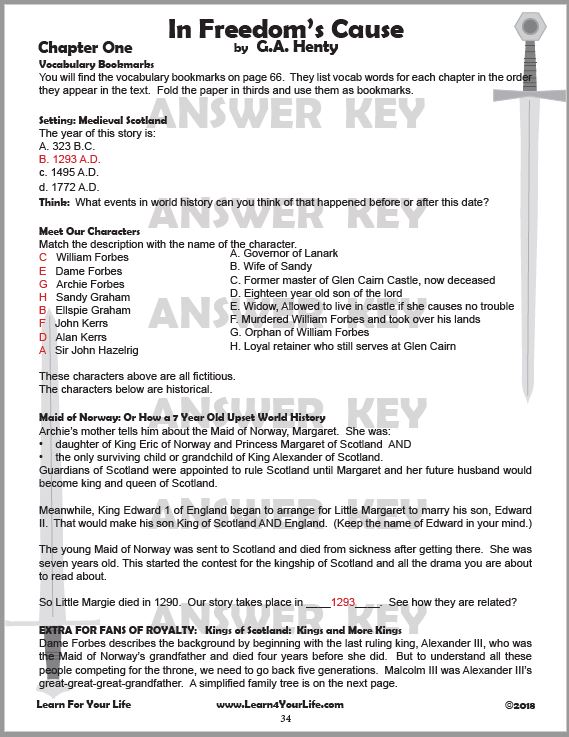 Student Guide AND Teacher's Answer Key Included
$2.99 Download - 82 pages


In Freedom's Cause Pages
A mini-directory for Wallace and Bruce
In Freedom's Cause Unit Study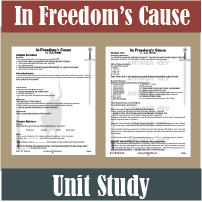 Vocabulary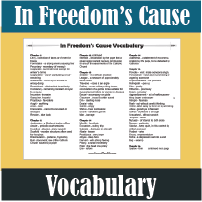 Maps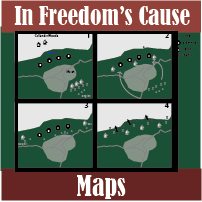 Timeline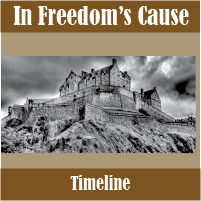 Wallace vs Robin Hood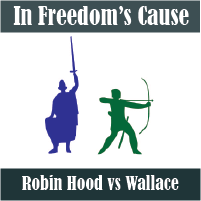 More Resources