Write On
The Kid Friendly, Mother Pleasing, Gentle Way to Learn to Write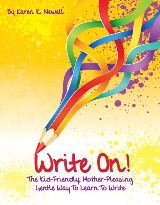 The title says it all!
Even reluctant writers WANT to participate
Last year Jeremy would sit staring out the window wondering what to write, an empty page in front of him and a chewed up pencil in his hand. No longer!
Write On
builds motivation and confidence. Now he
asks
to write, and is enthusiastic to share his writing projects.
Let's See It Work!
We have been using selected Write On's for our
homeschool writing contest.
This is a great way for you to see how students develop their own writing skills and explore their own interests with Write On.
April to June 2010:
Dialogues From Days Gone By
January 10, 2010 to March 15, 2010:
Introductions and Conclusions
August to December 2010:
Character Sketch
January to April 2011:
Persuasive Writing: Organizing Advantages
From simple sentences to writing a thesis: Write On leads the way
The first few lessons start with simple words and sentences. By Lesson 100 the students are writing a thesis. In between they explore a diverse number of ways of expressing themselves.
Paragraph Development
Paragraph development is a strong feature of this curriculum. Every 5th lesson is academic and reinforces paragraph development while building and expanding new skills.
Creativity
In between the academic lessons, numerous creative writing assignments will stretch vocabulary and develop the student's unique writing voice.
Four Levels of Writing
Start a lesson by having the student dictate his or her ideas to you. As students progress through the four levels, they will be outlining and writing independently.
Age Level
This curriculum was developed for the 3rd through 8th grade. Younger writers may be able to use the first ten lessons. The last twenty lessons develop high school writing skills and are useful for secondary students.
Easy to Use
Our one page format is user friendly for both the instructor and the student. No lengthy lesson plans, just open to the page and begin the writing adventure together.
Economical
Write On will take your students into the high school years. Since it is non-consumable and used by for multiple years by all students in a family, it is probably the most affordable writing curriculum available.
Order Write On as Your Homeschool Writing Curriculum
Order Write On Today

19.95
Soft Cover
Our bound edition is an 8 1/2 by 11" soft cover book. 138 pages
Instructor's Guide included.
Non-consumable. Shipped to your home.
---

17.95
Printable Download
In a hurry? Order the e-book download and print today.
Free Instructor's Guide
A FREE DOWNLOAD of the Instructor's Guide will give you a wealth of information on:
Motivating young writers
Using the four levels of writing
Grading student's writing.
Sample pages are included with the Instructor's Guide.
Download the Instructor's Guide and two sample pages.
Watch your student's writing take off
Visually appealing lessons
A simple one-page model
Variety in every lesson
Practice with each skill
Creative and academic writing