Streams to the River Vocabulary Words
Vocabulary Words and Definitions for Scott O'Dell's historical fiction book about Sacagawea: Streams to the River, River to the Sea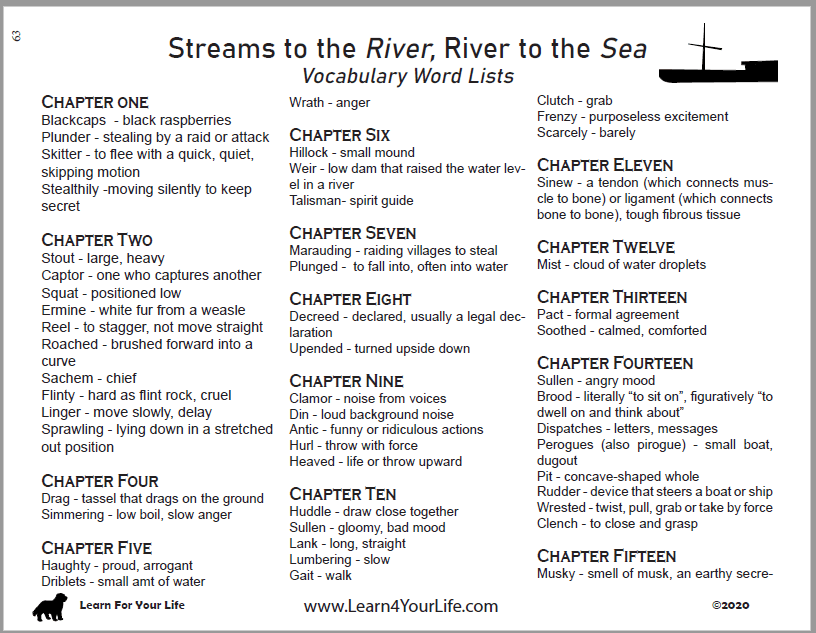 Vocab word lists are printed as a book marker. Words are listed by chapter in the order they appear in the text.
Chapter by Chapter Words
Streams to the River Vocabulary Words
Chapter 1
Blackcaps - black raspberries
Plunder - stealing by a raid or attack
Skitter - to flee with a quick, quiet, skipping motion
Stealthily -moving silently to keep secret
Chapter Two
Stout - large, heavy
Captor - one who captures another
Squat - positioned low
Ermine - white fur from a weasle
Reel - to stagger, not move straight
Roached - brushed forward into a curve
Sachem - chief
Flinty - hard as flint rock, cruel
Linger - move slowly, delay
Sprawling - lying down in a stretched out position
Chapter Four
Drag - tassel that drags on the ground
Simmering - low boil, slow anger
Chapter Five
Haughty - proud, arrogant
Driblets - small amt of water
Wrath - anger
Chapter Six
Hillock - small mound
Weir - low dam that raised the water level in a river
Talisman- spirit guide
Chapter Seven
Mauruding - raiding villages to steal
Plunged - to fall into, often into water
Chapter Eight
Decreed - declared, usually a legal declaration
Upended - turned upside down
Chapter Nine
Clamor - noise from voices
Din - loud background noise
Antic - funny or ridiculous actions
Hurl - throw with force
Heaved - life or throw upward
Chapter Ten
Huddle - draw close together
Sullen - gloomy, bad mood
Lank - long, straight
Lumbering - slow
Gait - walk
- grab
Frenzy - purposeless excitement
Scarcely - barely
Vocabulary words from all chapters are included in the
Streams to the River
Unit Study.
Buy Streams to the River Unit Study
Literature Study Based on Scott O'Dell's novel about Sacagawea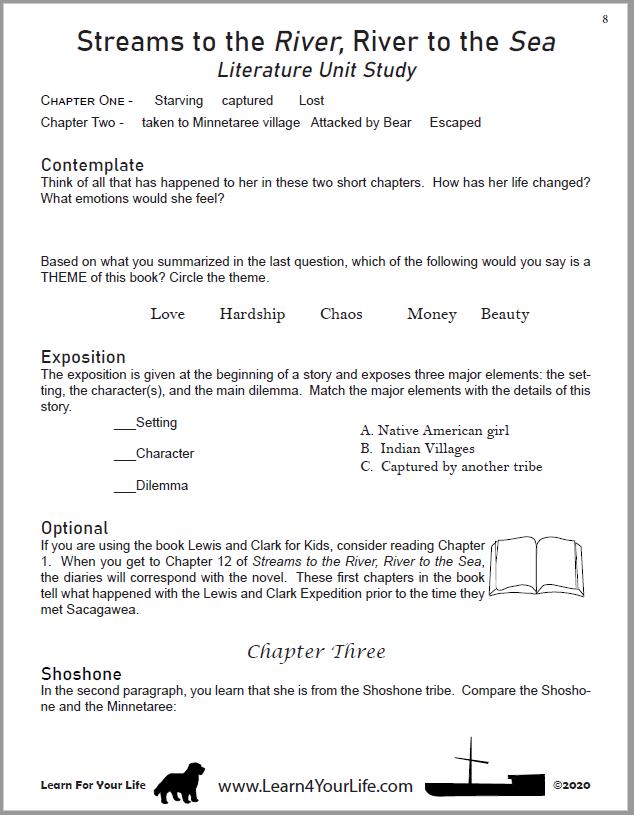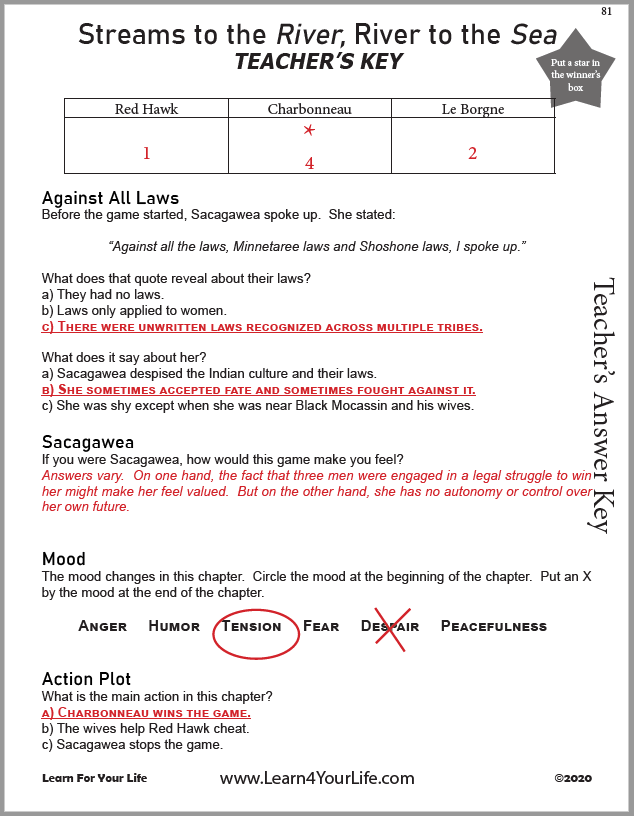 Student Guide AND Teacher's Answer Key Included
$2.99 Download - 121 pages


Streams to the River, River to the Sea
Information on the historical fiction novel about Sacagawea by Scott O'Dell