You Are Here:
Streams to the River
Streams to the River Unit Study
---> We may not be headed west with the Corp of Discover...
but we're headed towards a great unit study about Sacagawea and other members of the expedition.
This is an up-river journey, but take a look what we will have for you when we are done.
Reading Comprehension Questions
With each chapter, students can test their knowledge about what they read. We use our pointer questions as teaching tools to help students along their way.
Getting Started
We have a map activity to set the stage for this book: and it is based on The Author's Notes at the beginning of the book.
Vocabulary Bookmarks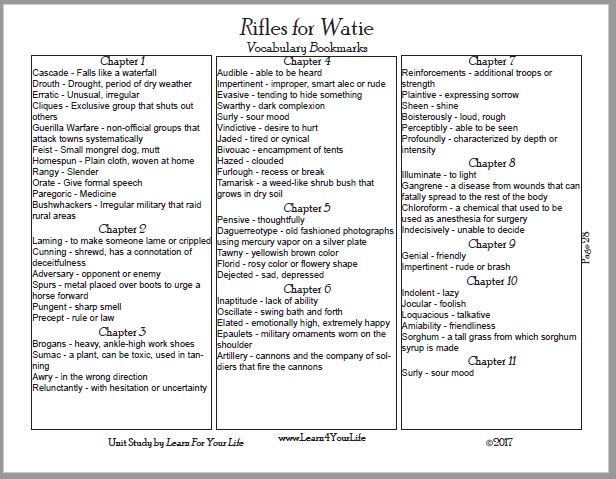 Maps
You can't go on a journey without a map. We will use maps in the book and a few others to supplement their reading. Look for these maps:
The Set Up - Author's Note
The three rivers
Special locations - like Fort Mandan in Chapter 13
Action Plot Diagram
With each chapter, students chart the action plot diagram to help understand the relationship of the different events to the whole. Here's a summary of the chapter events:
Chapter 1 - A Native American girl and her cousin Running Deer are captured in a raid.
Chapter 2 - they are taken to Minnetaree village by Tall Rock.
Chapter 3 - The wives of the chieftain accept the unnamed girl and plan for her to marry Red Hawk.
Chapter 4 Running Deer escapes but Sacagawea chooses to stay in the village.
Chapter 5 Tall Rock captures her again and takes her to the village of the cruel Le Borgne.
Chapter 6 She escaped from Le Borgne and went to an uninhabited island.
Chapter 7 - She is rescued from an island by a man and woman in a canoe
Chapter 8 Three men claim her and a game will be played to see who gets to keep her. They are 1)Red Hawk, the son of the chieftain; 2) Le Borgne from the other village, and 3) Charbonneau, the trader who brought her off the island.
Chapter 9 - Charbonneau, the French trader, wins the game. By law Sacagawea belongs to him.
Chapter 10 - Blue Sky, the wife of the chieftain, demands Sacagawea stay in the lodge in their village instead of traveling with Charbonneau and his other Indian wife.
Chapter 11 - Sacagawea married Charbonneau. He left to go trading in other village and she found out she was expecting a baby.
Chapter 12 - Lewis and Clark's company arrive in their village and get a friendly welcome
Chapter 13 - Sacagawea and Charbonneau move to Fort Mandan where the expedition stayed for the winter because they will go further west as guides and interpreters. Her baby was born there.
Chapter 14- The journey begins with Sacagawea and Charbonneau in the company. Sacagawea helps find food. She saves some of Captain Clark's possessions that go overboard. But she is suspicious that Charbonneau is planning trouble.
Chapter 15 - In spite of multiple dangers and serious hardships, the journey continued. Each day was different than the one before. Attacks included: bear, beaver, aggression from a tribe, buffalo stampede, grasshopper cloud. Hardships included pulling the boats upstream through mud, skin puncturing thorns, and hunger.
Chapter 16 - Sacagawea was sick. When she recovered she was with a small group that saw a Blackfoot raiding party. Charbonneau tried to take Sacagawea and escape by night, but he was caught.
Chapter 17 - Charbonneau predicts major changes for the plains when the white settlers come.
Chapter 18 - They reach the Great Falls in spite of the danger of illness, heavy rains, flood, and rattlesnakes.
Chapter 19 - Sacagawea is beaten by her husband for not starting a fire. They arrive in Shoshone country.
Chapter 20 - In the Shoshone village, a conflict arose between Charbonneau and the Shoshone man who was promised to be Sacagawea's husband by her father.
Chapter 21 - Sacagawea makes a long trip to a cave to pray for Captain Clark and Meeko. She tells Clark she wants to continue to the ocean in spite of the warnings of her cousin and brother and husband.
Chapter 22 - They leave the Shoshone village on horseback. After traveling a long way without food, they find a friendly Nez Perce village who promise to watch their horses while they continue by canoe. Charbonneau takes another wife who stays in her village as they continue.
Chapter 23 - They follow the Columbia River and reach the edge of the Pacific Ocean. Sacgawea's boat was caught in a tidal swell. She was hurt when Captain Clark asked for her belt to trade for furs.
Chapter 24 - The built Fort Clatsop near the Pacific Ocean. They interacted with the Clatsop Indians they did not trust. Sacagawea struggled to understand the concept of a round earth.
Chapter 25 - They begin the journey up the Colorado on their way back towards Fort Mandan and away from the Pacific Ocean. They have less trading supplies and find the Indian tribes less friendly.
Chatper 26 - The company split into two parties on their way back, then met at the meeting of the two rivers. Lewis went north along the Maria River and Clark went south along the Yellowstone River. Both encountered numerous obstacles. Charbonneau was briefly reunited with his third wife, who ended up leaving him to go back to her father's village.
Extra Information
We provide INFORMATION BOXES to give students additional information on these topics:
Pemmican
Cataracts
Number of people in the Corps
North West Trading Company
Leeches
Tidal Swells
Deeper Literary Topics
This book brings up these topics for students to explore:
The role of culture in marriage
Laws in non-literature societies
Character
Literary license in historical fiction
Themes
A number of significant themes are analyzed:
Slavery vs freedom
Fate vs Free Will
Marriage and culture
Hands On Activities and Further Exploration
There's always more to do and more to learn. With this unit students are given some direction in pursuing other topics.
That's a lot. We know!
Come back soon, and hopefully you will be packed and ready to make the journey with us!