Bronze Bow Maps
Multiple maps and activities to correspond to the novel The Bronze Bow by Elizabeth George Speare.


Village of Ketzah
The village of Ketzah is a fictitious town in
The Bronze Bow
where much of the action takes place.
Ketzah was on the northern shore of the Sea of Galilee, three miles from Capernaum.
It was a small village named after the Ketzah spice which was said to be harvested there.
The black and white map in
The Bronze Bow Unit Study
shows the location of Ketzah compared to the other towns mentioned in the story as well as the site of the attack in Chapter 19.
Provinces of Palestine
Galilee and the culture of the Galileans is prominent in
The Bronze Bow
. The map illustrates the major provinces, the cities mentioned within the province of Galilee, and their location around the famous geographical features of Isreal. Black and white drawings in the unit study allow students to color the different provinces.
Geographical Features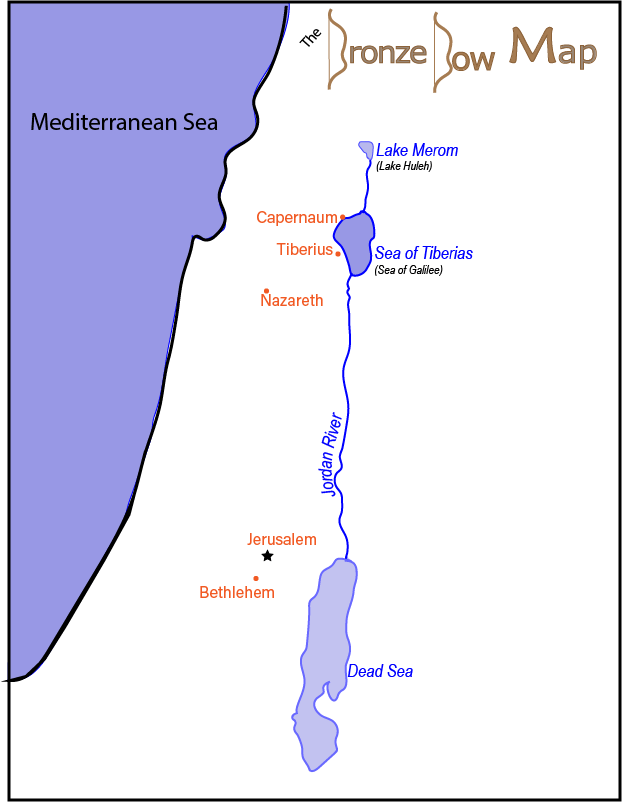 The geographical features map acquaints readers with the major features of Isreal:
Mediterranean Sea
Dead Sea
Jordan River
Sea of Galilee
Lake Merom
In the 34th from the last paragraph of the first chapter of
The Bronze Bow
, Daniel, Joel, and Malthace stand on the mountain, look down on the village of Ketzah and the sea of Galilee to the south, the Lake Merom to the north and the Jordan River connecting them.
Another geographical activity done during the unit is to make the outline of the Sea of Galilee, Jordan River, and Dead Sea out of a long piece of yarn. Students then "hop scotch" to the geographical features and provinces of Galilee, Samaria, and Judea as they are called out. Major cities can also be included in this game.
The Roman Empire and Palestine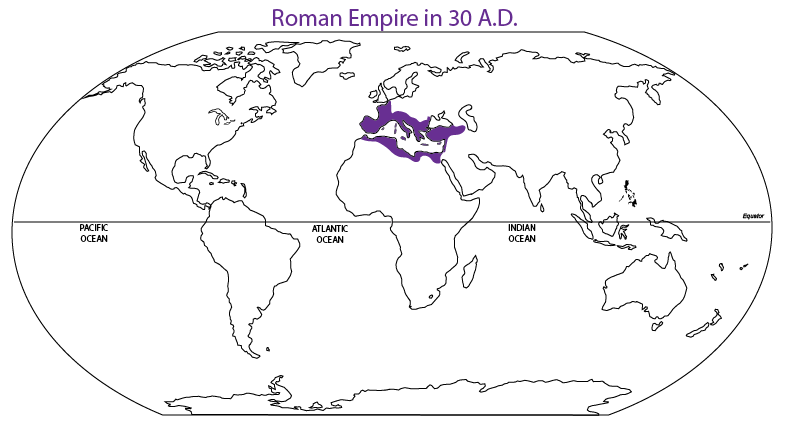 Of course the Roman Empire is a major force in the novel. The map of the world illustrates the reach of the empire and the location of Israel.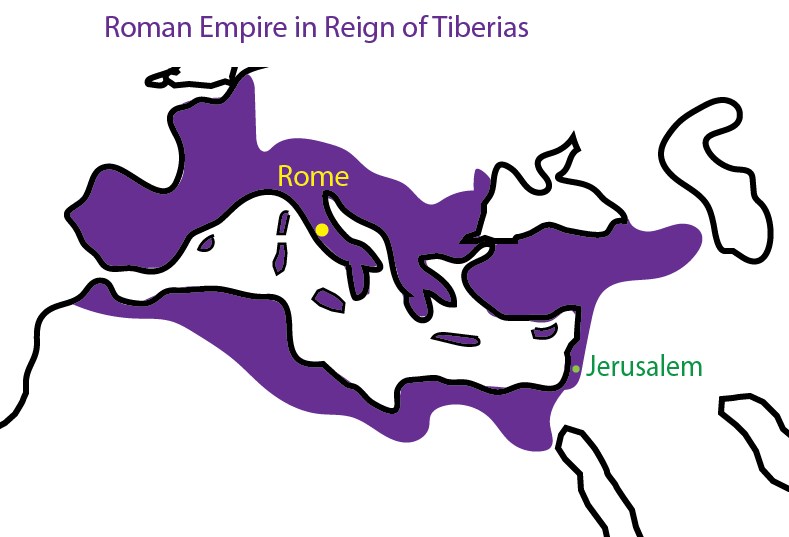 Geography Activities for The Bronze Bow Unit Study
We have multiple activities to accompany the maps:
Finding Israel - a blind activity with a globe
Middle Earth - Turns out it existed long before hobbits; it's the Mediterranean Sea.
Geo Features - A new form of hopscotch, played with a string and the provinces of Israel
Find Ketzah - Use the information from the book to locate where it would have been - had it been a real village that is.
Print Our Bronze Bow Unit Study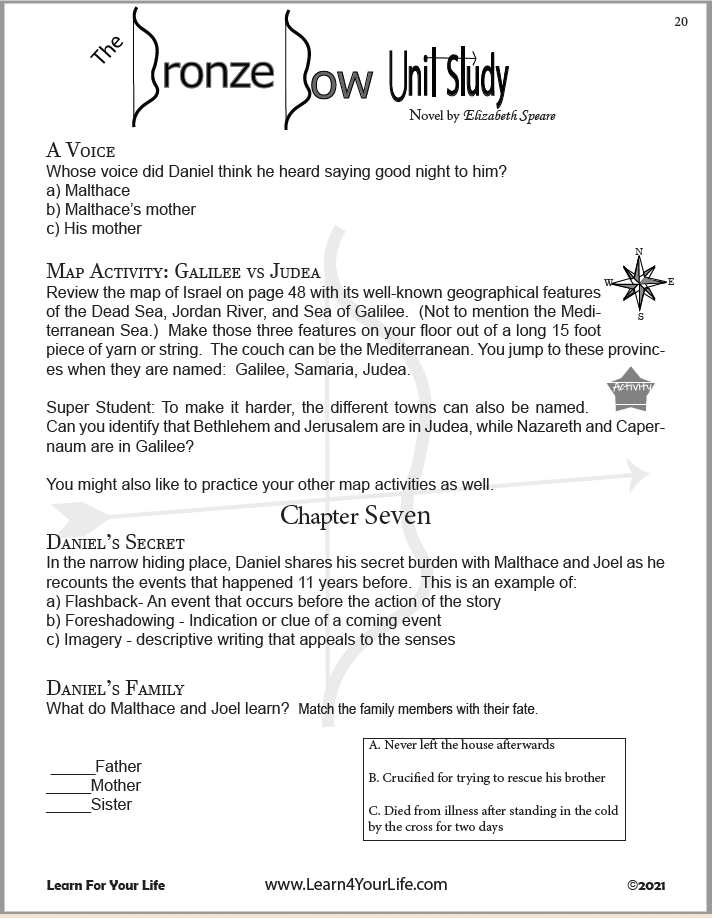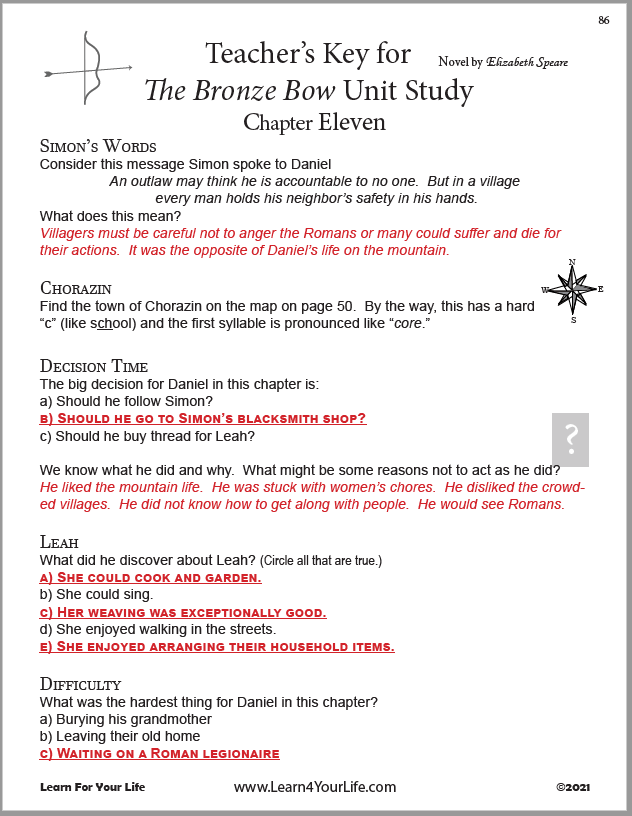 Student Guide AND Teacher's Answer Key Included
$2.99 Download - 109 pages


Pages on The Bronze Bow
A timeless tale of hate and love
Unit Study
Maps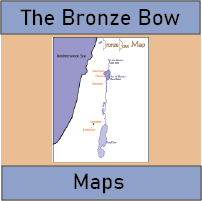 Themes/Symbols
Vocabulary
Ketzah