Sherlock Holmes Consulting Detective
Sherlock Holmes was the world's most famous consulting detective. Of course, the fact that he was the one and only consulting detective made it a bit easier to capture that title.

Sherlock Holmes Biographical Information
Occupation:
Consulting Detective
Began his career:
1880
Years in Practice:
23
Partner:
Dr. John H. Watson (his wife called him James, Sherlock simply called him "Watson"
Marital Status:
Single (He remained a bachelor in spite of his partner's earlier attempts at matchmaking which were abandoned due to lack of success.)
Address:
221B Baker Street, London
Ethnicity:
Bohemian
Known Relatives:
Father - wealthy country squire (apparently deceased)
Brother - Mycroft
His grandmother was the sister of the French artist, Vernet
Remote cousin, Verner, mentioned one time (The cousin bought Watson's medical practice.)
Hobbies:
Violinist, Boxing, Swordsman, Wrestling, Chemistry
Personality:
Believed himself to be a very logical and non-emotional person. In reality, he was quite emotional but preferred to deny it.
He was a Type A person, a strict work-a-holic with very few friends or desire for a social life apart from solving mysteries.
Social Life
: Minimal social contacts. While he was famous and well-liked, he made few friends and discouraged visitors.
Religion:
Unknown, Refers to God and Providence several times in terms of justice, but appears to have no affiliation with an organized religious group
Vices:
Included tobacco and, in his younger years, cocaine. He either out grew the cocaine or his partner's words of warning were eventually heeded.
Watson's Description About Holmes
From The Red Headed League
"My friend was an enthusiastic musician, being himself not only a very capable performer but a composer of no ordinary merit."
What Is A Consulting Detective?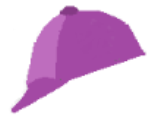 So just what is a "consulting detective?" Holmes himself explains it to his new roommate, Watson.
Holmes Description of his career shortly after meeting Watson
From The Study In Scarlet
"Well, I have a trade of my own. I suppose I am the only one in the world. I'm a consulting detective, if you can understand what that is. Here in London we have lots of government detectives and lots of private ones. When these fellows are at fault, they come to me and I manage to put them on the right scent. They lay all the evidence before me, and I am generally able, by the help of my knowledge of the history of crime, to set them straight...
They are all people who are in trouble about something and want a little enlightening. I listen to their story, they listen to my comments, and then I pocket my fee."
"But do you mean to say," I said, "that without leaving your room you can unravel some knot whcih other men can make nothing of, although they have seen every detail for themselves?"
"Quite so. I have a kind of intuition that way. Now and again a case turns up which is a little more complex. Then I have to bustle about and see things with my own eyes."
It is fortunate for the readers that Watson chose only to write about those "more complex" cases which required Holmes to leave his sitting room and do the sleuthing on his own. Not only did his willingness to leave his arm chair distiinguish him from his older brother (who did not), but it also produced far more interesting stories for five generations of fans.
Watson Describes Holmes
From The Resident Patient
"Neither the country nor the sea presented the slightest attraction to him. He loved to lie in the very center of five million people, with his filaments stretching out and running through them, responsive to every litte rumor or suspicion of unsolved crime. Appreciation of nature found no place among his many gifts, and his only change was when he turned his mind from the evil-doer of the town to track down his brother of the country."
Buy Sherlock Holmes: The Unit Study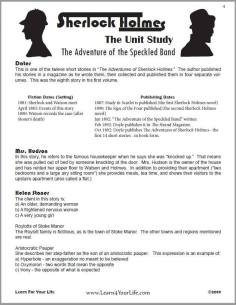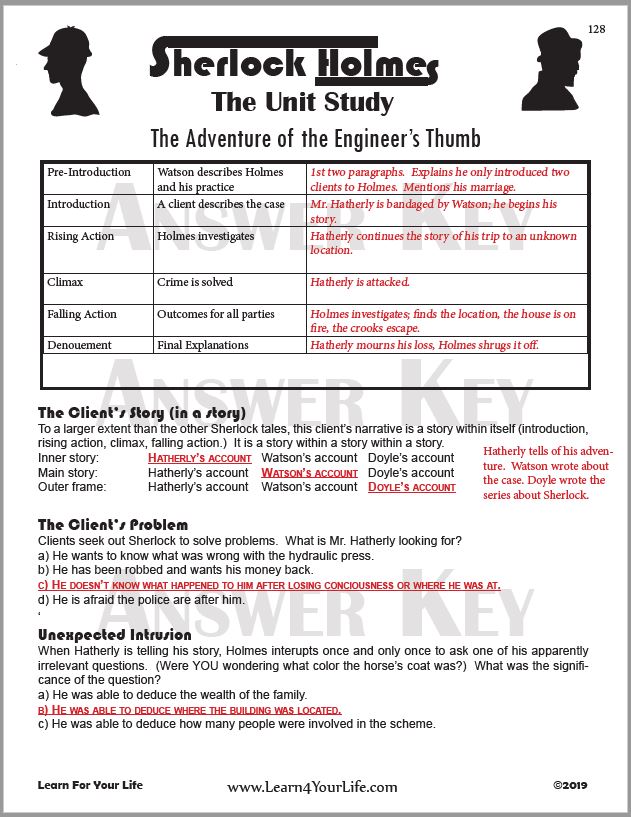 Student Guide AND Teacher's Answer Key Included
$2.99 Download - 183 pages
See below for contents of unit study

Sherlock Holmes Pages
A catalog of our pages on Sherlock Holmes.