You Are Here:
Themes, Symbols, Timeline
Moccasin Trail Themes, Symbols, and Timeline
Identify the themes, symbols, and timeline events in
Moccasin Trail
the historical fiction novel by Eloise Jarvis McGraw.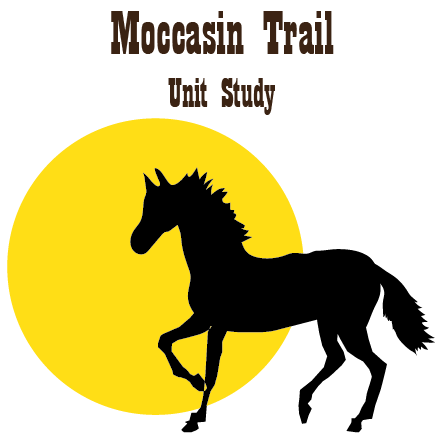 Themes
The major themes in this historical fiction account include:
Further Discussion on Themes
These themes can be further analyzed on the basis of:
Culture

White vs Native American
Differences and conflicts between native tribes
Differences between whites - farmers vs hunter/trappers
The role of family in culture
Self-sufficiency

Natives - working with nature and the land
Settlers - conquering the land

Identity
Relationships and Belonging

Family (Jim's siblings)
Friendships (Tom)
The Larger Society
Symbols

A number of objects and events are used as symbols which support the themes listed above.
Bear Claw necklace - his feat of bravery
Medicine Bundle - his Medicine Dream
Medicine Dream - combination of native (grizzly bear) and white (Lord's Prayer)
Permanent Log Cabin vs Mobile Teepee - differences between the two different cultures
Jim's boots - the incombatibility between the land and civilization
Mother's Clock - the family's life in Missouri
Timeline

1836 - age 11 - ran away from home to follow Uncle Adam to Oregon territory
1837 - Grizzy Attack and began life with the Crow tribe
1839 - age 14 - Jim's Medicine Dream (Grizzly and Lord's Prayer)
1841 - age 16 - Jim's father died
1843 - age 18 - slipped away from the Crow Indians at night; became atrapper with
1844 - age 19 - reunited with his siblings
Buy the Moccasin Trail Unit Study Guide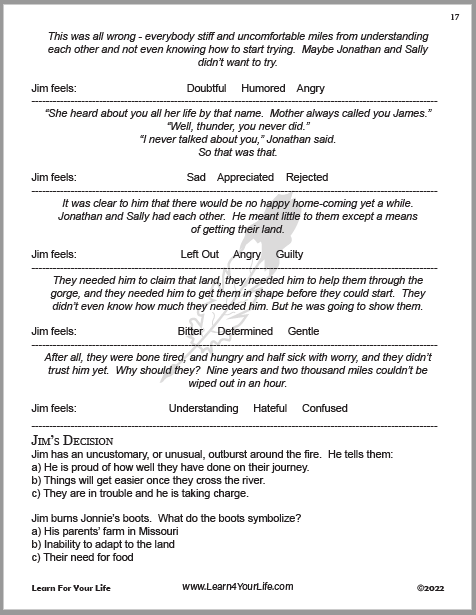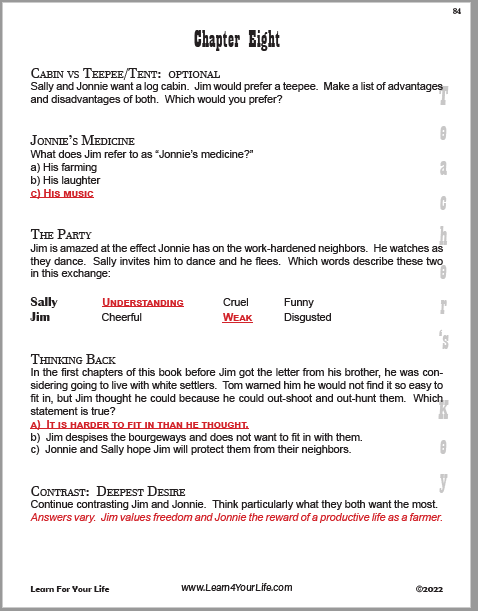 Student Guide AND Teacher's Answer Key Included
$2.99 Download - 113 pages



Includes student pages, answer key, map activities, vocabulary lists, and literary analysis.
Moccasin Trail Pages
Our pages for Eloise Jarvis McGraw's novel, Moccasin Trail.
Unit Study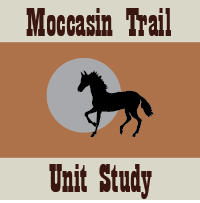 Vocabulary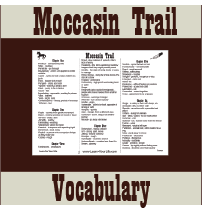 Maps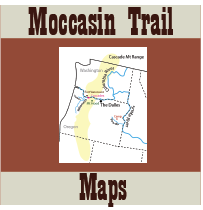 Summaries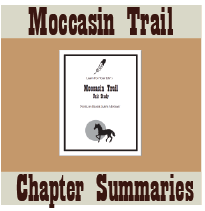 Themes, Symbols, Timeline