Lion To Guard Us TimeLine
This information is part of the Lion To Guard Us Unit Study and lists key dates and events in the Sea Venture timeline - the wrecked ship that settled Bermuda and helped save Jamestown.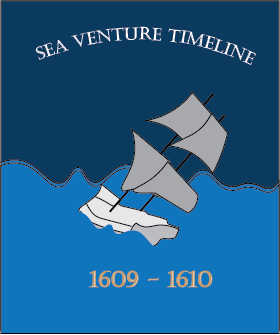 Settling Jamestown
Dates prior to the Sea Venture
Original Settlers
December 1606 - Original fleet left England:
Susan Constant (Christopher Newport captain) (1)
Discovery
Godspeed
Christopher Newport was the captain.
April 1607 - They arrived in Jamestown
First Supply of Jamestown
Oct 18, 1607 - Left England
John & Francis (Christopher Newport)
Phoneix
Jan 12, 1608 - Arrived in Jamestown
Second Supply of Jamestown
Aug 1608 - Leaft England
Mary Margaret (Christopher Newport)
Oct 1, 1608 - Arrived in Jamestown
Dates of the Sea Venture & Third Supply
Fleet of Nine Ships
Nine ships set out with 500 - 600 passengers and crew and provisions for one year (
2
)
7 ships under sail - 2 smaller pinnaces towed (They were slower and towed to keep from getting separated.)
The
Sea Venture
with Christopher Newport as captain also towed The
Catch
- a much smaller vessel.
June 2, 1609 - 3rd Supply Left England

July 24, 1609 - Storm started (Sea Venture and Catch untied during storm to prevent crashing into each other.)
July 28, 1609 - Sea Venture wrecked on coral reef, 150 passengers transported by long board to Gates Bay, a beach about 1/2 a mile away. It would have taken about 4 round trips to get all ashore.


*Early August 1609 - Other 7 ships arrive in Jamestown without the Sea Venture or Catch (Catch was lost, and its remains are still undiscovered.)
Sept 1, 1609 - Small boat from the Sea Venture leaves Bermuda for Jamestown. (Lost. Rumored to have been ambushed by Powhatan.)
1610
Fate of Sea Venture Passengers
April 1, 1610 - 4th Supply leave England 1

De La Warr
Blessings of Plymouth
Hercules

May 10, 1610 - Patience and Deliverance leave Bermuda 3
May 23, 1610 - Patience and Deliverance reach Jamestown
June 7, 1610 - De La Warr arrives the same day that Patience, Deliverance, and two other small pinnaces attempt to leave
Settlement of Bermuda
May 1610 - Robert Waters and Christopher Carter were left on the island.
July 11, 1612 - Bermuda's first governor Richard Moore arrived with 60 permanent settlers on Bermuda 4
1612 - 1615 - 600 colonists living in the settlement2
1625 9 forts and 2,500 residents (Bermuda ended up being more profitable than Virginia for the Virginia Company) 2
Massachussetts
By 1620 over 55 ships had sailed from England to Virginia 1
Sept 6, 1620 Mayflower left Plymouth, England - Headed to Virginia, it sailed off course.
Nov 11, 1620 Mayflower arrived in Plymouth
Nov 21, 1620 Mayflower Compact signed
References
We are not using live-links at this time as changing and outdated URL's can alter web results. 1. https://www.packrat-pro.com/ships/shiplist.htm (Valuable research listing the known pilgrim ships.)
2. https://encyclopediavirginia.org/entries/sea-venture
3. Miracle: The True Story of the Wreck of the
Sea Venture
- by Gail Langer Karwoski (book)
4. https://bernews.com/2013/05/archaeological-team-returns-to-smiths-island/
Get the Lion To Guard Us Unit Study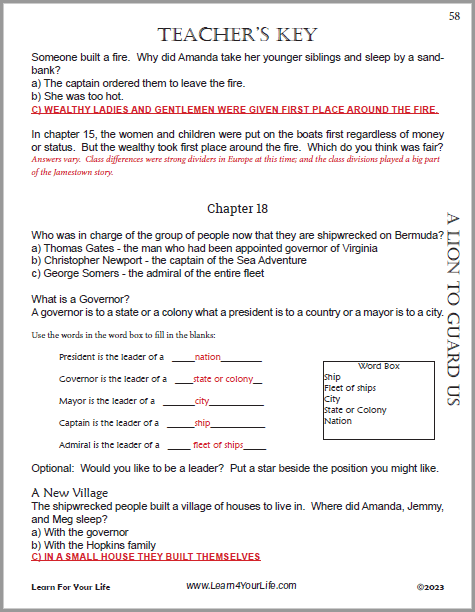 Student Guide AND Teacher's Answer Key Included
$2.99 Download - 78 pages


Our pages for A Lion To Guard Us
Clyde Bulla's Historical Fiction of the Sea Venture
Our Unit Study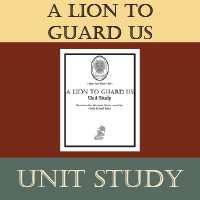 Maps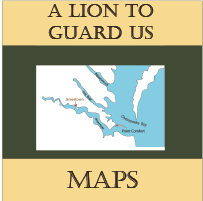 Vocabulary
Themes/Symbols
Timeline
Summary