You Are Here:
Kindergarten
Kindergarten Writing Rubric
Use the kindergarten writing rubric to evaluate your students' writing.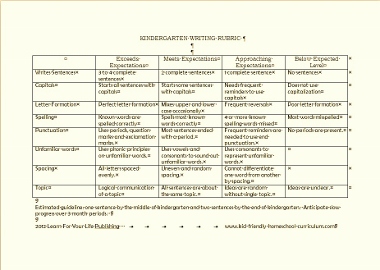 FREE Writing Rubric Download BELOW
Criteria on the Kindergarten Writing Rubric
Writing Sentences
By the middle of kindergarten the student should be able to write one complete sentence. Two sentences should be written by the last month.
Above Expectation: 3 or more sentences
Expecation: 2 complete sentences by the last month of kindergarten
Below Expectation: Cannot write more than one sentence in the last month
Fails Criteria: Cannot write a sentence
Capitals at the beginning of sentences
Above Expectation: Starts all sentences with capitals
Meets Expectation: Starts some sentences with capitals
Below Expectations: Requires frequent reminders to use capitals
Fails Critera: Does not use capitalization
End Punctuation
Above Expectation: Uses periods, question marks and exclamation marks correctly
Meets Expectation: Most sentences are ended with a period.
Below Expectation: Frequent reminders are needed to use end punctuation.
Fails Expectation: No periods are present.
Spelling of Known Words
In the kindergarten writing rubric there are separate criteria for spelling of previously learned words and words whose spelling would be unfamiliar.
Above Expecation: All known words are spelled correctly
Meets Expectation: Most previously learned words are spelled correctly
Below Expectation: 4 or more known words are misspelled
Fails Expectation: Does not use spelling of words previously learned
Spelling of Unfamiliar Words
Above Expecation: Uses phonic principles on unfamiliar words (ie uses silent e, "ck" at the end, "ing" etc.)
Meets Expectation: Uses consonants AND vowels to encode unfamiliar words
Below Expectation: Uses consonants only to represent unfamiliar words
On the kindergarten writing rubric it is not possible to "fail" to write unfamiliar words.
Letter Formation
Above Expectation: Perfect letter formation
Meets Expectation: Mixes upper and lower case occasionally, a few letter reversals
Below Expectations: Frequent reversals, uses capitals instead of lower case in the middle of words frequently
Fails Expectation: Poor ability to form letters
Spacing of Words and Letters
Above Expectation: All letters are spaced evenly
Meets Expecation: There is some uneven and random spacing between some letters. Wider spacing between words and sentences
Below Expecations: Cannot differentiate one word from the next
Topic
Above Expectation: Logical communication of unique ideas
Meets Expectation: All sentences are about the same topic.
Below Expectation: Ideas are random without single idea.
Download the Kindergarten Writing Rubric
Teach Beginning Writers
K through 2nd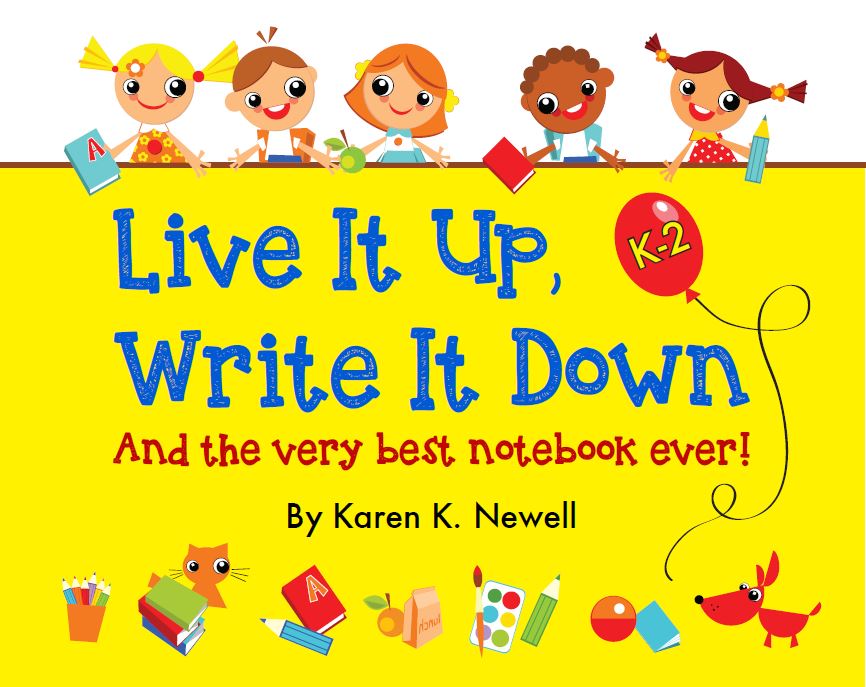 Live It Up, Write It Down
Kindergarten through second grade students will get a bang out of this curriculum. First they do a hands-on activity; then they write about it.
This first writing book teaches how to write using hands-on projects, writing with literature, writing a first diary, and incorporating writing with other subjects.
---
We Love Kindergarten
Here are more teaching aids for kindergarten.
Looking for classic books for your kindergartener to read?
Check out the
easy classical books
for the kindergarten and first grade student.