You Are Here:
Middle & High School Essay Rubrics
Essay Rubrics
Writing Rubrics for Middle and High School Students
Use these essay rubrics for writing assignments for older students. Links to rubrics for younger grades are at the bottom of this page.
How to Use Writing Rubrics to Evaluate Writing
Read the student's paper several times. On the first reading, focus on the content and the overall message. On your second reading, focus on the details.
Then read each of the criteria on the rubric. Note the differentiation for each criteria for:
Above expectations
Meets expectations
Below expectations.
Then re-read the students' paper again for each of the criteria listed.
Basic Writing Rubric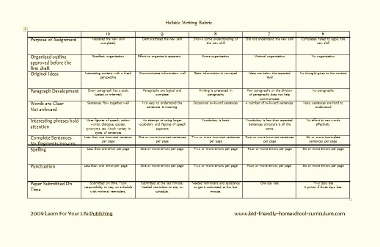 Click for your FREE PRINTABLE of the Basic Essay Writing Rubric
Our 100 point basic writing rubric helps you to evaluate and grade your student on the following areas:
Purpose of Assignment
Organized outline approved before the first draft is due
Original Ideas
Paragraph Development
Word Choices
Holding Attention
Complete Sentences
No fragments/run-ons
Spelling
Punctuation
Paper Submitted On Time
LEARN MORE about using the
100 Point Essay Writing Rubric.
6+1 Trait Writing Rubric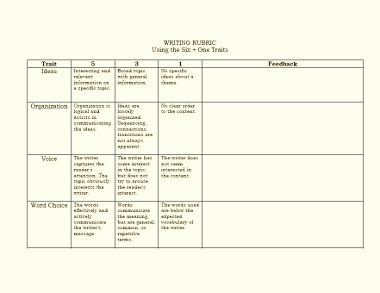 Click for your FREE PRINTABLE of the Six Traits +1 Writing Rubric
6+1 Traits are frequently used in elementary but can continue to beneficial in the upper years. It uses the seven traits to diagnose student writing ability. The Six (plus one) traits include:
Ideas
Organization
Voice
Word choice e
Sentence fluency
Conventions
Presentation
LEARN MORE about using the
Six +1 Traits Writing Rubric.
Research Paper Rubric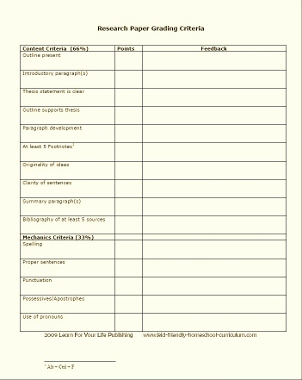 Click for your FREE PRINTABLE of the Research Paper Rubric
This rubric for research papers is primarily for those who have used the rubrics above several times. Content comprises 66% of the grade and mechanics 33%.
Outline present
Introductory paragraph(s)
Thesis statement is clear
Outline supports thesis
Paragraph development
At least 5 Footnotes
Originality of ideas
Clarity of sentences
Summary paragraph(s)
Bibliography of at least 5 sources
Spelling
Proper sentences
Punctuation
Possessives/Apostrophes
Use of pronouns
LEARN MORE about using the
Research Paper Rubric.
A blank research paper rubric can also be downloaded from the link above. You can modify the rubric to meet YOUR teaching goals.
A Writing Program You Both Will Love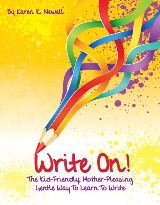 Write On: The Kid-Friendly Way to Write
Keep your students guessing what is coming next. One Hundred different writing activities are provided which take students from simple sentences all the way to thesis development.
Each activity gives students an unintimdating model. They use the model to write about the subject of
their
choice. Before you know it, well-organized paragraphs have produced cohesive essays they are proud to share.