You Are Here:
Essay Rubric
Rubric for Essays
100 Point Writing Rubric for Middle School and High School
Our free rubric for essay writing evaluates content, mechanics, and the writing process. This basic writing rubric can be used from upper elementary through high school. It consists of a 100 point rubric to guide the student to improved writing ability.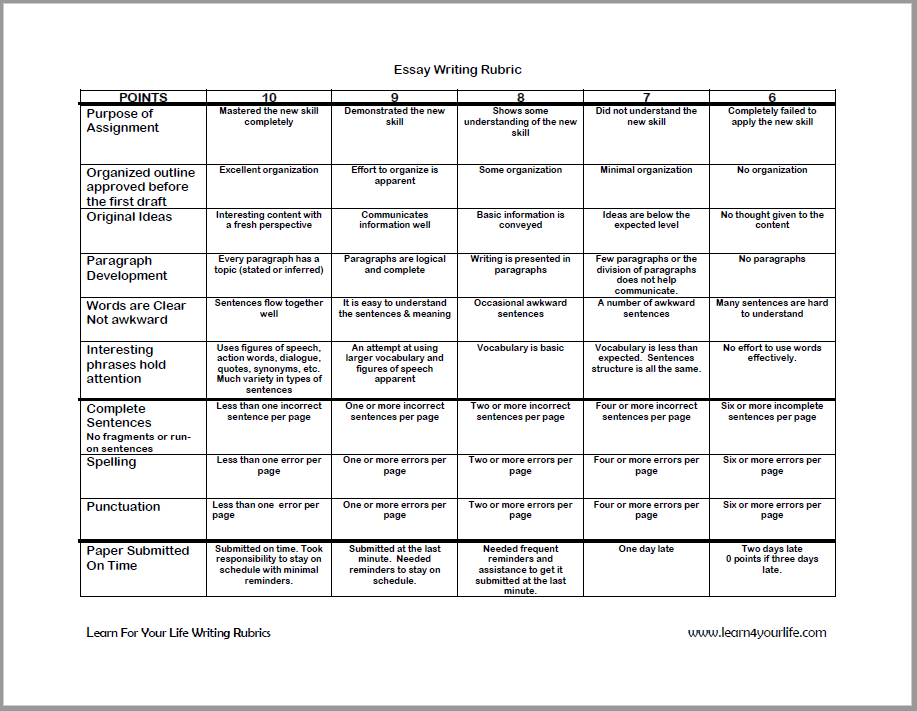 On This Page
This rubric includes points for the following criteria:

Content
Mechanics
Following the assigned writing process

See below for details on all the criteria on this rubric.
Download the Essay Writing Rubric
Elements of the 100 Point Basic Writing Rubric
Students will receive between 0 to 10 points for each of these criteria on the holistic writing rubric:
Purpose of Assignment
Organized outline approved before the first draft is due
Original Ideas
Paragraph Development
Word Choices
Holding Attention
Complete Sentences
No fragments/run-ons
Spelling
Punctuation
Paper Submitted On Time
How to use a 100 Point Writing Rubric
Each of the ten criteria offers the student the opportunity to earn up to ten points. If they acheive ten points on all ten criteria, they would earn 100 points - a perfect score. This, of course, is seldom achievable.
Ten points: Fantastic Job The student is commended for a specific strength that was well above expectation.
Nine points: That criteria was done well. (9 points out of ten equates to 90% which is usually a B grade. There is no complaint about this criteria, but it does not shine.)
Eight points: Criteria was addressed but could be improved. Specific suggestions for improvement should be given. This equates to an 80% or approximately a C grade.
Seven points: The criteria was not met. It may be a good idea to have the student redo this portion with one-on-one assistance.
Six points or Less Failed to perform the required task. For instance, if there was supposed to be a bibliography and there is none on the paper.
Simply add up all the points and you will have a percentage grade for the student's paper. This rubric works best for assignments with a specific purpose. See
other sample writing rubrics
for other assignments.
Download the Essay Writing Rubric
Improve Writing With Write On!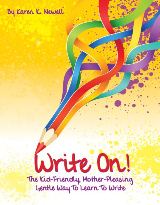 Write On: The Kid-Friendly Way to Write
With a carefully crafted process, students start with simple sentences, turn their thoughts into paragraphs, develop their ideas into essays, then combine their skills to create a thesis.
In between structured reports, creative writing exercises stretch their imagination and build their writing style.
The value of this unique writing program is it encourages students to express their own ideas. They see a non-intimdating student sample, and begin to use the model to write about topics of interest to them.