Our research paper rubrics will help you evaluate and grade your students' writing assignments. A sample rubric is provided as well as a blank rubric with directions on selecting your own grading criteria.
Research Paper Rubric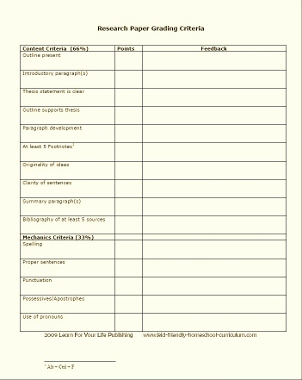 This rubric for research papers is primarily for those who have used the
basic writing rubric
several times and are familiar with it. Content for the research paper comprises 66% of the grade and mechanics 33%.
Outline present
Introductory paragraph(s)
Thesis statement is clear
Outline supports thesis
Paragraph development
At least 5 Footnotes
Originality of ideas
Clarity of sentences
Summary paragraph(s)
Bibliography of at least 5 sources
Spelling
Proper sentences
Punctuation
Possessives/Apostrophes
Use of pronouns
Download the Research Writing Rubric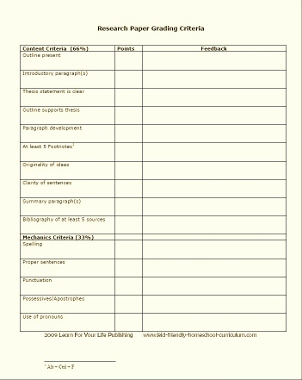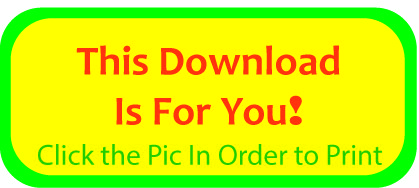 Print the Research Writing Rubric


How to Use the Writing Rubric
Each criteria will be given between 0 and 10 points, providing a maximum total of 100 points.
To earn
ten points
for a given criteria, you should be able to highlight specific examples of how the student has mastered that criteria. This highlighting serves as positive reinforcement to the student. It can also serve as an example to other students of skill they might emulate to improve their writing.
Nine point
score for a given criteria indicates that the student has successfully incorporated that skill at a level expected for their grade level. If they achieved nine points on every criteria, that would equal a grade of 90%. This score indicates that they correctly wrote though no extraordinary skills were demonstrated.
If the student's writing has specific weakness or needs improvement, a score of
eight points
should be given. Also, provide the student with specific instructions of which part of the paper is below expectation and what might be done to strengthen for subsequent assignments.
Seven points
are given if the criteria is well below expected level for the student's grade. Keep in mind that if they received a 7 on all criteria, it would result in a score of 70, which is equivalent to a "D."
If the student completely fails one specific criteria, a zero should be given and have them re-do the assignment.
Make Your Own Research Rubric
What Can You Include in this Research Paper Rubric?
Here are some of the criteria I have used at different times with different students. This is not an exhaustive list, and you may have other points. To individualize your own rubrics, you may choose ten that best fit your needs. Grading Criteria:
List the goal/purpose of the assignment
The points are organized

Introductory paragraph introduces the topic

Original ideas are presented

Paragraph development with topic sentences

Clear Phrases (avoid awkward or hard to read sentences)

Interesting sentences capture the reader's attention

A concluding paragraph summarizes the paper

Thesis statement is present

Bibliography with a minimum of X resources

Variety in sentence structure

Correct documentation of sources

Use of transitions between paragraphs

Pictures and tables

Neatness, professional appearance, use of fonts

Footnotes or endnotes

Use of quotations

Level of vocabulary used

Complete sentences with no fragments or run-ons

Punctuation

Spelling

Completed on time
Weight for Mechanics
In our basic research paper rubrics at the top of this page, mechanics is scored for 33% of the grade. When developing your own rubric, you can emphasize mechanics more or less than this.
Generally, the minimum weight given to mechanics is 25% of the grade. On the other hand, 50% is usually the maximum given to writing mechanics.
---

More Tips for Making Your Own Writing Rubrics