Fall & Winter 2012-2013
Winners Announced
Winner - Age 8 - 10: The Sinkable Unsinkable Ship - Jack, Age 9
Winner - Age 11-15: Life In A Shell - Geneva, Age 15
Winning essays were selected based on ability to use a chronological time-line to develop an essay.
All of our writers showed strong paragraph development and organization of ideas. Many examples of high quality of writing style are below. Congratulations to all of our writers for great essays.
Read the Submissions Below
Check out the submissions of our contestants. You can comment on the submissions as well.
Submitted Essays
Here are the essays from the developing authors:

Contest Details
The writing contest is based on Write On 61 and 62. You can print the lessons and the rules below.
This homeschool writing contest starts November 24, 2012 and concludes February 28, 2013. All submissions must be received by February 28.
Essays will be submitted at this site. They will be published on this site March 1, 2013.
Winners will be announced here March 9, 2013.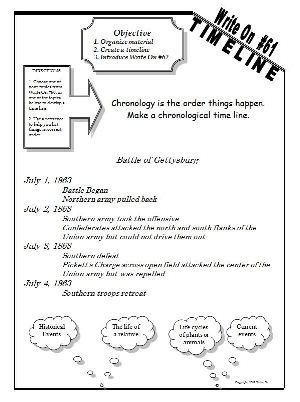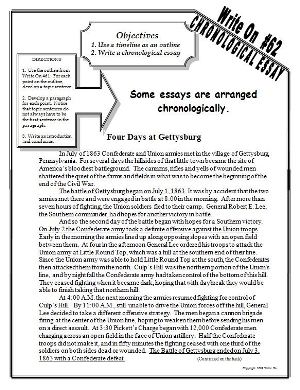 Prizes
There will be two age groups
Ages 8 to 10
Ages 11 - 15
The winner of each age group will receive a one-half ounce silver Walking Lady Liberty half dollar. Please note rules regarding mailing addresses below.
The contest will judge the ability to develop a chronological essay.
You will need Write On #61 and 62
from Write On: The Kid Friendly, Mother Pleasing Gentle Way to Learn to Write.


Directions

Read Write On 61 and 62. Note how the outline of the essay is developed in Write On 61.


It is recommended that you complete Write On 61 separately. It will not be submitted, however.
Choose an event you will write about for your journalist report.

For this contest, the subject will be a historical or current event of your choosing.



The steps for developing your essay include:

Step One - Develop the outline
Step Two - Write a topic sentence for each main point.
Step Three - Develop your paragraphs.
Step Four - Include a one paragraph introduction and one paragraph conclusion.

The length of your report is different for the two age groups:

8 - 12 year old writers: 200 to 400 words
13 to 17 year old writers: 300 to 500 words



The submission box will appear on this web-page on February 20, 2013.

You may enter your submission as early as February 20, 2013.
Your submission must be received by 11:59 P.M. on February 28, 2013 at the latest.
Winners will be announced on this web-page on March 8, 2013.
Rules
This contest is open to homeschool students between the ages of 8 and 15. Submit in the age group of your age on November 24, 2012.

Entries must be submitted in the submission box on this page on the days specified above.

While entries will be accepted from any countries, prizes will ONLY be mailed to United States mailing addresses (any of the 50 states.)
Parents may assist younger children in typing their submission in the submission box for younger students. The work must be the students.

Plagarism will disqualify an essay.

Judging
Two judges evaluated the essays between March 1, 2013 and March 8, 2013.
Essays were judged on quality of writing, organization of ideas, paragraph development, following directions, and ability to reflect the significance of the event reported.