Across Five Aprils Timeline
Timeline of major battles and key events in the chapters of Across Five Aprils




Student timeline chart and teacher answer key provided in the unit study below.
Chapter 2
Firing on Fort Sumter
Southern victory
April 12, 1861
Confederacy fired on and took control of a federal fort.
Chapter 3
First Battle of Bull Run (First Battle of Manassas)
1st major battle
Southern victory
July 21, 1861


Battle of Ball's Bluff
Started political battles
Southern victory
Oct. 21, 1861


Battle of Wilson's Creek
Southern victory
South took control of Missouri
Aug 10, 1861

Chapter 4
Fall of Fort Henry
Northern victory
North seized important transport routes in the South
Feb 6, 1862
Fort Donnelson
Northern victory
Provided a route to invade the South
Feb 11-16, 1862
Chapter 5
Pea Ridge
(Battle of Elkhorn Tavern)
Northern victory
Nort gained control of Missouri & Arkansas
March 7-8, 1862
Chapter 6
Battle of Shiloh
(Battle of Pittsburgh Landing)
Northern victory
Extremely bloody battle that could not prevent Union advances into the South
April 6-7, 1862
Chapter 7
Corinth
(First Battle)
Stalemate
A month long seige that enabled the North to establish a base in the South
April - May 1862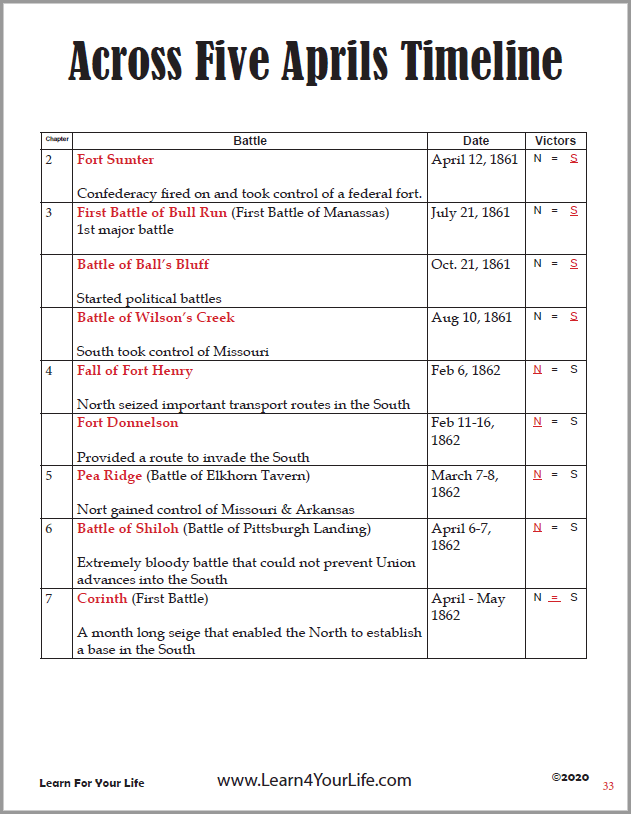 The timeline and answer key are provided in the unit study below.
Chapter 8
Second Bull Run
(Second Battle of Manassas)
Southern victory
Lee's popularity soared as he successful outmaneuvered an army twice the size as his own
Aug 28-30, 1862
Antietam
Northern victory
Bloodiest day in American History
Ended Lee's invasion into Maryland and resulted in Emancipation Declaration
Sept 17, 1862
Fredricksburg
Southern victory
High rate of northern casualities emboldened Southern soldiers
Dec 11-15, 1862
Stones River
(Second Battle of Murfreesboro)
Northern victory
Boosted Union morale since it prevented Confederate control of Tennessee
Dec 31 - Jan 2, 1863
Chapter 9
Emancipation Proclamation
Lincoln declared slaves ("are and henceforth shall be free")
Jan 1, 1863
Chapter 10
Chancellorsville
Southern victory
Lee demonstrated his superiority in tactical planning by defeating an army twice the size.
April 30 - May 6, 1863
Gettysburg
Northern victory
Bloodiest battle in American history
Prevented the South from invading the North
July 1-3, 1863
Vicksburg
Northern victory
North divided the South into two parts
May - July 1863
Chapter 11
Chicamauga Creek
Southern victory
Union retreated in disorder after very bloody battle
Sept 18-20 1863
Seige of Petersburg
(Seige of Richmond)
Northern victory
Trench warfare prevented supplies from reaching Richmond
June 1864 - April 1865
Chapter 12
Appotomax Court House
Lee surrenders
April 9, 1865
Assassination of Abraham Lincoln
Great loss for both sides
April 15, 1865
Buy Across Five Aprils Unit Study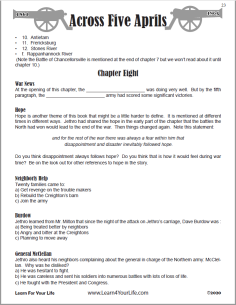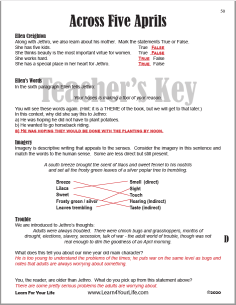 Student Guide AND Teacher's Answer Key Included
$2.99 Download - 91 pages


Across Five Aprils
Lesson plans for the Civil War novel by Irene Hunt
Across Five Aprils Unit Study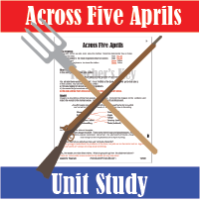 Across Five Aprils Map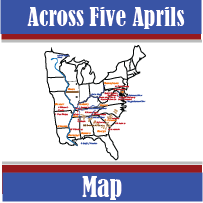 Themes, Symbols, Genre