Across Five Aprils Map
Follow the major battles in the Across Five Aprils map chapter by chapter. Map includes 17 battles, important rivers, Sherman's March and other Civil War events.


Chapter 1
Label A. Illinois on the map.
Newton, Illinois was the town closest to Jethro's family. It is marked N. (Chicago is marked with a C)
Draw the line between the north and south part of Illinois. The dotted line is approximately where the glacier stopped.
Chapter 2
Label the following states on the map:
Outline the (a) Mississippi River and (b) the Gulf of Mexico in blue
Label the location of (1) Fort Sumter
Chapter 3
Label the location of these three battles:

(2) Battle of Bull Run
(3) Ball's Bluff
(4) Battle of Wilson's Creek
Chapter 4
Outline the following rivers in blue:

(c) Tennessee River
(d) Cumberland River
(e) Ohio River

Label the following battles:

(5) Fort Henry
(6) Fort Donnelson
Chapter 5
Label the Battle of Pea Ridge (7)
We learn that the town of Newton is about 15 miles south of Jethro's home. Locate that on the map
Chapter 6
Label the Battle of Shiloh (8)
Chapter 7
Label the Battle of Corinth (9)
Chapter 8
Label the following battles:

Antietam
Second Bull Run
Fredricksburg
Stones River
Chapter 10
Label the following battles:

Chancellorsville
Gettysburg
Vicksburg
Chapter 11
Label the following battles:

Chicamauga Creek
Town of Petersburg (Seige of Richmond
Chapter 12
Label the village of Appomattox Court House as the location where General Lee surrendered.
Buy Across Five Aprils Unit Study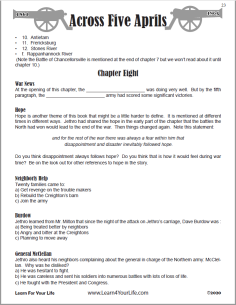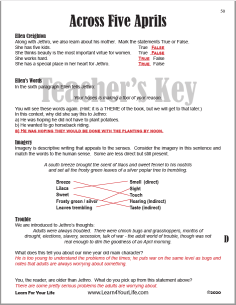 Student Guide AND Teacher's Answer Key Included
$2.99 Download - 91 pages


Across Five Aprils
Lesson plans for the Civil War novel by Irene Hunt
Across Five Aprils Unit Study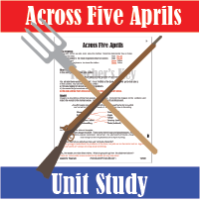 Across Five Aprils Map
Themes, Symbols, Genre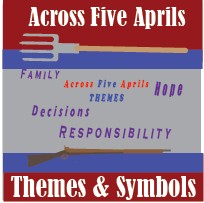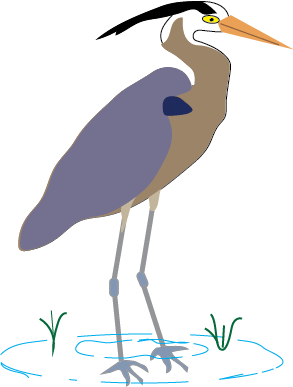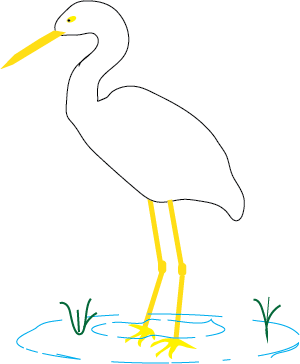 About Our Site
Hands-On Learning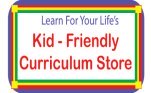 See All Products