How to Use Writing Rubrics to Evaluate Writing
Read the assignments writing project several times. First to understand the basic intent, and the second time to focus on the details.
Then read each of the criteria on the rubric. Note the differentiation between above expectations, meets expectations, below expectations. Then re-read the students' paper again for each criteria.
Keep in mind the expectations for the beginning of the year and the end of the year. Slow progress is anticipated in the earlier grades.
Basic Writing Rubric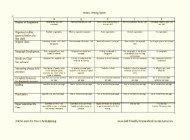 Our 100 point basic writing rubric helps you to evaluate and grade your student on the following areas:
Purpose of Assignment
Organized outline approved before the first draft is due
Original Ideas
Paragraph Development
Word Choices
Holding Attention
Complete Sentences
No fragments/run-ons
Spelling
Punctuation
Paper Submitted On Time
FREE DOWNLOAD of the
Basic Writing Rubric
.
6+1 Trait Writing Rubric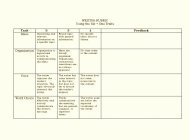 6+1 Traits are frequently used in elementary but can continue to beneficial in the upper years. It uses the seven traits to diagnose student writing ability. The Six (plus one) traits include:
Ideas
Organization
Voice
Word choice e
Sentence fluency
Conventions
Presentation
FREE DOWNLOAD of the
Six +1 Traits Writing Rubric
.
Research Paper Rubric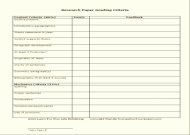 This rubric for research papers is primarily for those who have used the rubrics above several times. Content comprises 66% of the grade and mechanics 33%.
Outline present
Introductory paragraph(s)
Thesis statement is clear
Outline supports thesis
Paragraph development
At least 5 Footnotes
Originality of ideas
Clarity of sentences
Summary paragraph(s)
Bibliography of at least 5 sources
Spelling
Proper sentences
Punctuation
Possessives/Apostrophes
Use of pronouns
FREE DOWNLOAD of the
Research Paper Rubric
.
A blank research paper rubric can also be downloaded from the link above. You can modify the rubric to meet your teaching goals.