You Are Here:
The Dwarves in The Hobbit
The Hobbit Dwarves
Have fun with the puzzle of the 13 dwarves in The Hobbit.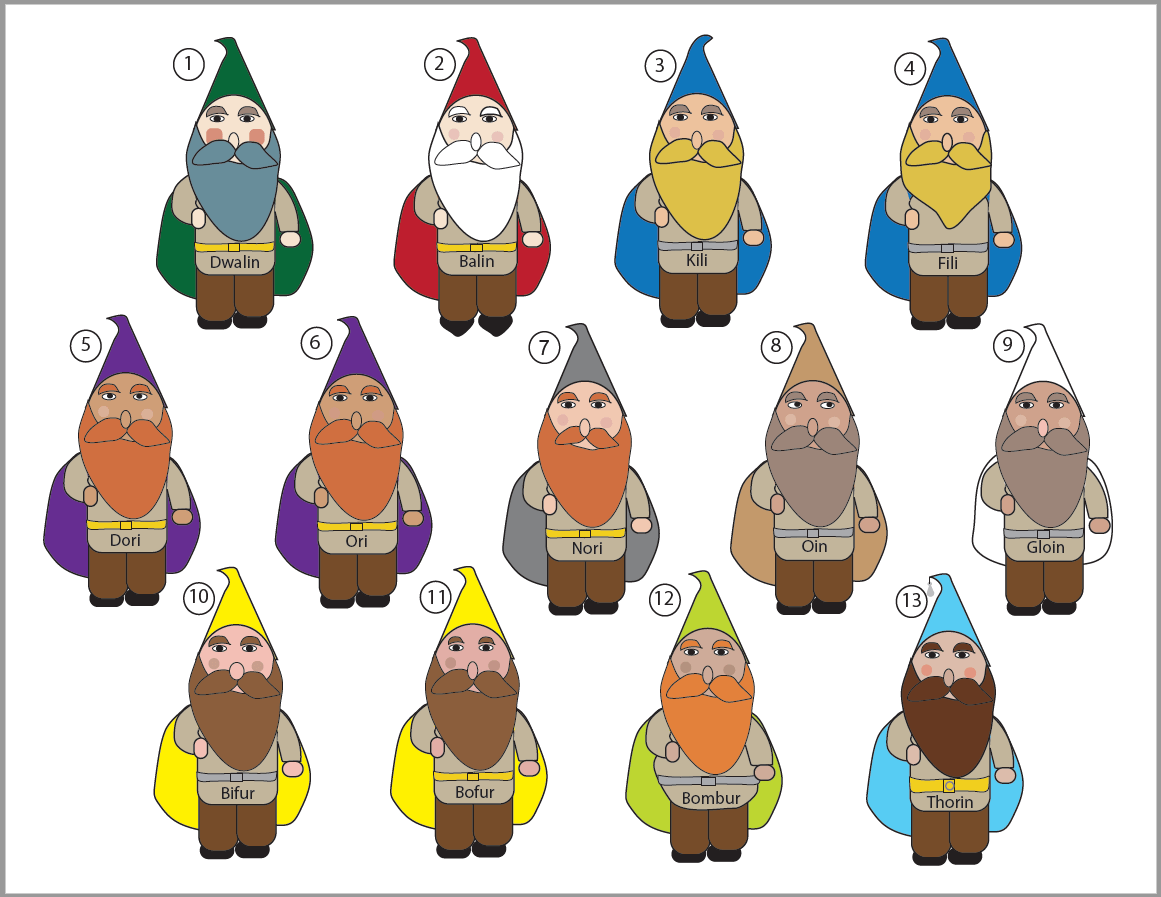 Getting to Know the Dwarves in the Hobbit
When Bilbo unsuspectingly opens his door to the first hobbit, he doesn't know what he is in for. Before he knows it, thirteen rather obnoxious dwarves are attacking his pantry. Little does he know, these stranger are about to becoming companions and (some) life-long friends.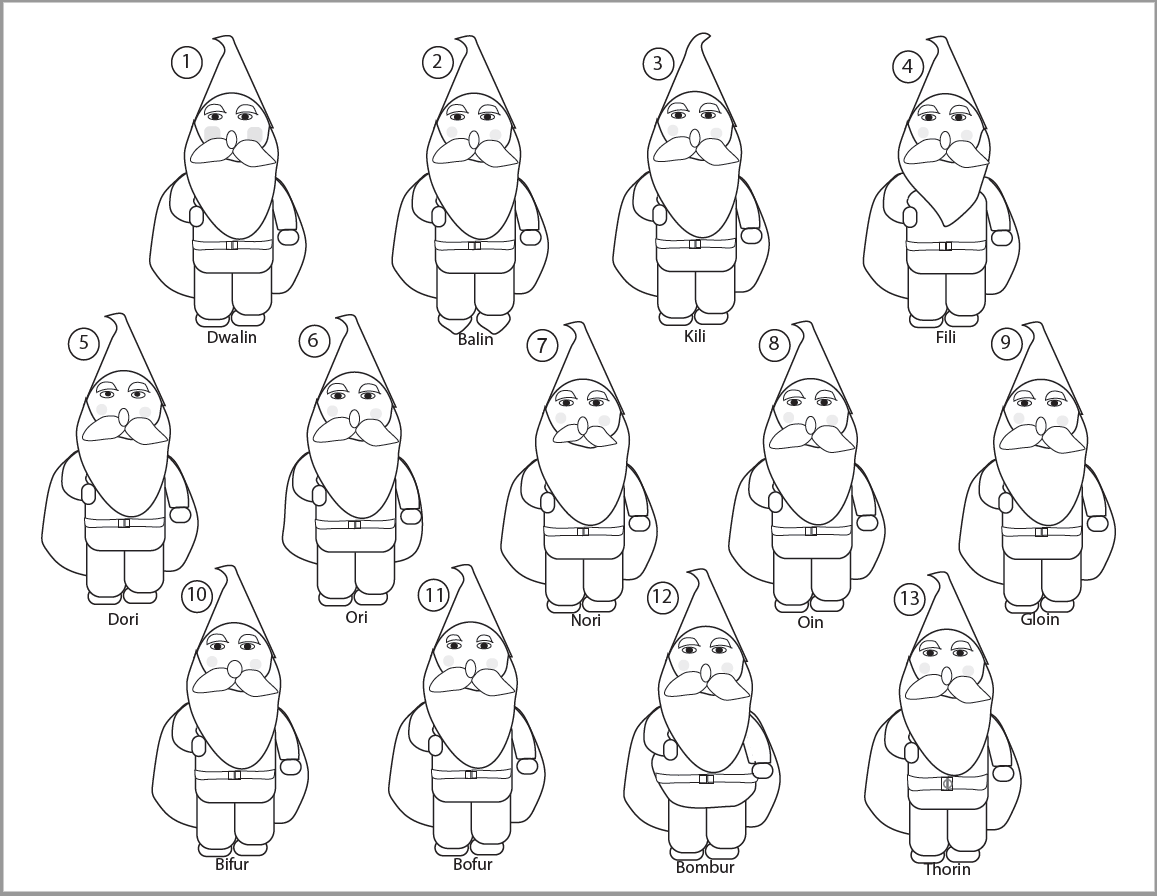 Our
Hobbit Unit Study
includes:
Black and White Dwarf Worksheet for student
Color Answer Key
Black and White Answer Key

---
List of 13 Dwarves in The Hobbit
Answer Key: Matching Dwarf Pairs to their Colors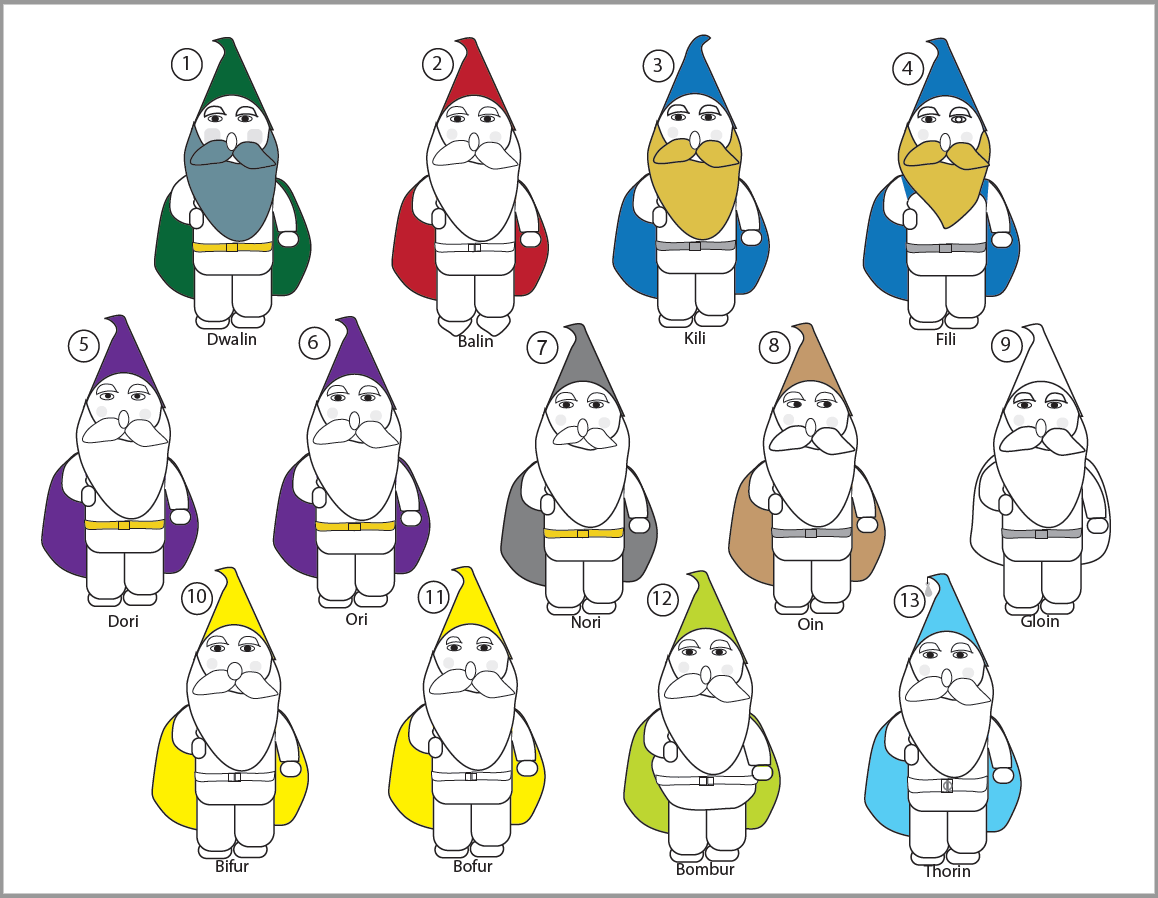 Here is the answer key.
Dwalin - Dark green hood, blue beard - his cheeks are larger and darker
Balin - Red hood, white beard - his boots are pointed
Kili - Blue hood, yellow beard, silver belt - the tip of his hat points the other way
Fili - Blue hood, yellow beard, silver belt - his beard is shorter and pointy
Dori and Ori - they are identical - purple hoods
Nori - Gray hood - smaller mustache
Oin - Brown hood - smaller eyes looking to the side
Gloin - White hood - his cape is shorter
Bifur - Yellow hood - bigger nose
Bofur - Yellow hood - smaller eye brows
Bombur - Light green cape - wider girth
Thorin - Sky blue cape, silver tassel - wider belt
Answer Key: Identifying Dwarf Characteristics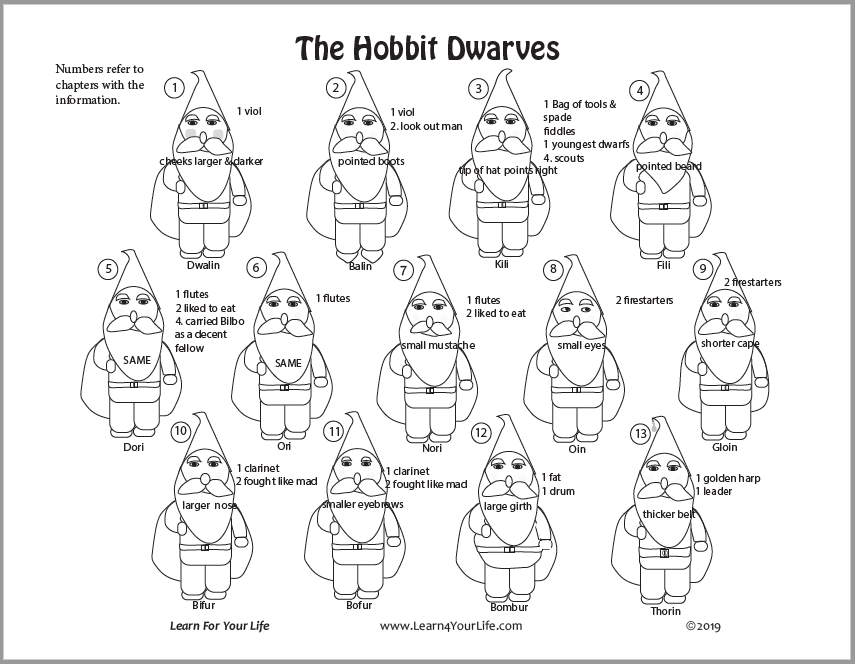 This black and white answer key in our
Hobbit Unit Study Guide
identifies:
The instruments for each dwarf
Tools of the trade mentioned for each dwarf
Unique characteristics:

Bombur was fat
Kili and Fili were the youngest and the scouts
Balin was the look out guy
Oin and Gloin were firestarters
Bifur and Bofur were the fighters
Thorin, of course, was their esteemed leader

Extra: Bilbo's magic ring is hidden somewhere on the dwarfs.
Dwarf vs Dwarves

Two dwarfs or two dwarves? Which is it?
Tolkien explains in the forward in
Modern English
the correct plural form of dwarf is "dwarfs." So much for the rule we learned in grade school about changing an "f" to a "v" and adding "es."
But, Tolkien informs us, when referring to the
Ancient Dwarves
we
DO
change the "f" to "ves." (This, by the way, only refers to the ancient dwarves of Middle Earth, so if there is another ancient tribe they are probably dwarfs and not dwarves.
Got that?
I'm not quite sure just when you are going to need that information, but at least now you know.
What Else Is in the Hobbit Unit Study Guide?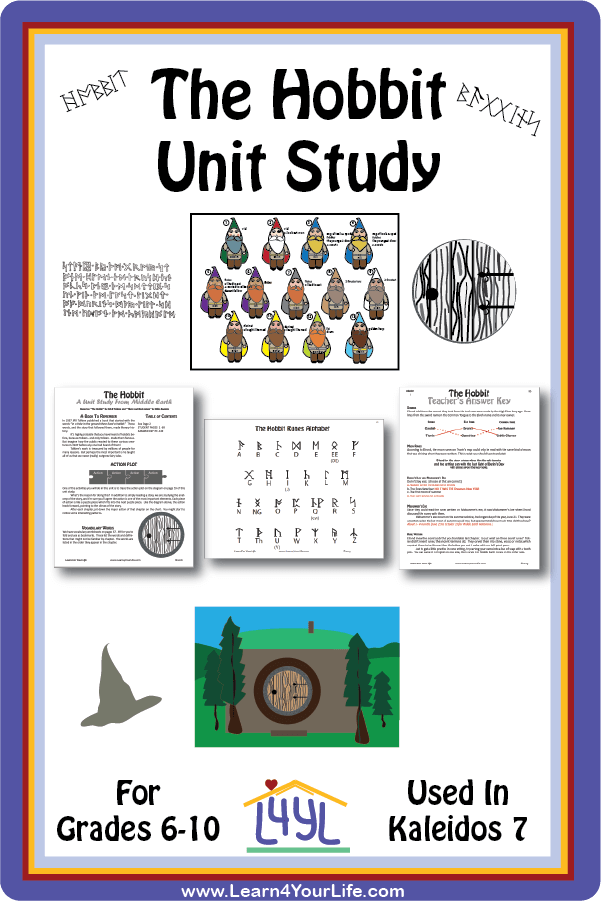 Our 136 page unit study includes:
Multiple Choice, Discussion, and Essay Questions
Vocabulary Word Lists
Analysis Symbolism, Themes, Genre
Middle Earth Runes and worksheets to translate
Projects and fun activities
Buy The Hobbit Unit Study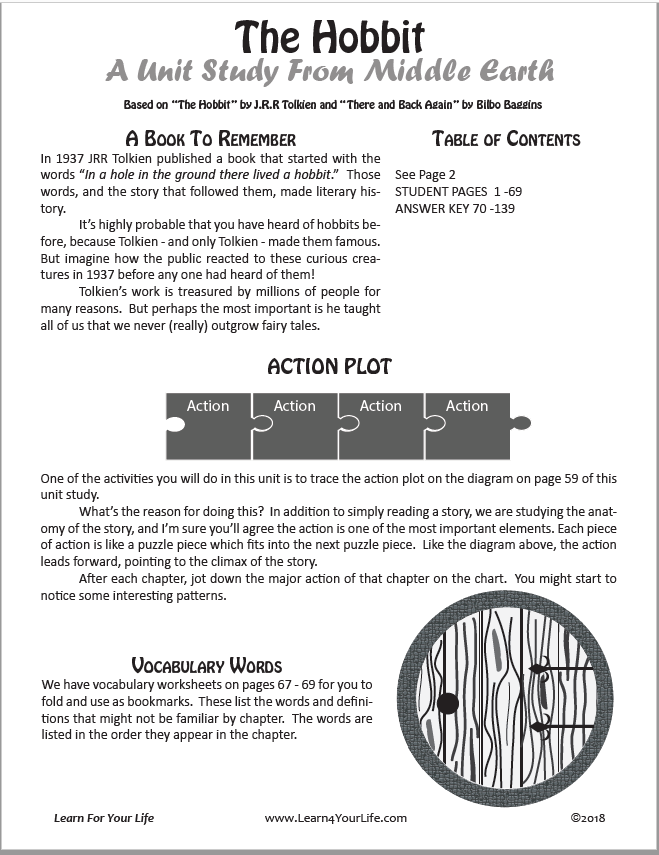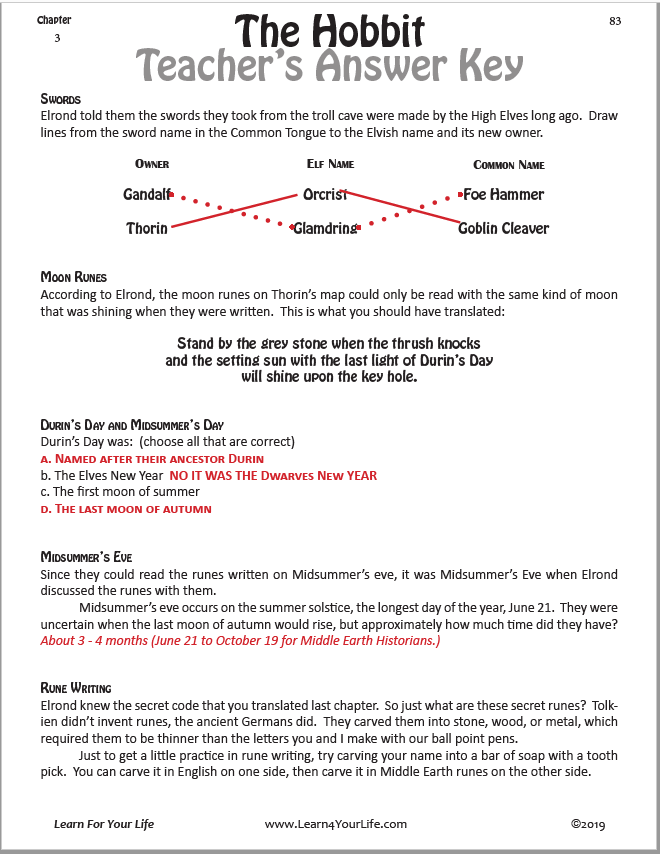 Student Study Guide AND Teacher's Answer Key Included
$2.99 Download - 136 pages
See below for contents of unit study


List of those Other Dwarves
Previously anyone asking you to list the dwarves would probably have meant the dwarves in Snow White.
In the Disney version, their names were:
Grumpy
Happy
Sleepy
Bashful
Sneezy
Dopey
Doc
So just what do these Disney Dwarves have to do with Hobbit Dwarves anyway? Not a lot, except - interesting fun fact - the Disney movie Snow White was released the same year
The Hobbit
was published.
The Hobbit Pages
All of our Hobbit pages at a glance
The Hobbit Unit Study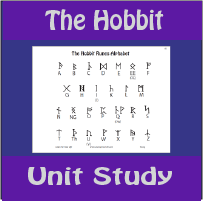 The Hobbit Analysis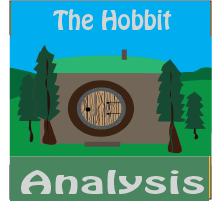 Vocabulary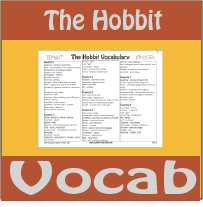 Runes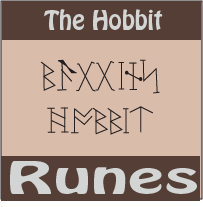 Point of View