You Are Here:
Analysis: Symbols, Themes, Genre
The Hobbit Analysis
Uncover the symbols, themes, genres, and points of view with our Hobbit Unit Study.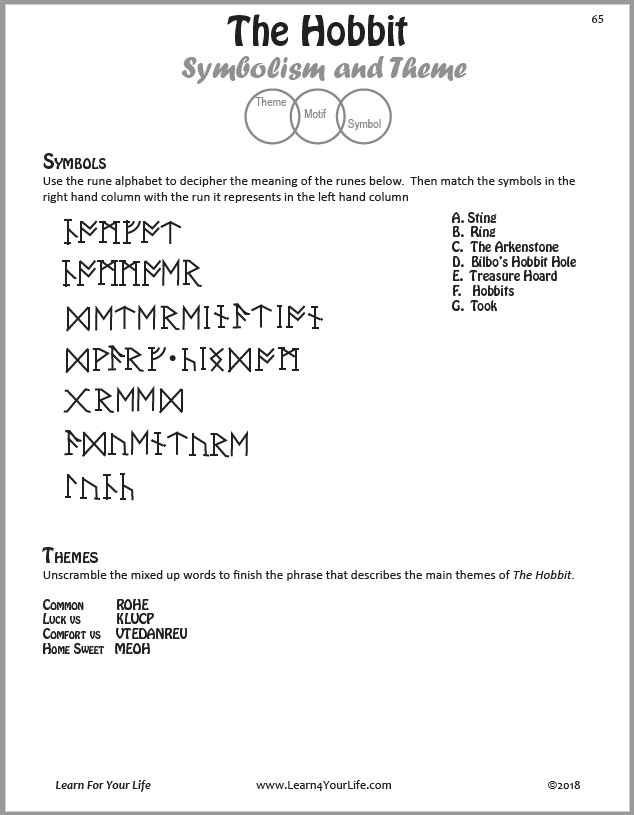 Symbolism In the Hobbit
The
Hobbit Unit Study
uncovers seven symbols in the narrative. These are discussed in the chapter-by-chapter activities as the symbols appear and reappear.
In the worksheet pictured above, students decipher the
hobbit runes
to find the symbols. Then they match the symbol to what it represents.
The seven symbols (and their answers) are:
Bilbo's hobbit hole represents comfort.
The Tooks (or Took blood) represents an adventurous spirit.
Hobbits represent villagers or the common folk.
The Ring represents luck (It is noted that it does NOT represent luck in the trilogy that follows.)
Sting represents determination or a fighting spirit.
The Arkenstone represents Thorin's rule of the dwarf kingdom.
The treasure hoard represents greed.
The Hobbit Theme
Four distinct themes in
The Hobbit
emerge. These are investigated in the unit study as well as the symbols that point to the themes. In the worksheet at the end, the four themes are reviewed. The four themes are:
The common hero
Comfort vs Adventure
Luck vs Pluck (or luck vs perserverance)
Home
These themes are, admittedly, inter-related. For instance, comfort vs adventure is related to the theme of home. However, the comfort vs adventure is distinctly applied to Bilbo.
The theme of home is broader than Bilbo. The entire quest is to reclaim the stolen home of the dwarves. Enroute, they visit numerous homes (Elrond, Eagles Eyrie, Beorn, Elven Kingdom, Laketown.)
Genres of the Hobbit
Five different genres that
The Hobbit
encompasses are examined in the unit study. These include:
Fairytale
Fantasy (a chart differentiating fantasy from fairytale is included)
Quest literature (students complete a chart with the elements of quest in this story)
Coming of Age (Recommend a debate whether the middle-age, wealthy hobbit comes of age or not)
Epic (A change that occurs with the Battle of Five Armies)
Character Development
As stated above, students can debate if this fits the genre of "Coming of Age" literature. But whether one agrees that Bilbo "grows up" or not, character development certainly occurs.
Essay question or poster presentations:
Compare Bilbo and Thorin.
Describe the changes that take place in Bilbo from the exposition to the denouement.
Contrast Bilbo, Thorin, and Gandalf as leaders.
Points of View
Yes, it is plural (points of view NOT point of view.)
The tone of
The Hobbbit
might make one think they are reading a simple bedtime story or children's fairytale. But even the
point of view in The Hobbit
is complex.
It is a third person narrative within an outer frame of a second person narrative.
What Else Is in the Hobbit Unit Study Guide?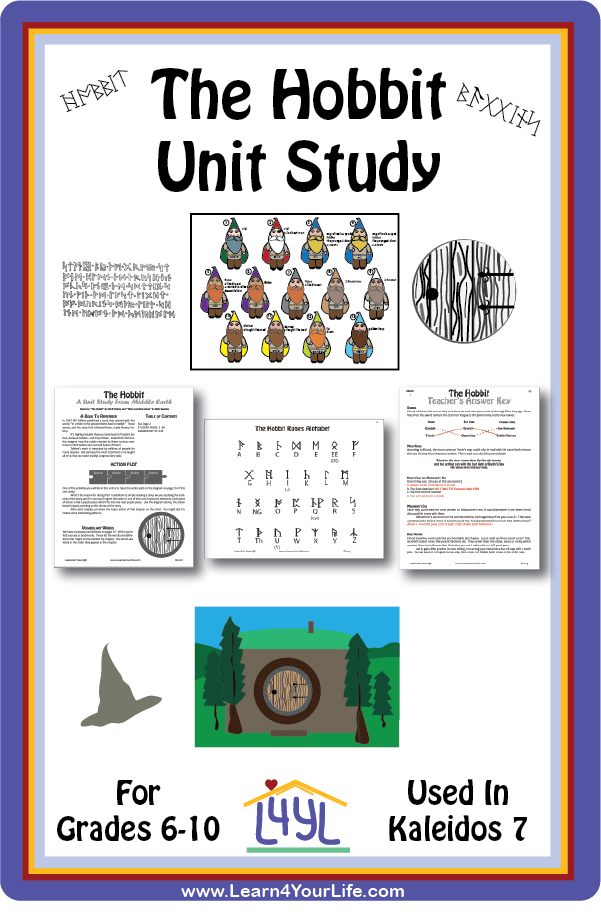 Our 136 page unit study includes:
Multiple Choice, Discussion, and Essay Questions
Vocabulary Word Lists
Analysis Symbolism, Themes, Genre
Middle Earth Runes and worksheets to translate
Projects and fun activities
Buy The Hobbit Unit Study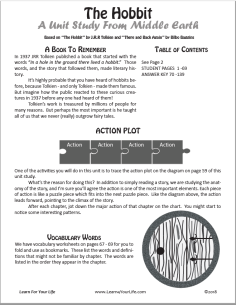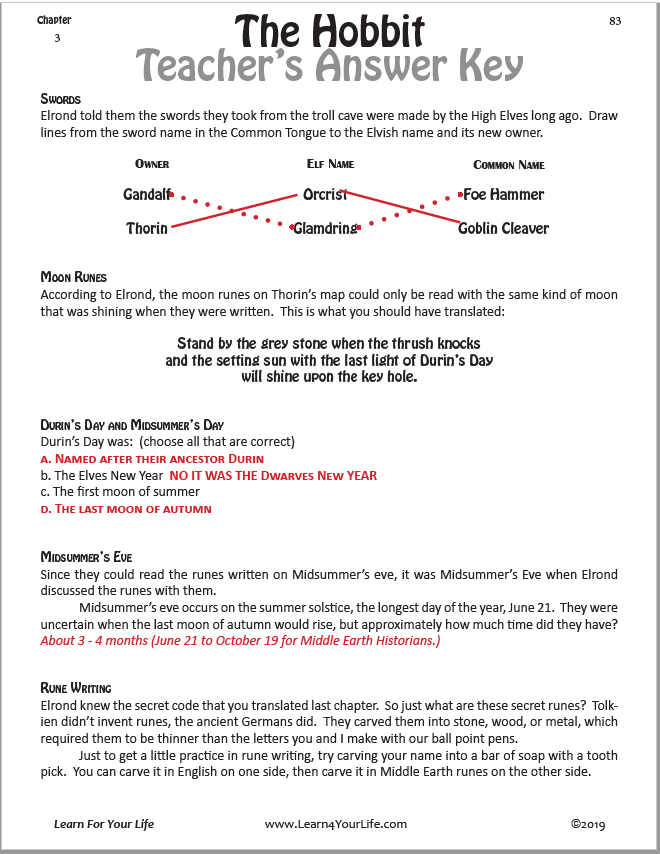 Student Study Guide AND Teacher's Answer Key Included
$2.99 Download - 136 pages
See below for contents of unit study


The Hobbit Pages
All of our Hobbit pages at a glance
The Hobbit Unit Study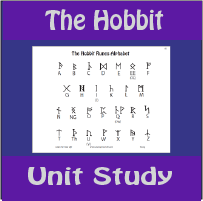 Vocabulary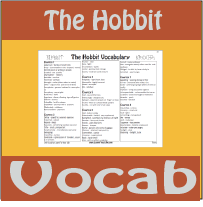 Runes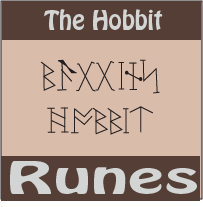 The Dwarves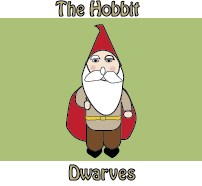 Point of View