You Are Here:
2nd Grade Writing Rubric
Second Grade Writing Rubric
Evaluate writing skills with our second grade writing rubric below.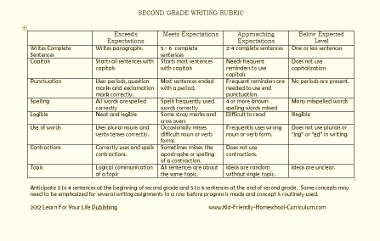 FREE Writing Rubric BELOW
Using the Second Grade Writing Rubric
Topic
Above Expectation: Logical communication of unique ideas
Meets Expectation: All sentences are about the same topic.
Below Expectation: Ideas are random without single topic.
Fails Expectation: Ideas are Unclear
Writing Sentences
By the middle of second grade the student should be able to write one complete two to three sentences. Four sentences should be written by the last month.
Above Expectation: Complete paragraphs
Expectation: 4-5 complete sentences by the end of second grade
Below Expectation: Cannot write more than three in the last month
Fails Criteria: Cannot write two or more sentences
Capitals at the beginning of sentences
Above Expectation: Starts all sentences with capitals
Meets Expectation: Starts most sentences with capitals
Below Expectations: Requires frequent reminders to use capitals
Fails Critera: Does not use capitalization
End Punctuation
Above Expectation: Uses periods, question marks and exclamation marks correctly
Meets Expectation: Almost all sentences are ended with a period.
Below Expectation: Frequent reminders are needed to use end punctuation.
Fails Expectation: No periods are present.
Spelling
Above Expecation: All words are spelled correctly
Meets Expectation: Spells all frequently used words correctly
Below Expectation: Incorrect spells common words 4 times
Fails Expectation: Many misspelled words
Legibility
Above Expecation: Neat and legible
Meets Expectation: Some stray marks and cross outs
Below Expectation: Difficult to Read
Fails expectation: Illegible
Word Usage
Above Expectation: Uses plural nouns and verb tenses correctly
Meets Expectation: Occasionally misses difficult noun or verb form
Below Expectations: Frequently uses wrong noun or verb form
Fails Expectation: Does not use plurals or "ing" or "ed" in writing
Contractions
Above Expectation: Correctly uses and spells contractions
Meets Expecation: Sometimes misses the apostrophe or spelling of a contraction
Below Expecations: Does not use contractionst
Print the Second Grade Writing Rubric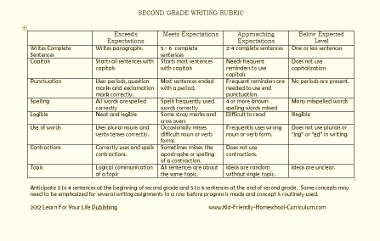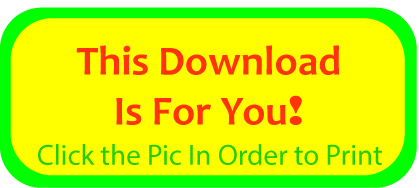 Print the 2nd Grade Writing Rubric


Need Help With Writing?
Don't give up if a student is below expectation. And don't settle for average if your student excels. Invite each student to enjoy writing to share their ideas.
K through 2nd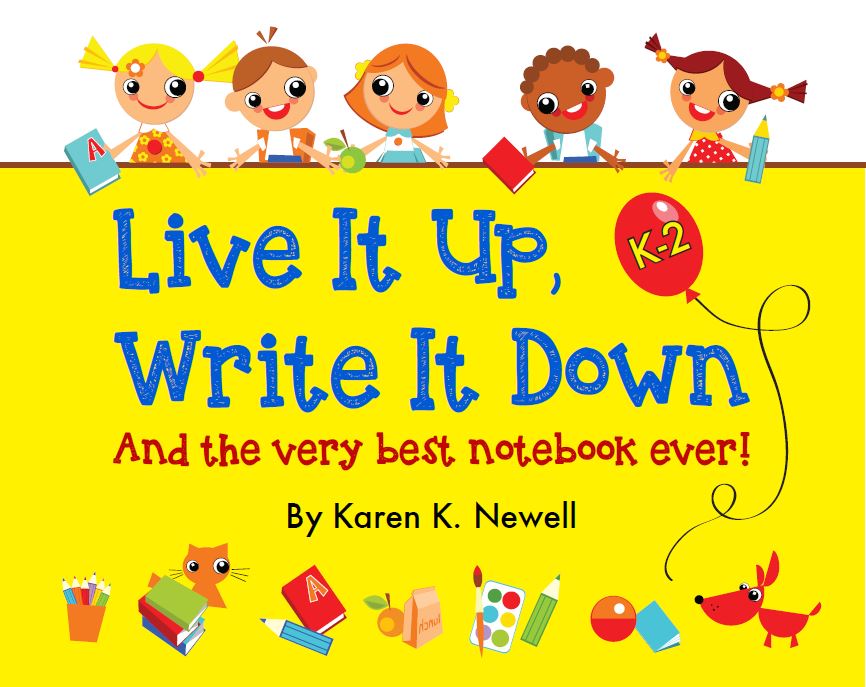 Live It Up, Write It Down
Kindergarten through second grade students will get a bang out of this curriculum. First they do a hands-on activity; then they write about it.
Their thoughts turn into sentences; their sentences turn into a paragraph. One step at a time, a budding writer develops.
---
3rd to 8th Grade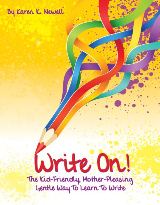 Write On: The Kid-Friendly Way to Write
With a carefully crafted process, students start with simple sentences, turn their thoughts into paragraphs, develop their ideas into essays, then combine their skills to create a thesis.
In between structured reports, creative writing exercises stretch their imagination and build their writing style.
This unique program can be used with multi-level learning and fits in with most unit study curriculums. Written for average 3rd to 8th grade writers, some activities can be adapted for writers in different situations.
Here's More for Second Grade
You may be interested in some of our other second grade pages.
Better Letter Primer Handwriting
Second Grade Phonics Families and Sight Words