You Are Here:
Literary References
Nine Coaches Waiting Literary References
Mary Stuart's Gothic novel,
Nine Coaches Waiting
contains numerous literary references, many of which enrich the narrative.
The main character, Linda, is the orphaned daughter of a writer and a lover of literature and poetry herself. There are several ways literary references appear in the novel. Several times Linda herself compares her situation or other characters to literature. These works are described below.
Second, each chapter begins with a quote from literature. These may seem cryptic until the chapter itself is understood. Often (but not always) these quotes are from the major literary works discussed.
Major Literary Works Referenced
Revenger's Tragedy: Nine Coaches
The title of the book and the nine sections (labeled coaches) comes from a seventeenth century play
The Revenger's Tragedy
.
Vindici is the main character who revenges the death of his fiance who was murdered years before by the Duke for refusing his advances. The Nine Coaches are part of the temptation of wealth as well as the meat, music, sports, etc.
Parallels with Mary Stuart's novel, derived from the reference to Nine Coaches Waiting, are somewhat twisted. Hippolito is the brother of Vindici who desires revenge against his fiance's murderer. In the novel, Hippolyte is the brother of Leon who is the would-be murderer.
Linda is a poor girl who is not tempted by the luxuries of the wealthy, though she does fall for their son.
Jane Eyre
Jane Eyre is a nineteenth century classic of an orphaned girl who becomes a governess to a child at Thornfield Manor. The guardian, is the wealthy bachelor Mr. Rochester. He offers marriage to Jane, but at their wedding she finds he is already married to a woman who is now insane.
The orphaned governess has parallels with Linda in Nine Coaches Waiting. In fact, Leon calls her "Jane Eyre" at one point, a quote she repeats to Raoul. But rather than the master of the estate, Linda falls in love with his son. Gone are the insane wife and the fire that handicaps Mr. Rochester, as well as the large sum of money Jane inherited from a wealthy uncle. Other than the orphaned governess, the plots are quite different.
Hamlet
Hamlet is a Shakespeare play referred to several times. Hamlet is the prince of Denmark, grieving the recent death of his father the king. His uncle and mother murdered his father in order to marry each other. The common denominator shared by Hamlet and Nine Coaches Waiting is the murderous uncle.
MacBeth
Another gloomy Shakespearean play highlights the murder of the Scottish King Duncan by MacBeth at his castle. As Linda sees Heloise sleep-walking in Philippe's room, she recounts the scene of MacBeth's guilty wife who was part of the murder:
"You see, her eyes are open, Ay, but their sense is shut...Lo, you, here she comes! This is her very guise, and upon my life, fast asleep."
By picking up Philippe's tumbler, Heloise alerts Linda to their plan to poison him.
William Blake
William Blake was a nineteenth century British poet; famous for his poems
Songs of Innocence
and
Songs of Experience
. William Blake is the name of the forester Linda meets in town, who thanks her for not quoting
Songs of Innocence
to him. Nonetheless, she considers him the lamb, and the de Valmy's the tiger, both from William Blake's poems.
Cinderella
Cinderella and Prince Charming are two references made repeated throughout the story, and to a large extent it is a Cinderella romance. The rich man and poor girl, the ball, the slipper at midnight...
Of course in Mary Stuart's novel we switch out the competing wicked step-sisters and toss in a murder plot.
But yes, I think we can safely call this a Cinderella story.
Opening Chapter References
Each chapter begins with a quote from literature. And many seem unrelated, something the reader glances at, shrugs their shoulder, then reads the chapter.
However, if you read the quotes
after
the chapter, they make sense.
Chapter One
Chapter One starts with the quote which names the book.
O, think upon the pleasure of the palace!...
Banquets abroad by torchlight! music! sports!
Nine coaches waiting - hurry, hurry, hurry --
Ay, to the devil
In this cryptic passage, she chooses to "hurry" to the pleasure of the palace - or at least the Chateau.
Chapter Two
She met Leon and was struck with his strength in spite of his infirmity. The quote at the opening of this chapter issues a warning about the man.
His form had not yet lost all her original brightness, nor appeared less than the arc angel ruined.
Paradise Lost - John Milton
My first thought was, he lied in every word, That hoary cripple with malicious eye askance to watch the working of his lie on mine.
Browning – Childe Roland
Chapter Three
She is shown to her room by Mrs. Seddon and meets Philippe. She thought her rooms lovely, but then Macbeth's castle was said to be lovely too and it was a place of treachery.
The castle hath a pleasant seat
Shakespeare - MacBeth
Chapter Four
She observes Leon and Heloise as they interact with Philippe. But as Hamlet can tell you, not all uncles are good.
O my prophetic soul: mine uncle?
Shakespeare - Hamlet
Chapter Five
A trip to town, mix up of pills, and the introduction of William Blake. The pills will play a later role. Therefore the chapter begins with a quote from the first known reference to "thickening a plot."
And now the plot thickens very much upon us.
Buckingham - The Rehearsal
Chapter Six
In Chapter 6 Linda first notes the loose coping when Philippe leans on it, a visit from Florimond is tinged with tension from her employer, she has a hostile encounter with Albertine and gossip with Mrs. Seddon. Maybe this isn't such a nice place after all?
Something may come of this. I hope it won't be human gore.
Dickens - Barnaby Ridge
Chapter Seven
Raoul enters the story when he almost hits Linda with his car. They argue, make up, and she reveals her secret. Afterwards, Raoul has a hostile encounter with Leon on his arrival at Valmy. Is Raoul really as much like his father as he seems at first?
A being erect upon two legs, and bearing all the outward semblance of a man and not a monster.
Dickens - Pickwick Papers
Chapter Eight
Philippe is shot at, Linda confesses her French background to Leon, and she goes on a wild date with Raoul.
Thou art more deep damn'd than Prince Lucifer.
There is not yet so ugly a fiend of hell,
As thou shalt be, if thou didst kill this child-like.

Shakespeare - King John
Chapter Nine
After a sullen confrontation in the car, Raoul kisses her. They separate but he apologizes by picking up the parcel she left in town.
Never seek to tell thy love,
Love that never can be told
William Blake Poem
Chapter Ten
While wearing the gown she made for the ball, Raoul comes up and kisses her again. She succumbs to his kisses but asks why he would choose her. He turns her around to look at her reflection in the glass and remarks on her beauty. Unfortunately, their encounter was observed.
I told my love, I told my love, I told him all my heart
Shakespeare
Chapter Eleven
In spite of the warning from Florimond, Linda says yes to Raoul's proposal during the ball. She tells him she loves him three times, but he cannot say the same.
I am too fools, I know
For loving and for saying so
John Donne - The Triple Fool
Chapter Twelve
The midnight feast with Philippe is interupted by Heloise.
These delicates he heap'd with glowing hand
Keats - Eve of St Agnes
Drink to heavy Ignorance! Hob-and-nob with brother Death!
Tennyson - The Vision of Sin
Chapter Thirteen
The next night after the proposal, Raoul has left and Berthe tells Linda he is involved with a plot against Philippe.
"Yes" I answered you last night.
"No" this morning I saw.
Elizabeth Browning - The Lady's Yes
Chapter Fourteen
Linda's preparations to flee are interupted as Helen comes to their rooms again. This time she is sleep-walking and seems to indicate Philippe's tumbler is the method of his death>
Fill the cup, Philip, And let us drink a dram.
Early English Lyric
Chapter Fifteen
They flee through the woods in the middle of the night.
Enter these enchanted woods, you who dare.
George Meredith - The Woods of Westermain
Chapter Sixteen
While fleeing, she seems Bernard and Raoul hunting them together. It is harder and harder to believe Raoul is innocent of the plot.
Oh Sammy, Sammy, vy won't there a alleybi
Dickens - Pickwick Papers
Chapter Seventeen
She continues to argue with herself while the flight continues from woods to town.
Upon thy side, against myself I'll fight,
And prove thee virtuous
Shakespeare Sonnet 88
Chapter Eighteen
They overhear Bernard and Raoul's conversation while hiding at the Villa.
If thou wilt leave me, do not leave me last,
When other petty griefs have done their spite,
But in the onset come...
Shakespeare Sonnet 90
Chapter Nineteen
She meets Raoul on the stairs. Hippolyte arrives with Helen.
So, Uncle, there you are.
Shakespeare - Hamlet
Chapter Twenty
They each tell their own side of events. Raoul rushes to the Chateau to find the guilty Leon dead.
Death has done all death can.
Browning - After
Chapter Twenty-One
After William has left, she pursues Raoul to say her final good-bye and apologize. He tells her he loves her and wants her.
Look you, the stars still shine.
John Webster - The Duchess of Malfi
Less Significant Literary References
Some of the less significant references indicate both the author's and the main character's love of literature and poetry. A few instances include:
Chapter 9
He hangs in shades the orange bright, like golden lamps
Poem by Andrew Marvell - "Bermuda" 17th century
The poem refers to the lush fruit on a beautiful island.
Chapter 10
Et tu, Berthe
Shakespeare - Julius Caesar When his best friend, Brutus, joined the assissination and stabbed the emperorer, he uttered the words: "You too, Brutus?" Or a more exact translation of the Latin, "And you, Brutus?"
When Berthe turns from her after Albertine's rumors have isolated her, Linda utters the phrase with her name.
Chapter 11
There are two references to contemporary figures in this chapter.
The blonde that Raoul danced with three times had a "high neck and straight-cut skirt that spoke of Madame Fath and made her look incredibly slender and fragile."
Jacques Fath was a Parisian fashion deigner of the 1940s and 1950s.
Then, when Monsieur Florimond complimented Linda's home-designed frock, she stated it was like "Shakespeare congratulating Minou Drouet on a neat phrase." Minou Drouet was a contemporary poet with some controversy surrounding her poetry.
Chapter 12
Porphyro and Madeline were a Medieval Romeo-and-Juliet-like-couple with feuding families. They meet during a banquet on St. Agnes eve, as described in the poem,
Eve of St. Agnes
by John Keats in the early 1800s. Linda compares her secret engagement feast in Philippe's room during the dance with their banquet.
Nine Coaches Waiting
Get the low-down, deep-dive, in-the-know analysis of Mary Stuart's Gothic novel.
Main Analysis
Themes/Symbols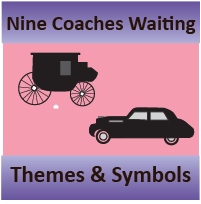 9 Coaches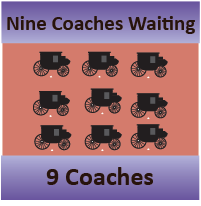 Map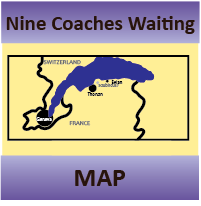 Literary References