You Are Here:
Hurricane & Tornado
Hurricane and Tornado
The Hurricane and Tornado MatchCard offers activities and information to compare tornadoes and hurricanes.

Free Download Below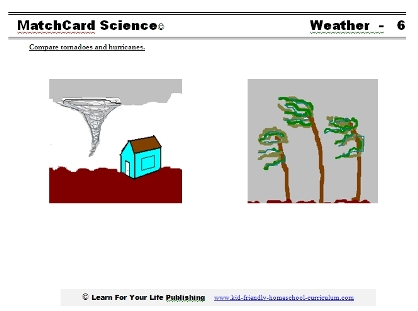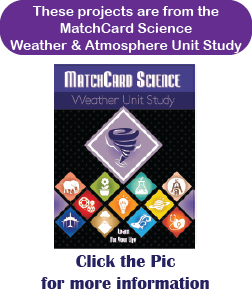 What's the Difference Between A Hurricane and Tornado?
Objective: Compare Tornadoes and Hurricanes.
Hurricanes and tornadoes are both exciting events and our interesting to study. This MatchCard presents basic facts about both, compares the differences between a tornado and hurricane, and suggests activities for hands-on study.
Using the Hurricane and Tornado MatchCard
MatchCard #6
of the Weather Unit Study. Directions for using MatchCards are below.
Hurricane Facts
Here are some interesting facts about hurricanes:
Winds are usually greater than 75 mph.
It begins over the sea with low air pressure.
The eye is 30 - 100 miles wide.
They occur on coastal areas.
They are also called typhoons
Hurricanes often cause floods
It dies when it reaches land.
Tornado Facts
Compare the hurricane facts with the tornado facts:
Trees and cars may be picked up and carried.
Tornadoes are most common in North America.
It usually begins and ends suddenly.
Winds are greater than 300 mph.
They often begin in a thunderstorm over land.
The eye is several yards wide..
Usually moves in a Southwest or Northeast direction.
Vortex Activities
Let's Make a Vortex
Whether you have a homemade or a commercially made
pet tornado
, there are fun ways to use them. Follow this link to discover
How to use a pet tornado
How to make one of your own
How the two substances interact to form the famous funnel
Tornado Tube
You can also follow the same link to
make a vortex in two bottles
. Follow this same link to discover
Connect the bottles yourself with tape
Purchase a connector
Learn what creates the vortex
Learn about centripetal forces
More Activities
Look on the internet for scenes of tornadoes and hurricanes
There are sites that track the latest storms. Some have video clips that demonstrate the action of the strong winds.
Watch A Documentary
Many full length documentaries have been filmed on these violent storms. They are fascinating to watch, give examples of how communities are impacted long-term, and are educational.
Write a journalistic account
Develop writing skills while studying a topic most students find intriguing. Have the student choose the type of storm that most appeals to him or her. Numerous
Write On's
can be used to describe, narrate, predict, or inform about hurricanes or tornados.