Six Traits Writing (or 6+1 Traits Writing) focuses on each of the essential skills in writing - one at a time.
What is 6+1 Traits Writing?
The Northwest Regional Education Laboratory has a national agenda to promote the six traits (with the last one added recently to make seven) of excellent writing. These six traits were identified as the qualities of good writing and are useful to homeschoolers as well as other students. These traits are:
Ideas
Organization
Voice
Word choice
Sentence fluency
Conventions
Presentation
Using Six Traits Writing In Homeschool
Grading average writing assignments or correcting substandard writing can be a difficult chore.

As a writing tutor, I had no trouble giving tips to improve good writing; but it was difficult to know where to start with inadequate writing. The Six Traits provide great place to start because they give the students feedback on how and what to improve.

Specific goals are provided to the young writer for any of the areas that are deficient.
How Does It Work? Here's how the Six Traits Writing can work for your program:
Your student turns in his or her writing.
You read it for each of the seven traits listed above.
Evaluate how well the student's writing succeeded in each of the areas.
Identify for the student specific examples of strengths and weaknesses in each.
Optional: Have the student re-write and re-submit the paper to make one (or perhaps two) traits better.
Consider assigning your next writing lesson specifically to strengthen a weak area.
Writing Projects for Six Trait Writing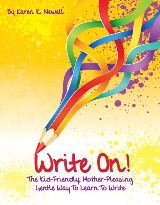 The 6 +1 Traits can be used with any writing assignment or writing project.
Homeschoolers who incorporate the Six +1 Traits into their program have found
Write On: The Kid Friendly, Mother Pleasing, Gentle Way to Learn to Write
to be a homeschool writing curriculum that teaches AND motivates students to write.
Interesting writing themes
Student friendly models
Cook-book of ideas
Strong paragraph and essay development
All at a parent-friendly pace and a budget-happy price.
Writing Rubric for Six Traits Writing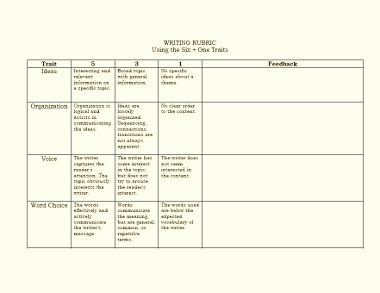 We have a rubric for writing assignments that you can use to score your students' writing with the six traits.
Download the
six traits writing rubric.
More Ideas on Using Six +1 Traits Writing
Save Their Writing
Keep the writing projects your students have completed in a folder. After several weeks, go back and revisit a project. Occasionally, let them choose which writing project they would like to improve. (It may be a favorite that was done a while ago.)
Improve One Trait
Choose one of the completed projects, and ask the student to improve one of the traits. You might even give specific suggestions on what
you
might do to improve in that area. (The student has the freedom to accept or reject your suggestion.)
After improving one of the traits, repeat the process with one or two others. Doing all seven might become wearisome, but continue to improve while the attention remains high.
Before and After
Wait a day or two. Then, when your morning starts, have the two versions of his or her writing assignment on the desk or table when they start their day. Have them read tne original and the revised versions. Let them comment on their improvement.
Analyze How Others Use the Traits
Here's another way to use the six traits to improve writing. Choose ONE TRAIT instead of an assignment. Discuss it. Ask why it is important.
Look in your literature reading for examples of that trait. Let them describe how they feel the author used it.
Now, let them choose which of their previously completed writing assignments they would like to go back and revise with that trait.