Our free rubric for essay writing evaluates content, mechanics, and following the writing process. This basic writing rubric can be used from upper elementary through high school. It consists of a 100 point rubric to guide the student to improved writing ability.
On This Page This rubric includes points for the following criteria:
Content
Mechanics
Following the assigned writing process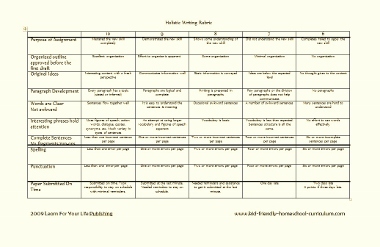 FREE Writing Rubric Download BELOW
Elements of the 100 Point Basic Writing Rubric
Students will receive between 0 to 10 points for each of these criteria on the holistic writing rubric:
Purpose of Assignment
Organized outline approved before the first draft is due
Original Ideas
Paragraph Development
Word Choices
Holding Attention
Complete Sentences
No fragments/run-ons
Spelling
Punctuation
Paper Submitted On Time
How to use a 100 Point Writing Rubric
Each of the ten criteria offers the student the opportunity to earn up to ten points. If they acheive ten points on all ten criteria, they would earn 100 points - a perfect score. This, of course, is seldom achievable.
On the other hand, if the student completely fails a criteria, he or she earns 6 points. Why 6 points and not 0? Simply stated, six points equals a 60%, which is a failing grade. There are only a few times I give a zero on a criteria. Of course not doing the assignment qualifies for a zero; or submitting three days late gets a zero for that category. There are a few more examples of 0 scores in the discussion below for the Research Paper Grading Scale.
Simply add up all the points and you will have a percentage grade for the student's paper. This rubric works best for assignments with a specific purpose. See
other sample writing rubrics
for other assignments.
Download the Essay Writing Rubric