You Are Here:
Water Cycle
Water Cycle For Kids
Information & hands-on activities for kids to learn about the water cycle.

Free Download Below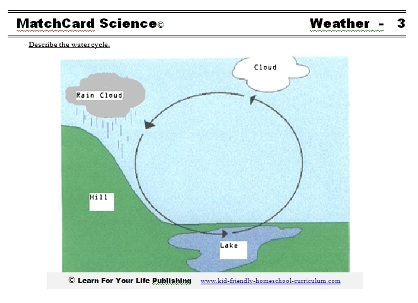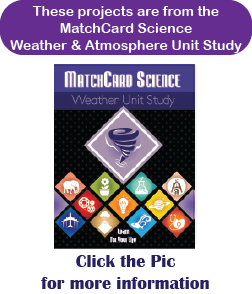 Water Cycle Lesson
Objective
: Describe Phases of the Water Cycle
For most kids, the water cycle is easy to understand and provides a knowledge base for grasping more advanced scientific concepts (such as evaporation of molecules) they need to learn later.
Water Cycle MatchCard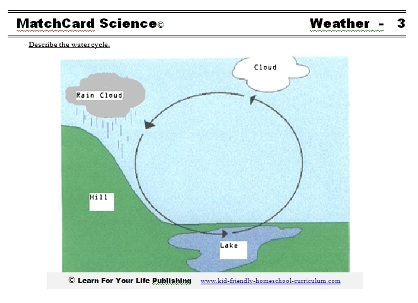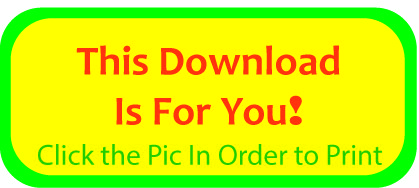 Click image to go to download.

This is MatchCard #3 of the Weather Unit Study. Find more information on MatchCard Science below.
Water Cycle Activities
Three activities demonstrate the water cycle for kids who learn best with hands on projects.
Rain Cloud In A Jar
Make a rain cloud with hot water, ice cubes, and a transparent glass in the
Make A Rain Cloud
in a jar demonstration.
Build a Terrarium
Use a glass or plastic jar to build a terrarium. You can also wash out the plastic container that is used for rotisserie chicken.
Add about 1 inch of soil to the bottom.
Add lima beans or other fast growing beans.
Add water (approximately 1/3 the amount of soil added.)
Place in a sunny location in your house.
Observe and discuss the rain cycle.
Measure Evaporation
This experiment compares the amount of evaporation with the temperature outside.
Place a measuring cup with an exact amount of water outside in a sunny location.
After three hours, measure and record the amount of water left in the cup.
Record the amount evaporated.
Record the temperature outside.
Repeat the experiment four different days. Use the exact amount of water in the same cup, place it in the same location, and leave it for exactly the same length of time.
Make a chart of the findings as the experiment progresses.
Science Notebook
Science notebooks allow students to record their data and draw conclusions. Consider having your student make a
science notebook entry
for this project.