Redwall Vocabulary
Vocabulary words and definitions from Redwall by Brian Jacques.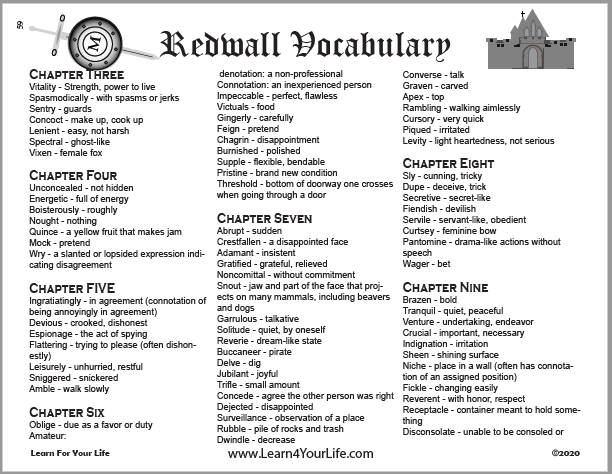 Get the complete list of vocabulary words and definitions for all 58 chapters at the bottom of this page.
Chapter One

Novice - beginner, first order in a monastery before becoming a monk
Buffoon - clown, foolish person
Singed - burn the edges
Yearnings - desires
Sedate - calm
Feign - pretend
Jauntily - easily, cheerfully
Nonchalant - pretending not to care
Cloister - monastery
Vermin - disgusting creatures like rats or cockroaches
Benign - kind, without harm
Chapter Two
Scourge - person who causes trouble or punishment
Bilge - floor of a ship
Graven - engraved
Chapter Three
Angling - fishing with hook and line
Culinary - related to cooking
Ranting - speaking wildly
Gyrate - move in a circular pattern
Cavort - move merrily like a dance
Legerdemain - magic trick with sleight of hand
Aromatic - pleasant aroma or smell
Swagger - to walk or strut with pride
Precariously - uncertain, danger of falling
Chapter Four
Mutiny - crew's rebellion against a ship captain
Insubordination - refusal to obey lawful commands
Horde - large group, negative connotation
Loathsome - something that causes loathing or repulsion
Haunch - animal's hip
Careered - moved at high speed
Juggernaut - destructive force
Chapter Fiver
Slackened - decreased
Replete - filled
Spectre - ghost
Trundle - roll
Balmy - calm
Rambler - a plants that grows by climbing upward
Dormant - sleeping through winter
Chapter Six
Blinkered - unable to see due to wearing blinkers or blinders
Contemptuous - with contempt or dislike
Chapter Seven
Derisive - a quality of showing scorn or derision to another's statement
Bristled - hair stands up from anger or fear
Ferocity - fierceness
Dignified - showing dignity or nobility
Solitude - quietness, being alone
Consternation - worry, dread
Agitated - nervous
Chapter Eight
Allotted - assigned
Carnage - slaughter and destruction
Phantom - ghost-like
Garbed - dressed
Wield - handle or use
Omen - phenomenon that predicts good or evil in one's future (often evil)
Vivid - bright, intense
Timid - shy, quiet
Reverie - dream
Incur - bring about
Assumption - taking something for granted
Baleful - mean-spirited
Paltry - small, insufficient amount
Plunder - things taken in battle from the losing side
Recruits - those who have joined or been recruited to a team or group
Impassive - without emotion or passion
Motley - combination of different objects, usually uncoordinated
Chapter Nine
Bounty - full supply
Abode - home
Disillusion - dissatisfied, losing hope
Stolid - without emotion
Invariably - always, not changing
Ally - friend, someone on the same side
Impulsive - acts on impulse without planning
Chronicle - historical record
Glib - insincere, flippant
Evade - avoid
Brazen - made of brass
Construe - explain the meaning
Perimeter - lining the outside
Formidable - unbeatable strength
Deterrent - prevents something from happening
Chapter Ten
Shrewd - cunning, good at fooling others
Berserk - crazy, wild
Parapet - elevated section of wall
Rampart - broad area for defense
Consult - Discuss, look to someone for advice
Bumpkin - simple person, usually an insult
Mirthlessly - without mirth or joy
Ponderous - large, bulky
Menace - threaten
Curt - short
Roving - wandering
Abruptly - quickly
Insolent - disrespectful
Idly - lazily
Torment - torture
Impudent - shameless, arrogant
Deputize - acting as a deputy or in the authority of another
Livid - angry
Chapter Ten
Loth (or loath) - unwilling
Heed - agree to obey
Tactician - one who develops plans
- the dress of a nun
Speculation - conjecture or guess
Veritable - can be verified as true
Rudimentary - simple, basic
Fatal - causing death
Gullet - throat
Daft - crazy
Foraging - looking for food or supplies
Emboldened - made bold
Pinafore - apron
Chapter Eleven
Loth (or loath) - unwilling
Heed - agree to obey
Tactician - one who develops plans
Habit - the dress of a nun
Speculation - conjecture or guess
Veritable - can be verified as true
Rudimentary - simple, basic
Fatal - causing death
Gullet - throat
Daft - crazy
Foraging - looking for food or supplies
Emboldened - made bold
Pinafore - apron
Chapter Twelve
Pulpit - Stand from where a sermon is delivered at church
Lounge - rest
Hassock - cushion for kneeling
Sentry - guard
Devious - unacceptable, deviates from good
Lithe - thin and flexible
Sinew- tendon that connects muscle & bone
Scaled - climb up and over
Vital - necessary
Mere - nothing more
Ecstacy - intense delight
Chapter Thirteen
Husband (archaic) cultivate the ground, manage the crops
Industrious - working diligently
Wistful - with desire
Thrust and parry - sword fighting
Stave - long stick
Obliged - to do a duty
Ruefully - sorrowfully
Uncanny - unnatural
Chapter Fourteen
Amble - walk slowly and easily
Expendable - something you can get expend or get rid of
Basilisk - a dragon or serpent-like creature from mythology
Ascent - movement upward
Fissure - crack
Oblivious - unaware
Obsidian - black rock
Cowl - the hood or a robe worn by monks
Furitively - secretly, silently
Sinuous - with lots of sinews or tendons which attack muscle to bone
Inert - non-living object that cannot move
Snigger - snicker or half laugh
Detachment - state of being unattached
Wraith - spirit
Impeded - slowed down, hindered
Exhiliration - high with joy
Laconic - few words, concise
Chapter Fifteen
Subdued - quiet, depressed
Conciliatory - placate, speak kindly to
Infirmary - hospital
Audible - can be heard
Lopsided - crooked, off to one side
Solicitous - anxious for another's well-being
Wince - tense up or draw back in pain
Descent - downward movement
Diversion - turn another's attention to something else
Chapter Sixteen
Barbaric - like barbarians, uncivilized
Doddering - shakey from old age or weakness
Frenzy - wild excitement
Chapter Seventeen
Inept - without skill, incompetent
Gallant - brave
Pendantry - like a necklace or pendant
Curtilage - yard that belongs to a building
Lanky - thin (common connotation: skinny and awkward)
Formidable - intimidating, difficult to beat
Hefty - heavy, strong
Peculiar - odd
Merriment - happiness
Yarn - story
Haversack - military sack carried by a strap
Repast - meal
Ruminate - dennotation: chew the cud slowly; connotation: think slowly
Reluctant - not willing
Curmudgeon - angry person (in this connotation Basil uses it as a compliment which it usually is not.)
Impudent - bold, shameless
Piteous - needing help or pity
Serenade - sing to an audience
Chapter Eighteen
Relentless - without relenting or easing up
Cudgel - club
Lenient - easy, permissive
Adder - poisonous snake
Petrified - terrified so one could not move
Flaccid - soft
Sibilant - "s" sound or hissing sound
Scaled - climbed
Chapter Nineteen
Posthaste - with great speed
Respite - rest
Bailiff - local official
Oblivious - unaware
Chapter Twenty
Estimation - judgment
Initiative - readiness to initiate or take action by oneself
Plunder - goods stolen in battle
Breach - break into
Lull - temporary quiet spell
Plummet - fall rapidly
Richochet - fast zigzag motion
Eluded - stayed away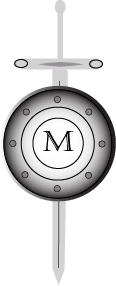 Book Two: Chapter One
Molten - liquid rock

Upraiding - severely reproach or insult

Banish - expel, send away

Chapter Two

Moron - stupid person
Unceremonious - rudely, without manners
Precarious - unstable, dangerous
Grotesque - unnatural and ugly, bizarre
Covet - jealously wish for what others have
Rivet - held in place, fixed
Animatedly - with action, excitedly
Feebly - weakly
Maliciously - with malice or hate

denotation: bird's colorful feathers
connotation: fancy clothing

Vanguard - front of an army
Eccentric - strange
Yearn - strongly desire
Adjourn - end a meeting, leave

Chapter Three

Vitality - Strength, power to live
Spasmodically - with spasms or jerks
Sentry - guards
Concoct - make up, cook up
Lenient - easy, not harsh
Spectral - ghost-like
Vixen - female fox

Chapter Four

Unconcealed - not hidden
Energetic - full of energy
Boisterously - roughly
Nought - nothing
Quince - a yellow fruit that makes jam
Mock - pretend
Wry - a slanted or lopsided expression indicating disagreement

Chapter FIVE

Ingratiatingly - in agreement (connotation of being annoyingly in agreement)
Devious - crooked, dishonest
Espionage - the act of spying
Flattering - trying to please (often dishonestly)
Leisurely - unhurried, restful
Sniggered - snickered
Amble - walk slowly

Chapter Six

Oblige - due as a favor or duty
Amateur:

denotation: a non-professional
connotation: an inexperienced person

Impeccable - perfect, flawless
Victuals - food
Gingerly - carefully
Feign - pretend
Chagrin - disappointment
Burnished - polished
Supple - flexible, bendable
Pristine - brand new condition
Threshold - bottom of doorway one crosses when going through a door

Chapter Seven

Abrupt - sudden
Crestfallen - a disappointed face
Adamant - insistent
Gratified - grateful, relieved
Noncomittal - without commitment
Snout - jaw and part of the face that projects on many mammals, including beavers and dogs
Garrulous - talkative
Solitude - quiet, by oneself
Reverie - dream-like state
Buccaneer - pirate
Delve - dig
Jubilant - joyful
Trifle - small amount
Concede - agree the other person was right
Dejected - disappointed
Surveillance - observation of a place
Rubble - pile of rocks and trash
Dwindle - decrease
Converse - talk
Graven - carved
Apex - top
Rambling - walking aimlessly
Cursory - very quick
Piqued - irritated
Levity - light heartedness, not serious

Chapter Eight

Sly - cunning, tricky
Dupe - deceive, trick
Secretive - secret-like
Fiendish - devilish
Servile - servant-like, obedient
Curtsey - feminine bow
Pantomine - drama-like actions without speech
Wager - bet

Chapter Nine

Brazen - bold
Tranquil - quiet, peaceful
Venture - undertaking, endeavor
Crucial - important, necessary
Indignation - irritation
Sheen - shining surface
Niche - place in a wall (often has connotation of an assigned position)
Fickle - changing easily
Reverent - with honor, respect
Receptacle - container meant to hold something
Disconsolate - unable to be consoled or conforted
Massive - extremely large
Alacrity - cheerfulness
Agitated - nervous, distrubed
Consternation - alarm
Intrepid - fearless
Tenacious - stubborn
Valiant - brave
Dispersed - left to go in different directions
Mirthlessly - without mirth or joy

Chapter Ten

Sympathetic - understands another problem
Rendezvous - prearranged meeting
Ferocity - fierceness
Retrieve - take back
Taut - tight
Confiscate - take, seize
Gesticulate - wildly move your hands while talking excitedly

Chapter Eleven

Repulse - repel, drive back
Retaliate - those who are wronged take like action against those who have wronged them
Solemnity - solemn or serious attitude
Mediator - judge or referee
Timid - shy, frightened person
Wistful - sad longing or desire
Nightcap - drink taken before bed
Pensive - thoughful
Mischievous - causing mild trouble (the connotation is often playful trouble)
Escort - guide, accompany someone
Irate - angry
Erudite - educated, studious

Chapter Twelve

Impassive - without passion or emotion
Corroborate - confirm the same facts
Laden - loaded with, full of
Sarcasm - insulting irony
Undignified - without dignity or respect
Smirk - crooked, smug smile
Adder - poisonous snake
Uncoil - unwrap
Languorous - with languor or laziness
Undertaker - person who takes care of the bodies of those who have died

Chapter Thirteen

Disgruntled - displeased, sulking
Morsel - small mouthful
Fastidious - demanding particular detail
Blustering - noisy, loud, boastful
Glutton - someone who eats to much
Shackle - prisoner's metal ankle bracelet
Agile - lively, quick moving
Aperture - opening like a door or window
Placate - keep others calm
Bickering - arguing over petty matters

Chapter Fourteen

Arduous - requiring great physical effort
Chapter Fifteen
Carcass - body of a dead animal
Guile - craftiness, deception
Profuse - with abundance
Twixt - between
Speculative - speculating or guessing

Chapter Fifteen

Carcass - body of a dead animal

Chapter Sixteen

Wrath - anger
Trepedation - fear
Indignity - humiliation, insult
Vying - competing
Improvise - make something up on the spot
Apprehensive - worried
Reassure - to give assurance that things are well
Deferentially - with deference or respect
Converse - talk
Despot - tyrant ruler
Grandiose - very grand, overblown
Recrimination - charge, accuse
Interval - period of time
Ditty - short song
Caper - skip, dance
Ecstasy - pure delight, joy
Lunatic - crazy, insane
Pathos - sorrow

Chapter Seventeen

Aroused - awaken
Dire - desperate
Campaigner - those on a military campaign or battle
Curry favor - expression that means to try to get approval of a superior
Harangue - scold, bully
Hapless - unhappy, unlucky
Thwart - opposed
Blighter - scoundrel, bum
Audacious - bold, fearless
Mock - pretend
Censure - criticism, disapproval
Surge - sweep in like flood water
Vociferous - very vocal, talkative
Avid - with enthusiasm
Foliage - leaves
Venerable - sacred object

Chapter Eighteen

Scud - travel quickly
Vagrant - traveling, without home
Pandemonium - loud uproar
Sparse - thin, light
Prospect - possibility, opportunity
Void - emptiness
Negotiate - make an arrangement
Giddy - dizzy
Gallant - brave
Inexorable - unstoppable
Perilous - dangerous
Peeved - annoyed

Chapter Nineteen

Wily - tricky, deceitful
Elegant - fine, stylish
Cutlery - silverware, knives
Cruet - glass bottle
Galvanize - cause to act quickly
Oblivious - unaware
Notion - idea
Retribution - punishment
Juggernaut - powerful, moving force
Console - comfort
Sodden - soaked with water

Chapter Twenty

Scintillate - sparkle
Filigree - delicate lacy design of gold or silver
Extravaganza - lavish show
Rostrum - speaker's platform
Miscreant - depraved person
Paraphernalia - variety of equipment

Chapter Twenty-One

Relentlessly - without relenting or stopping
Chide - scold
Churlish - petty-minded, rude, mean
Bereft - past participle of bereave, missing something or someone
Nimbly - move quickly with ease
Leveret - young hare
Sustenance - food to sustain life
Crimson - red
Bounder - person with poor manners
Naivete - innocense, inexperience
Duffer - clumsy person
Stentoriously - with loud voice
Recede - move away

Chapter Twenty-Two

Predators - animals that eat other animals
Skirting - go along the edge or outskirt
Aggressive - pushy when not provoked
Emit - discharge, send forth
Dissent - disagreement
Frenzy - violent excitement
Stealthily - quietly, secretly
Octave - scale of musical notes
Sparse - thin
Implements - tools
Marmalade - the orange color of marmalade fruit

Chapter Twenty-Three

Audible - can be heard
Fusillade - discharge of bullets or arrows at the same time
Rappel - climb down steep wall or cliff
Sporadic - irregular timing
Vestigages - traces, evidence of
Remorseless - without guilt or remorse
Monitor - watch a situation

Books 2 and 3

The vocabulary words for all of Redwall are included in the unit study below. In addition, our 119 page unit study includes chapter by chapter activities, reading comprehension questions, literary elements and more.

Buy Redwall Unit Study

Download the activities and vocabulary for the 58 chapters of Brian Jacque's famous animal fable.
Student Guide AND Teacher's Answer Key Included
$2.99 Download - 119 pages


Read More


The Redwall Unit Study provides chapter by chapter activities for all 58 chapters. It can be used for students in 5th to 8th grade.

About Our Site
Hands-On Learning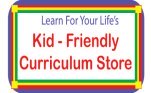 See All Products