You Are Here:
Phonics Manipulatives
Phonics Activities for 1st Grade
Phonics Manipulatives and Activities

More great phonics activities and manipulatives are on their way. Come back for more!


Short Vowel Sound Chant
Phonics Words Families
at, sat, cat
can, man, fan
had, sad, bad
ETC.
We have a five page handout which can be downloaded. (It is included in the Kit, Zed, and Gus download.) The small numbers indicate which lesson in Kit, Zed, and Gus will introduce the new word family.
3 Dimensional Alternative:
You can buy commerically made tiles or dice with the word families printed on them. You can also make your own using craft tiles or craft sticks.
Get The Word Family Blocks
Vowel Dipthongs Emoji
Use these emoji's to practice the different middle and ending vowel combinations:
Middle and Initial: oa, ee, ea, ai, oo, ou, au, oi
Ending Dipthongs: ow, ew, aw, ay, oy
Lesson plans are provided with suggested order and suggested activities, though these can be used in any order.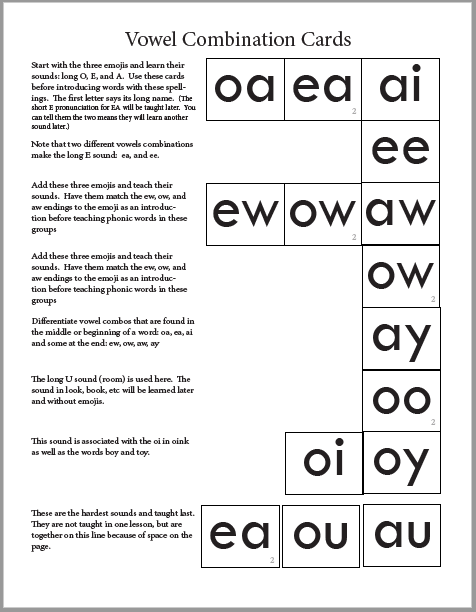 The emojis shown above are in color and black and white. The colored versions can be matched to color coded vowels as part of the teaching process, if desired.
Consonant Dipthongs
Sh, Th, Ch, Wh
Let's learn four simple, quick, effective hand motions, along with our symbols, with the
Th, Ch, Sh, Wh Dipthong Activities
. We use hand-motions, symbols, Rush to the Chair game, and dictation to teach these common sounds.